Research article
Open Access
Role of thioredoxin reductase 1 and thioredoxin interacting protein in prognosis of breast cancer
Breast Cancer Research
2010
12:R44
Received: 1 February 2010
Accepted: 28 June 2010
Published: 28 June 2010
Abstract
Introduction
The purpose of this work was to study the prognostic influence in breast cancer of thioredoxin reductase 1 (TXNRD1) and thioredoxin interacting protein (TXNIP), key players in oxidative stress control that are currently evaluated as possible therapeutic targets.
Methods
Analysis of the association of TXNRD1 and TXNIP RNA expression with the metastasis-free interval (MFI) was performed in 788 patients with node-negative breast cancer, consisting of three individual cohorts (Mainz, Rotterdam and Transbig). Correlation with metagenes and conventional clinical parameters (age, pT stage, grading, hormone and ERBB2 status) was explored. MCF-7 cells with a doxycycline-inducible expression of an oncogenic ERBB2 were used to investigate the influence of ERBB2 on TXNRD1 and TXNIP transcription.
Results
TXNRD1 was associated with worse MFI in the combined cohort (hazard ratio = 1.955; P < 0.001) as well as in all three individual cohorts. In contrast, TXNIP was associated with better prognosis (hazard ratio = 0.642; P < 0.001) and similar results were obtained in all three subcohorts. Interestingly, patients with ERBB2-status-positive tumors expressed higher levels of TXNRD1. Induction of ERBB2 in MCF-7 cells caused not only an immediate increase in TXNRD1 but also a strong decrease in TXNIP. A subsequent upregulation of TXNIP as cells undergo senescence was accompanied by a strong increase in levels of reactive oxygen species.
Conclusions
TXNRD1 and TXNIP are associated with prognosis in breast cancer, and ERBB2 seems to be one of the factors shifting balances of both factors of the redox control system in a prognostic unfavorable manner.
Keywords
Apoptosis Signal Regulate KinaseTXNIP ExpressionERBB2 StatusOncogenic ERBB2NeuT Cell
Introduction
Control mechanisms of reactive oxygen species (ROS) play a crucial role in tumor development. Transformed cells are known to generate more ROS than normal cells [1, 2]. Importantly, ROS not only contribute to tumor progression by amplifying genomic instability but transformed cells use ROS signals to drive proliferation [1]. Conversely, ROS addiction may render tumor cells more vulnerable to apoptosis or senescence [3, 4] because they depend on constantly increased basal levels of ROS, and an additional increase may exceed toxic thresholds.
Thioredoxin reductase 1 (TXNRD1) and thioredoxin interacting protein (TXNIP; also called thioredoxin binding protein 2 or vitamin D3-upregulated protein 1) [5] are key players in oxidative stress control.
TXNRD1 reduces and activates thioredoxin, an oxidoreductase containing a dithiol-disulfide active site, which in turn reduces oxidized cysteine residues on cellular proteins. Importantly, a reducing environment mediated by thioredoxin is required for effective DNA binding of redox-sensitive transcription factors, including p53 and NF-κB [6, 7]. Thioredoxin binds ROS before they can harm cells and thus protects cells against oxidative stress. In addition to its critical role in the regulation of cellular redox homeostasis, thioredoxin has multiple actions in the cell - such as activation of ribonucleotide reductase, inhibition of apoptosis signal regulating kinase 1 and induction of hypoxia inducible factor 1 (HIF-1) and vascular endothelial growth factor (VEGF) - which contribute to many hallmarks of cancer, such as increased proliferation, inhibited apoptosis and angiogenesis [8].
In contrast to TXNRD1, which supports thioredoxin function, TXNIP binds to and inhibits the reduced form of thioredoxin [
9
–
11
], blocking its activity as well as its interaction with other factors, including apoptosis signal regulating kinase 1. TXNIP therefore functions as a proapoptotic protein [
12
]. As for thioredoxin, multifunctional roles of TXNIP are known [
13
,
14
] that point out the crucial role of TXNIP as a link between pathways of redox regulation, antioxidant defense, energy metabolism and cell growth and survival [
15
,
16
]. A summary of the roles of these key players of the thioredoxin system is provided in Figure
1
.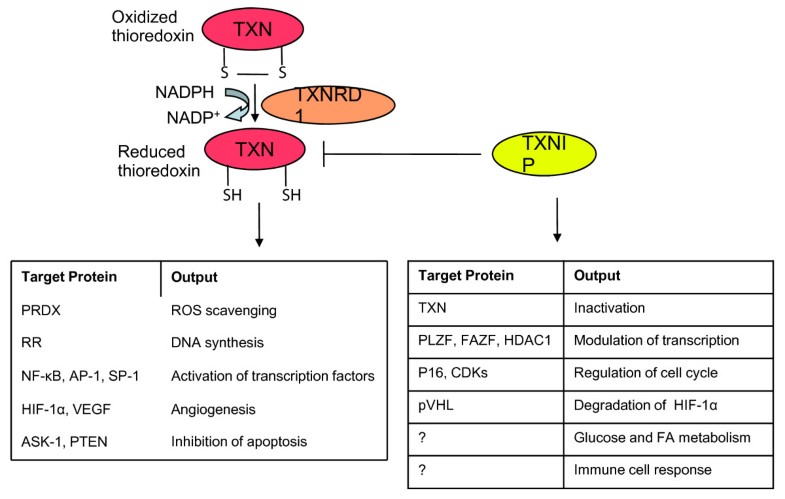 The thioredoxin redox system has been suggested recently as a therapeutic target for cancer therapy [17, 18], based on the observation that thioredoxin is overexpressed in many aggressive tumors and that siRNA-mediated knockdown of TXNRD1 decreased tumor progression and metastasis in mice [19]. Several inhibitors of the thioredoxin pathway have been shown to have antitumor activity in mice bearing breast, colon and renal xenografts [20–22]. In addition, high thioredoxin expression in prechemotherapy tumor samples has been reported to be associated with resistance to docetaxel in primary breast cancer [23, 24].
Despite the ongoing evaluation of the thioredoxin system as a therapeutic target and the central role of TXNRD1 and TXNIP in oxidative stress control, little is known about their prognostic relevance. Increased expression of thioredoxin in human colorectal cancer is associated with decreased patient survival [25], whereas absence of thioredoxin expression in nonsmall-cell lung carcinoma is associated with a better outcome [26]. Decreased TXNIP expression in patients with diffuse large B-cell lymphoma has been shown to correlate with a poor prognosis [27]. To our knowledge, however, TXNRD1 expression and TXNIP expression have not yet been analyzed in relation to prognosis in breast cancer. In the present study we observed that high expression of TXNRD1 and low expression of TXNIP are associated with worse prognosis in breast cancer. Since both higher TXNRD1 expression and lower TXNIP expression were observed in ERBB2-status-positive tumors, we analyzed whether ERBB2 can influence these factors using a MCF-7 cell line that allows conditional expression of an oncogenic version of ERBB2.
Discussion
Targeting thioredoxin reductase and thioredoxin has been suggested recently as a basis for cancer therapy, including breast cancer [22, 39, 40]. The prognostic role of TXNRD1 and TXNIP, key players of the thioredoxin system, in node-negative breast cancer, however, has not yet been analyzed. We therefore studied three cohorts of patients who have not been treated by chemotherapy. In order to understand the role of TXNRD1 and TXNIP for the natural history of breast cancer it seemed relevant to focus on untreated patients, because the thioredoxin system has been reported to influence sensitivity of tumor cells to chemotherapy [23, 24, 41]. We observed that high expression of TXNRD1 was associated with worse prognosis, whereas high TXNIP expression was associated with better prognosis. These results obtained in our cohort, the Mainz cohort [31], could be confirmed in two independent, previously published cohorts - the Rotterdam cohort [32] and the Transbig cohort [33, 34].
The inverse association of TXNRD1 and TXNIP with MFI found in this study supports the hypothesis that the maintenance of an active thioredoxin system is advantageous to the tumor cells because it limits oxidative damage and enables them to survive. Conversely, the important ROS-independent roles of TXNIP and thioredoxin might as well account for the promotion of tumorigenesis. It is noteworthy that both factors have opposite effects on HIF-1α, in a way that thioredoxin favors its increase and TXNIP its destabilization [42, 43]. Additional associations with MFI found for thioredoxin and downstream factors of the thioredoxin pathway, including PRDX2, RRM2, HIF1A and VEGF, confirm the importance of the thioredoxin system in breast cancer regardless of its ROS-related or unrelated roles.
To better understand the interrelation of TXNRD1 and TXNIP with biologically relevant processes in breast cancer, we compared their expression levels with previously published metagenes [31, 35, 36, 38]. The most striking correlations were observed with the proliferation metagene, showing that TXNDR1 is expressed strongly in fast proliferating tumors whereas TXNIP is expressed at low levels, which is in accordance with published data [44–47]. This constellation fits to the negative prognostic influence of TXNRD1 and the favorable effect of TXNIP. In addition, the estrogen receptor metagene was inversely correlated with TXNRD1. TXNRD1 also correlated with the T-cell metagene, which was surprising because the latter was associated with better prognosis in our previous studies [31]. Thioredoxin is known to be secreted by leukocytes and may exhibit cytokine-like properties in the extracellular environment [48]. A long controversial debate has been whether immune cell infiltration leads to a better prognosis of breast cancer by an attack on the tumor cells or whether secreted cytokines may cause on adverse effect creating a microenvironment that favors tumor cell proliferation [31].
Multivariate analysis adjusted for the conventional clinical parameters serves to identify whether a new factor adds some independent prognostic information to the already established parameters. In the Transbig cohort, TXNIP was independent of the established clinical parameters, whereas TXNRD1 was not. Of course a lack of influence in the multivariate Cox model does not exclude biological relevance. If several genes are responsible for progression of tumors from pT1 to pT4 it is likely that tumor stage, and not one of the many genes influencing tumor stage, will be influential in the multivariate regression model. In the case of TXNRD1, associations were observed with tumor grade and pT stage, hormone receptor status and ERBB2 status. We found the latter association particularly interesting, because it might be explained by an influence of overexpressed ERBB2 on TXNRD1 expression levels. When we studied TXNRD1 expression in ERBB2-status-positive versus ERBB2-status-negative carcinomas, significantly higher levels were obtained for ERBB2-status-positive tumors in all three individual study cohorts. Conversely, the difference in TXNRD1 expression levels was relatively small. This observation is not surprising, however, since an influence of ERBB2 will probably represent only one of several factors influencing TXNRD1 expression.
Inducible expression systems with erbB2 in mice or cell lines have contributed a lot to our understanding of erbB2-associated mechanisms [49, 50]. To understand whether ERBB2 causes the increase in TXNRD1 expression or whether their association represents only an epiphenomenon of other primary events, we therefore applied the MCF-7/NeuT cell line, which allows inducible expression of an oncogenic version of ERBB2 (NeuT) [3, 4]. Interestingly, switching on ERBB2 caused a clear increase in TXNRD1 mRNA and protein levels. A link between ERBB2 and TXNRD1 expression has been established in rat cardiomyocytes [51] where neuregulin 1β, a ligand of the ERBB receptor tyrosine kinase, upregulated the expression of thioredoxin and TXNRD1, among that of other genes involved in protection against oxidative stress, both at the mRNA and protein levels. This link supports the possibility that the immediate early increase in TXNRD1 mRNA levels observed after NeuT overexpression in our MCF-7/NeuT cell system is a direct response to ERBB2 signaling. The high TXNRD1 levels observed at relatively long periods (14 days) after NeuT induction could be due to the accumulation of ROS at this later stage. Since it is known that 4-hydroxynonenal, one of the major products of lipid peroxidation, can increase TXNRD1 mRNA levels via transcriptional activation of the NF-E2-related factor 2 signaling pathway and that TXNRD1 promoter contains an antioxidant response element [52], it is plausible that the observed accumulation of ROS in our cells at day 14 is contributing to the higher TXNRD1 expression at this time point.
Surprisingly, TXNIP was also influenced by NeuT but followed a completely different kinetic, with an initial downregulation of TXNIP transcript levels within 24 hours and a later recovery at 14 days. The immediate decrease of TXNIP mRNA upon ERBB2 expression suggests again a direct link between both factors. To our knowledge, nothing has so far been reported concerning a direct influence of ERBB2 signaling on TXNIP mRNA expression. The later increase of TXNIP mRNA levels begins concomitant with the G1 arrest of the MCF-7 cells as they undergo senescence [3]. Although the molecular mechanisms leading to the TXNIP biphasic behavior remain unknown, it fits the inverse correlation of TXNIP with the proliferation metagene observed in our study and it agrees with the known function of the TXNIP gene as a tumor suppressor [42].
The observed initial activation of
TXNRD1
and repression of
TXNIP
transcription by ERBB2 signaling independent of ROS in our MCF-7/NeuT cell model could be interpreted as part of an ERBB2-triggered survival program that intends to prevent later accumulation of ROS. Further, it suggests that TXNIP and TXNRD1 are ERBB2 effectors whose multiple cellular functions contribute to proliferation, apoptosis resistance, metabolic reprogramming and, finally, to the hallmarks of ERBB2-positive breast tumors (Figure
6
).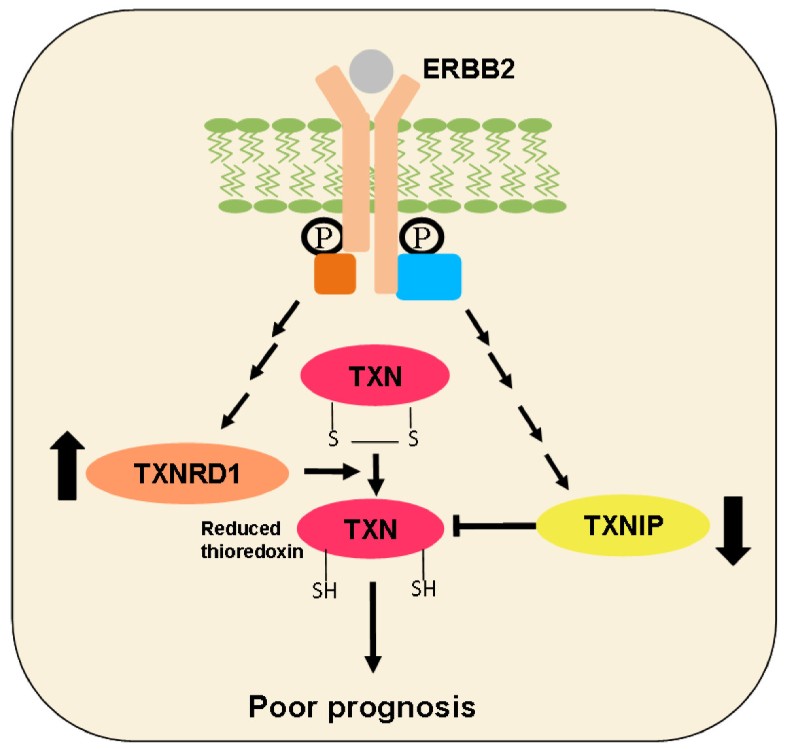 Accumulation of ROS in senescent MCF-7/NeuT cells (14 days) is accompanied by the recovery of TXNIP mRNA to initial levels, which is expected to negatively influence the ROS-scavenging activity of thioredoxin. This could therefore partially explain increased ROS at this stage. Interestingly, mRNA expression of thioredoxin itself decreases slightly in MCF-7/NeuT cells at 14 days (Additional file 9). Many other factors, however, are also likely to contribute to the late accumulation of ROS in senescent cells. This is under current investigation.
Conclusions
In the present article we have shown that high TXNRD1 expression and low TXNIP expression are associated with worse prognosis in node-negative breast cancer. ERBB2 can influence expression levels of TXNRD1 and TXNIP to shift balances in a prognostically unfavorable manner.
Abbreviations
DETBA:

1,3-diethyl-2-thiobarbituric acid
GEO:

Gene Expression Omnibus
HIF-1:

hypoxia inducible factor 1
HR:

hazard ratio
MDA:

malondialdehyde
MFI:

metastasis-free interval
NF:

nuclear factor
PCR:

polymerase chain reaction
ROS:

reactive oxygen species
TGT:

mean target intensity
TNXRD1:

thioredoxin reductase 1
TXNIP:

thioredoxin interacting protein
VEGF:

vascular endothelial growth factor.
Declarations
Acknowledgements
The present study was supported by the NGFN-BMBF project OncoProfile. The authors dedicate this work to Alexander Bauer.
Authors' Affiliations
(1)
Department of Bioanalytics, Leibniz-Institut für Analytische Wissenschaften - ISAS - e.V., Dortmund, Germany
(2)
Systems Toxicology, Leibniz Research Centre for Working Environment and Human Factors (IfADo) at the TU Dortmund University, Dortmund, Germany
(3)
Department of Obstetrics and Gynecology, University Medical Center, Mainz, Germany
(4)
H DX DB Molecular Research Koeln, Siemens Healthcare Diagnostics Products GmbH, Koeln, Germany
(5)
Department of Plant Physiology, University of Leipzig, Leipzig, Germany
(6)
Department of Statistics, TU Dortmund University, Dortmund, Germany
Copyright
© Cadenas et al.; licensee BioMed Central Ltd. 2010
This article is published under license to BioMed Central Ltd. This is an open access article distributed under the terms of the Creative Commons Attribution License (http://creativecommons.org/licenses/by/2.0), which permits unrestricted use, distribution, and reproduction in any medium, provided the original work is properly cited.