Research article
Open Access
Acquisition of epithelial-mesenchymal transition phenotype in the tamoxifen-resistant breast cancer cell: a new role for G protein-coupled estrogen receptor in mediating tamoxifen resistance through cancer-associated fibroblast-derived fibronectin and β1-integrin signaling pathway in tumor cells
Breast Cancer Research
2015
17:69
Received: 3 January 2015
Accepted: 11 May 2015
Published: 21 May 2015
Abstract
Introduction
Acquired tamoxifen resistance remains the major obstacle to breast cancer endocrine therapy. β1-integrin was identified as one of the target genes of G protein-coupled estrogen receptor (GPER), a novel estrogen receptor recognized as an initiator of tamoxifen resistance. Here, we investigated the role of β1-integrin in GPER-mediated tamoxifen resistance in breast cancer.
Methods
The expression of β1-integrin and biomarkers of epithelial-mesenchymal transition were evaluated immunohistochemically in 53 specimens of metastases and paired primary tumors. The function of β1-integrin was investigated in tamoxifen-resistant (MCF-7R) subclones, derived from parental MCF-7 cells, and MCF-7R β1-integrin-silenced subclones in MTT and Transwell assays. Involved signaling pathways were identified using specific inhibitors and Western blotting analysis.
Results
GPER, β1-integrin and mesenchymal biomarkers (vimentin and fibronectin) expression in metastases increased compared to the corresponding primary tumors; a close expression pattern of β1-integrin and GPER were in metastases. Increased β1-integrin expression was also confirmed in MCF-7R cells compared with MCF-7 cells. This upregulation of β1-integrin was induced by agonists of GPER and blocked by both antagonist and knockdown of it in MCF-7R cells. Moreover, the epidermal growth factor receptor/extracellular regulated protein kinase (EGFR/ERK) signaling pathway was involved in this transcriptional regulation since specific inhibitors of these kinases also reduced the GPER-induced upregulation of β1-integrin. Interestingly, silencing of β1-integrin partially rescued the sensitivity of MCF-7R cells to tamoxifen and the α5β1-integrin subunit is probably responsible for this phenomenon. Importantly, the cell migration and epithelial-mesenchymal transition induced by cancer-associated fibroblasts, or the product of cancer-associated fibroblasts, fibronectin, were reduced by knockdown of β1-integrin in MCF-7R cells. In addition, the downstream kinases of β1-integrin including focal adhesion kinase, Src and AKT were activated in MCF-7R cells and may be involved in the interaction between cancer cells and cancer-associated fibroblasts.
Conclusions
GPER/EGFR/ERK signaling upregulates β1-integrin expression and activates downstream kinases, which contributes to cancer-associated fibroblast-induced cell migration and epithelial-mesenchymal transition, in MCF-7R cells. GPER probably contributes to tamoxifen resistance via interaction with the tumor microenvironment in a β1-integrin-dependent pattern. Thus, β1-integrin may be a potential target to improve anti-hormone therapy responses in breast cancer patients.
Keywords
Breast Cancer CellTamoxifenConditioned MediumTamoxifen ResistanceAcquire Tamoxifen Resistance
Introduction
Tamoxifen, a selective estrogen receptor (ER) modulator, is the most frequently used anti-hormonal drug for the adjuvant treatment of women with ER-positive breast cancer [1]. Acquired resistance is still the major clinical challenge to the therapeutic efficacy of tamoxifen. A growing amount of evidence has demonstrated that the aberrant activated growth factor signaling pathways contribute to tamoxifen resistance [2, 3]. However, most studies [4, 5] have tested the hypothesis that tamoxifen resistance results from genetic alterations and autocrine or paracrine mechanisms in the epithelial tumor cells themselves. Tumors are complex organs comprising a variety of components such as tumor cells, fibroblasts, immune cells, vessels, and extracellular matrix. The role of the tumor microenvironment in tumor progression and drug resistance is gradually being clarified [6, 7].
One of the crucial reasons for drug resistance is the metastasis of cancer cells to secondary sites [8, 9]. Tumor cells achieve this by activating an epithelial-mesenchymal transition (EMT) program to experience phenotypic alterations, such as the loss of cell-cell interactions and the gain of cell mobility to evade from the primary lesion. Molecular hallmarks of EMT include the loss of epithelial markers, such as E-cadherin, the gain of the expression of mesenchymal markers, such as N-cadherin, vimentin and fibronectin, the loss of cell polarity, and reorganization of the actin cytoskeleton accompanied by the morphological change [10, 11]. For example, tamoxifen-resistant MCF-7 breast cancer cells (MCF-7R) display enhanced motile and invasive behavior as well as accompanying EMT-like properties compared to the parental MCF-7 cell line in vitro [12, 13]. Emerging evidence suggests a close association between drug resistance and the induction of EMT in cancer [10, 14]; however, the initiator and the specific mechanism of EMT during the development of tamoxifen resistance remain to be determined.
G protein-coupled estrogen receptor (GPER), also called G protein-coupled receptor 30 (GPR30), is a novel ER that can be activated by tamoxifen and the pure anti-estrogen fulvestrant. This receptor has been shown to be important in the induction of tamoxifen resistance through the GPER/epidermal growth factor receptor (EGFR) signaling pathway [15, 16]. Moreover, it was demonstrated GPER functions as an important initiator in the development of tamoxifen resistance in hormone-dependent breast cancer [17]. In order to further disclose the potential role of GPER in the tamoxifen-resistant ER+ breast cancer, we identified a set of target genes in MCF-7R subclones using cDNA microarray (data unpublished). One of these genes, β1-integrin, has been demonstrated to play a key role in tumor progression and tumor survival [18, 19]. Furthermore, β1-integrin, which coordinates much broader functional processes such as inflammation, proliferation, adhesion, and invasion, has recently been implicated in therapeutic resistance in multiple solid cancer models [20, 21]. Importantly, integrins mediate signal transduction between the tumor cell and its microenvironment, which complicates the identification of the mechanisms underlying drug resistance. Few studies have reported the involvement of β1-integrin in tamoxifen resistance. Pontiggia and colleagues [22] demonstrated that soluble factors or extracellular matrix components in the microenvironment protect against tamoxifen-induced cell death through interaction with β1-integrin using tamoxifen-sensitive breast cancer cells. However, this finding does not clarify the role of β1-integrin in resistant cells due to the diversity of the cell model.
In this study, we elucidated that the interaction of the cancer-associated fibroblast (CAF)-derived tumor microenvironment and β1-integrin locating on the cell membrane of MCF-7R cells plays a key role in GPER-mediated tamoxifen resistance. Increased β1-integrin was detected in metastasis (MT) breast carcinoma specimens compared with their matched primary tumors (PTs). Knockdown of β1-integrin expression in MCF-7R cells partly restored tamoxifen sensitivity and suppressed the EMT phenotype facilitated by CAFs, or the product of CAFs, fibronectin, in vitro. These findings suggest that targeting β1-integrin may be a promising solution to tamoxifen resistance in breast cancer.
Methods
Materials
The rabbit monoclonal (EP1041Y) antibody against β1-integrin was obtained from Abcam (Cambridge, UK). Antibodies against Src (pY418 and total), focal adhesion kinase (FAK; pY397 and total), extracellular-signal regulated kinase-1 and -2 (ERK1/2; pT202/Y204), E-cadherin, vimentin and fibronectin were purchased from Bioworld (Saint Louis Park, MN, USA). Antibodies against AKT (pS473 and total) were from Cell Signaling Technology (New England Biolabs, Herts, UK). β1-integrin antisense oligonucleotides and GAPDH antisense oligonucleotides were purchase from Invitrogen (New York, USA). Fibronectin, 4-hydroxytamoxifen (TAM) and (4,5-dimethylthiazol-2-yl)-2,5-diphenyltetrazolium bromide (MTT) were obtained from Sigma-Aldrich (Steinheim, Germany). GPER agonist G1 and antagonist G15 were purchased from Tocris (Missouri, USA). Function-blocking integrin monoclonal antibodies specific for α2β1-integrins (AK-7) and α5β1 integrin (P1D6) were from EMD Biosciences (San Diego, CA, USA). All other reagents were from Beyotime (Haimen, China).
Cell culture
Human MCF-7 breast carcinoma cells (MCF-7), purchased from the Institute of Biochemistry and Cell Biology, Chinese Academy of Sciences (IBCB, Shanghai, China), were routinely grown in Dulbecco's modified Eagle's medium (DMEM; Gibco, Rockville, MD, USA) containing 5% fetal bovine serum (FBS; Gibco), 10 μg/ml insulin, 100 IU/ml penicillin and 100 μg/ml streptomycin. The tamoxifen-resistant sublines (MCF-7R) [23] were derived from MCF-7 by continuous exposure to TAM diluted in 0.1% ethanol. MCF-7R cells were cultured continuously in medium containing 5% FBS supplemented with 100 nM TAM. Before all experiments, cells were switched to phenol-free DMEM containing 0.5% charcoal-dextran-stripped FBS for 2 days, except where noted.
MDA-MB-468, MDA-MB-231, and SKBR3 cells were kindly provided by Dr Gang Tu, and the culture conditions were as described previously [24].
CAFs, a gift from Dr Manran Liu, were isolated and cultured as described previously [25].
No consent was needed from any patients or Institute Ethics Board, because only commercially available cell lines were used in this study.
Specimens
The 77 paired archival paraffin-embedded breast cancer specimens were obtained from the Clinical Diagnostic Pathology Center, Chongqing Medical University (Chongqing, China). All patient details and exclusion criteria have been described previously [17]. All patients received tamoxifen only after surgery. All patients involved in this study consented to participate in the study and publication of its results. The experiments were approved by the Ethics Committee of the First Affiliated Hospital of Chongqing Medical University and were conducted in accordance with the Helsinki Declaration.
Immunohistochemistry
Sections of formalin-fixed and paraffin-embedded breast cancer specimens or corresponding recurrent lesions were mounted on SuperFrost Plus glass slides (ZsBio, Beijing, China) and dried overnight. The immunohistochemical protocols are described elsewhere [17]. The slides were incubated with affinity-purified rabbit anti-β1-integrin (1:100), anti-GPER (1:250), anti-E-cadherin (1:200), anti-vimentin (1:200) and anti-fibronectin (1:200) for 2 hours at 37 °C.
Evaluation of β1-integrin and G protein-coupled estrogen receptor staining
The β1-integrin expression in samples was scored based on intensity (0 to 3) and extent (0 = <10%, 1 = 10 to 25%, 2 = 26 to 50%, 3 = >50%) ato ccording previously described criteria [26]. The individual categories were multiplied to give a total immunohistochemical score ranging between 0 and 9. Samples that scored ≥3 were defined as positive immunohistochemical results.
GPER expression was classified as described previously [17] and scores were assigned as follows: the percentage of positive cells was categorized as 0 (negative staining in all cells), 1 (<1% cells stained), 2 (1 to 10% of cells stained), 3 (11 to 40% cells stained), 4 (41 to 70% cells stained) or 5 (71 to 100% cells stained), and staining intensity was categorized as 0 (negative), 1 (weak), 2 (moderate) or 3 (strong). Percentage and intensity scores were added to give total immunohistochemical scores, ranging from 0 to 8. Specimens that scored ≥2 were defined as GPER+. In our previous work, 53 recurrent breast cancer specimens were identified as GPER-positive and the rest were GPER-negative in a total of 77 recurrent samples.
Evaluation of epithelial-mesenchymal transition marker protein expression
Expression of EMT marker proteins (E-cadherin, vimentin, fibronectin) were also detected immunohistochemically in PTs of breast cancer and paired MTs. Expression of membranous E-cadherin, cytoplasmic vimentin and fibronectin was scored using the following system [27]: 0 (no staining); 1 (1 to 25% staining); 2 (26 to 50% staining); 3 (>50% staining).
Construction of GV115-sh/β1-integrin and siRNA transfection
Four short hairpin RNA (shRNA) sequences targeting the β1-integrin gene and one negative control sequence were designed, and inserted into the lentivirus vector GV115 containing a green fluorescent protein (GFP) reporter. Recombinant lentivirus and control were extracted after transfection of 293 T cells with the recombinant vector and helper vectors. The lentivirus with the best interfering effect as determined by real-time PCR was selected to infect MCF-7R cells. The selected β1-integrin shRNA vector sequence (No. 1756–1) was as follows: forward, 5′-CCGGGAGGAAATGGTGTTTGCAAGTTTCAAGAGAACTTGCAAACACCATTTCCTCTTTTTG-3′; and reverse, 3′-CTCCTTTACCACAAACGTTCAAAGTTCT CTTGAACGTTTGTGGTAAAGGAGAAAAACTTAA-5′. Reagents and technical support were from GeneChem (Shanghai, China). The other β1-integrin shRNA vector sequences and negative control vector sequence are listed in Additional file 1: Table S1. The MCF-7R subclones expressing downregulated β1-integrin were established through infecting the MCF-7R cells with β1-integrin shRNA lentivirus. The same method was used to transduce the negative control virus into cells to control for the impact of the lentivirus vector with the same methods. After infection for 8 hours, the culture medium was refreshed. The cells were transfected with lentivirus vectors for 72 hours and used in subsequent studies. A second shRNA (No. 1755–1) was utilized for data (Additional file 2: Figure S1).
GPER-specific small interfering RNA (siRNA) and the control siRNA sequence (gifts from Dr Gang Tu) were transiently transferred into MCF-7R or SKBR3 cells. The target sequences for GPER siRNA were 5′-GCUGUACAUUGAGCAGAAATT-3′ (A) and 5′-UUUCUG CUCAAUGUACAGCTT-3′ (B). The control siRNA sequence that did not match any known human cDNA was 5′-AAGGTGTCAGAAACTGACGAT-3′. Expression of GPER protein levels was analyzed by Western blotting after transfection.
Measurement of cell growth
Cells were seeded in 96-well plates at 5 × 103 cells/well. After 24 hours, the cells were treated with different concentrations of TAM for the time indicated, and the medium was renewed on day 3. The vehicle (0.1% ethanol) was used as a control. At the end of the treatment, 20 μl 5 mg/ml MTT was added into the medium and incubated for 4 hours at 37°C. After removing medium, 150 μl MTT solvent (DMSO) was added to each well for 15 minutes and optical density (OD) values were read in a digital spectrophotometer (λ = 490 nm). Each experiment was repeated three times. All the OD values, divided by the average of their controls, were converted to a percentage of the control.
Wound healing assay and Transwell assays
For wound healing assays, MCF-7R cells were infected with lentivirus vectors targeting β1-integrin or negative control. GFP expression in breast cancer cells at least 2 days after infection was observed by immunofluorescence microscopy. For co-culture preparation, 1 × 105 CAFs were grown to confluence in six-well dishes in complete DMEM for 3 days. Breast cancer cells growing in log-phase were digested with trypsin, and 2 × 105 cells were plated onto the confluent CAFs. At 90% confluence, a pipette tip was used to make a single scratch in the monolayer. Floating cells and debris were removed and cells were incubated with minimum serum medium (DMEM + 0.5% FBS + 100 IU/ml penicillin and 100 mg/ml streptomycin) for 24 hours to allow cell growth and wound closure. Images of the wound were obtained before and after the 24-hour period, then measured using Image J software (National Institutes of Health, Bethesda, MD, USA).
For transwell assays, 2 × 104 breast cancer cells, suspended in 200 μl serum-free medium, were seeded into the upper well of a Boyden chamber with 8-μm pore size filters (Millipore, Darmstadt, Germany). CAFs at approximately 80% confluence were washed and cultured in fresh serum-free DMEM medium for 48 hours. The medium was then collected and filtered for use mixed at a 9:1 ratio with fresh DMEM with 10% FBS as conditioned medium (CM). Normal medium (1% FBS) or CM was added into the lower chamber with or without adding TAM (1 μM) into the upper chamber according to the experimental design. After incubation for 24 hours, cells adhering to the upper surface of the filter were removed using a cotton applicator. After staining with 0.5% crystal violet, the cells that had migrated to the opposite side of the filter were counted. The data represent at least three experiments performed in triplicate (mean ± standard error).
Reverse transcription and real-time PCR
Total RNA was extracted from MCF-7 and MCF-7R cells using RNAiso reagent (TaKaRa, Dalian, China) according to the manufacturer's protocol. Total cDNA was synthesized from RNA via a PrimeScript RT reagent Kit (TaKaRa). The expression of β1-integrin was quantified by quantitative real-time PCR performed with the Bio-Rad Miniopticom Real-time PCR system using SYBR® Premix EX Taq™II Kit (TaKaRa). The following primer sequences were used: 5′-CCTACTTCTGCACGATGTGATG-3′ (β1-integrin forward), 5′-CCTTTGCTACGGTTGGTTACATT-3′ (β1-integrin reverse), 5′-TGACTTCAACAGCGACACCCA-3′ (GAPDH forward) and 5′-CACCCTGTTGCTGTAGCCAAA-3′ (GAPDH reverse). All the samples were amplified by real-time PCR twice and expression was normalized to GAPDH.
Western blotting
Cells were treated as described in the figure legends for various times indicated in the results. Protein cell lysates and Western blotting procedures were performed as described previously [17]. Subcellular protein fractions were extracted using a Cell Membrane Protein Extraction Kit (Beyotime) following the manufacturer's instructions. Cellular proteins (50 μg) were boiled in SDS-PAGE sample loading buffer and separated by 10% SDS-PAGE, and the specific primary antibody which was targeting each protein was incubated with the membranes at 4°C overnight. Later, the membranes were incubated with appropriate horseradish peroxidase-conjugated secondary antibody and visualized using the chemical luminescence imaging system. OD was analyzed using Image J Software, and results normalized to β-actin were expressed as fold change relative to the control. Each experiment was performed at least three times with representative gels shown.
Immunofluorescence
Cells were grown on sterile glass coverslips in 24-well plates treated as described in the figure legends. After 24 hours, cells were washed with cold PBS, fixed in 4% paraformaldehyde, permeabilized with 0.2% Triton X-100, and blocked with 5% goat serum. Cells were then incubated with the primary antibody overnight at 4°C, and then with secondary antibody conjugated with FITC or TRITC (1:200; ZsBio). DAPI (Invitrogen) was used to visualize nuclei. The images were viewed using a Nikon Eclipse 80i microscope (Nikon, Tokyo, Japan).
Statistical analysis
Statistical analysis was performed using SPSS standard version 19.0 software (Chicago, USA). Results are expressed as means ± standard deviation from at least three independent determinations. The Student's t-test was used for single comparisons between two groups, and analysis of variance followed by the Student–Newman–Keuls multiple comparisons test was used for comparison between multiple groups. Values of P < 0.05 were considered statistically significant.
Discussion
The ability to overcome endocrine resistance is one of the important aims for hormone-dependent breast cancer patients [37]. GPER, a novel membrane-bound estrogen receptor, has been demonstrated to contribute to the development of tamoxifen resistance [15, 17]. However, the specific mechanism is less clearly elucidated. In the present study, we found that tamoxifen resistance initiated by GPER is associated with CAF-derived tumor microenvironment/β1-integrin interaction and accompanied by EMT. More interestingly, tamoxifen-resistant MCF-7 cells (MCF-7R) were shown to be more susceptible to EMT than MCF-7 cells in the presence of stromal CAFs, which are one of the predominant members in the tumor microenvironment, in a β1-integrin-dependent manner.
GPER, whose action differs from the classical nuclear estrogen receptors (ERα, ERβ), acts as an independent ER in breast cancer cells and has been implicated in mediating both rapid and transcriptional events in response to estrogen under certain circumstances [16, 24, 38]. Although no increased basal expression of GPER in MCF-7R cells is observed when compared to MCF-7 cells, translocation of GPER from the cytoplasm to cell membrane reinforces the crosstalk between GPER and EGFR during long-term treatment with tamoxifen in breast cancer cells [15, 17]. This crosstalk is followed by phosphorylation of MAPK and AKT, which subsequently stimulates gene transcription and development of tamoxifen resistance [15].
β1-integrin is an important member of a family of heterodimeric transmembrane adhesion proteins [6]. Several recent studies have convincingly demonstrated that β1-integrin is involved in therapeutic resistance in various tumor types [20, 21, 39, 40]. Indeed, β1-integrin was identified as one of the GPER target genes in MCF-7R cells in our previous work (unpublished data). Here, we found that enhanced β1-integrin expression in MCF-7R cells was mediated via GPER/EGFR/ERK signaling; the significantly increased β1-integrin in metastases compared with the matched PTs was closely GPER-related. This was supported by a proteomic analysis of acquired tamoxifen resistance in MCF-7 cells [41]. Additionally, as downstream kinases of β1-integrin, Src and FAK kinase activity was significantly enhanced and involved in cellular invasion and motility in tamoxifen-resistant breast cancer cells [42, 43]. These findings suggest that GPER-mediated tamoxifen resistance is associated with the enhanced β1-integrin and its downstream signaling activation in breast cancer cells.
In this study, MCF-7R cells displayed EMT-like properties compared to MCF-7 cells in vitro and clinical tamoxifen-resistant breast tumor tissues. Although no significant total E-cadherin expression was detected, decreased membrane E-cadherin was detected in MCF-7R cells. It has been shown that E-cadherin internalization is a key step in its dysfunction [12, 44], indicating EMT is responsible for the adverse phenotype in MCF-7R cells. β1-integrin is known to be implicated in the malignant tumor characteristics, such as increased migration and invasion, in a variety of tumor types [18, 20, 45, 46]. Interestingly, we observed that a potential ability for the development of EMT was acquired after MCF-7R cells were exposed to CAFs, CAF-derived CM, or fibronectin treatment. Indeed, some of elements in ECM, such as collagen I, collagen III and collagen IV were reported to protect tumor cells from chemotherapy attraction [32, 47, 48]. ECM acts as a substrate to which cells adhere and serves as a reservoir for growth factors [49]. The ECM component fibronectin is the crucial ligand of α5β1-integrin [30, 31]; the cross-talk between fibronectin and β1-integrin could activate a downstream signaling pathway network in EMT transition (our unpublished data). Several previous reports demonstrated that EMT characteristics might confer a chemo-drug resistant potential in tumor cells [10, 14]. In the current study, we further disclosed that CAF-derived fibronenctin conferred EMT phenotype to MCF-7R cells through the α5β1-integrin/PI3K/AKT signaling axis. These data have highlighted the significance of the tumor microenvironment in tamoxifen resistance and tumor progression. Our findings support the notion that therapy regimens abrogating the complex interactions of the carcinomas with the tumor microenvironment could be a future alternative to overcome tamoxifen resistance in breast cancer, and β1-integrin may be a promising target.
Conclusions
In summary, our data provide a novel insight into understanding the role of the tumor microenvironment in tamoxifen-resistant breast cancer. Long-term tamoxifen treatment facilitates translocation of GPER to cell membranes, resulting in aberrant activation of the EGFR/ERK signaling pathway and upregulation of β1-integrin expression which is responsible for the enhanced communications between tumor cells and the tumor microenvironment (Fig.
8
). Blockage of GPER/EGFR/ERK/β1-integrin signaling may be a potential target in enhancing their sensitivity for tamoxifen-resistant breast cancer patients. However, it is undoubted that further investigations, including
in vivo
experiments and prospective clinical studies, are needed.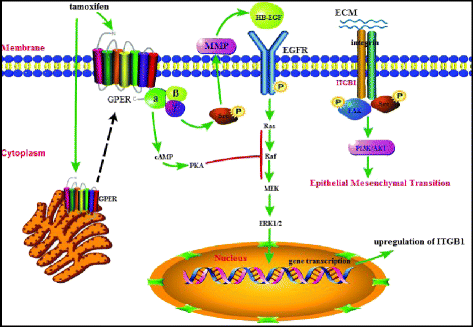 Abbreviations
CAF:

cancer-associated fibroblast
CM:

conditioned medium
DMEM:

Dulbecco's modified Eagle's medium
ECM:

extracellular matrix
EGFR:

epidermal growth factor receptor
EMT:

epithelial-mesenchymal transition
ER:

estrogen receptor
FBS:

fetal bovine serum
GFP:

green fluorescent protein
GPER:

G protein-coupled estrogen receptor
MT:

metastasis
OD:

optical density
PT:

primary tumor
shRNA:

short hairpin RNA
siRNA:

small interfering RNA
Declarations
Acknowledgements
This work was supported by the National Natural Science Foundation of China (NSFC 81072149). The funding agencies have no role in study design, collection, analysis, or interpretation of data, writing of the manuscript, or the decision to submit the manuscript for publication.
Authors' Affiliations
(1)
Department of Endocrine and Breast Surgery, the First Affiliated Hospital of Chongqing Medical University, Chongqing, China
(2)
Key Laboratory of Laboratory Medical Diagnostics, Chinese Ministry of Education, Chongqing Medical University, Chongqing, China
Copyright
© Yuan et al.; licensee BioMed Central. 2015
This is an Open Access article distributed under the terms of the Creative Commons Attribution License (http://creativecommons.org/licenses/by/4.0), which permits unrestricted use, distribution, and reproduction in any medium, provided the original work is properly credited. The Creative Commons Public Domain Dedication waiver (http://creativecommons.org/publicdomain/zero/1.0/) applies to the data made available in this article, unless otherwise stated.