Key signaling nodes in mammary gland development and cancer: Smad signal integration in epithelial cell plasticity
Breast Cancer Research
2012
14:204
Published: 8 February 2012
Abstract
Smad proteins are the key intermediates of transforming growth factor-beta (TGF-β) signaling during development and in tissue homeostasis. Pertubations in TGF-β/Smad signaling have been implicated in cancer and other diseases. In the cell nucleus, Smad complexes trigger cell type- and context-specific transcriptional programs, thereby transmitting and integrating signals from a variety of ligands of the TGF-β superfamily and other stimuli in the cell microenvironment. The actual transcriptional and biological outcome of Smad activation critically depends on the genomic integrity and the modification state of genome and chromatin of the cell. The cytoplasmic and nuclear Smads can also modulate the activity of other signal transducers and enzymes such as microRNA-processing factors. In the case of breast cancer, the role of Smads in epithelial plasticity, tumor-stroma interactions, invasion, and metastasis seems of particular importance.
Keywords
Bone Morphogenetic ProteinUbiquitin LigaseActivinMammary Gland DevelopmentSmad Signaling
Introduction
As the key intermediates of canonical transforming growth factor-beta (TGF-β) signaling, Smad proteins play crucial roles in the determination of cell fate of multi-cellular organisms. These proteins are vertebrate homologs of the
Drosophila
protein MAD (mothers against decapentaplegic) and the
Caenorhabditis elegans
protein SMA (small), which were identified by genetic screens. The Smad name is a combination of the two [
1
]. TGF-β signaling is an evolutionarily conserved process in which TGF-β family cytokines induce heteromeric complexes of type I and type II serine/threonine kinase TGF-β receptors at the cell surface, which enable the constitutively active type II receptor to phosphorylate the type I receptor. Subsequently, type I receptors activate receptor-regulated Smads (R-Smads) through phosphorylation of their two carboxyl-terminal serine residues. R-Smads then can form heteromeric complexes with the common-partner Smad (Co-Smad), Smad4, which accumulate in the nucleus and can induce cell type-specific gene expression profiles through interaction with specific subsets of other transcription factors, co-activators, and co-repressors present (Figure
1
). These Smad-interacting proteins not only determine the cell type specificity and cell context specificity of the transcriptional response but also can alter the intensity and duration [
2
–
5
].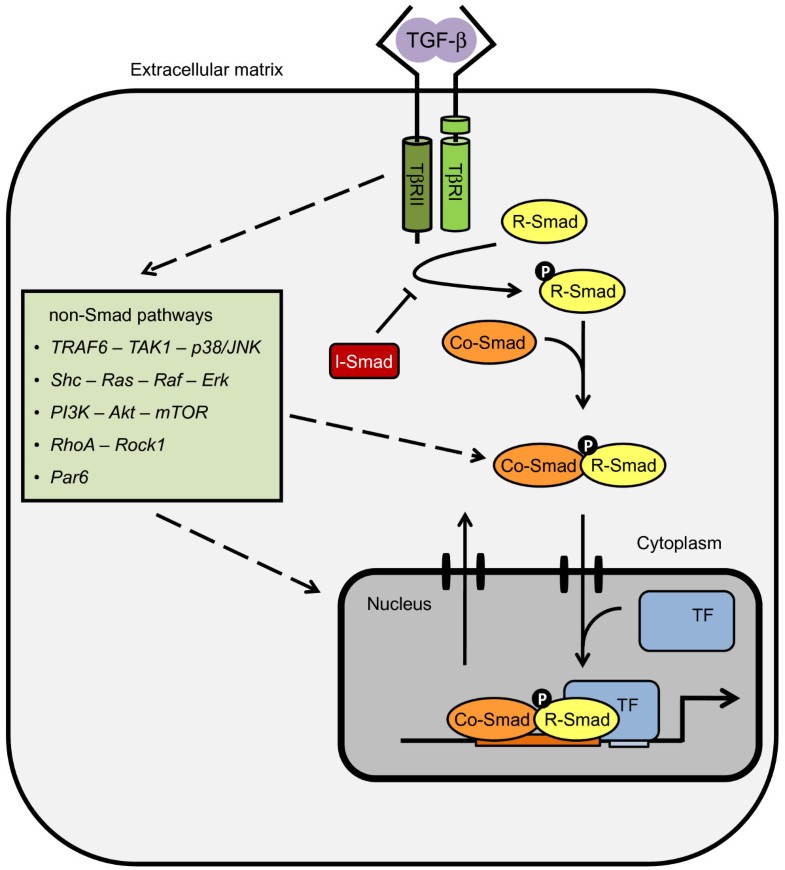 Inhibitory Smads (I-Smads) form a distinct subclass among the Smads by counteracting the signals transduced by TGF-β receptors, R-Smads, and Co-Smads. I-Smads are part of feedback loops: they are induced by TGF-β signaling and act by competing with R-Smads for receptor binding, thereby inhibiting R-Smad phosphorylation [2–5] (Figure 1). The TGF-β/Smad pathway is further controlled by multiple layers of regulation, such as signal termination by phosphatases and ubiquitin ligases. Moreover, TGF-β can induce signaling and gene expression in a Smad-independent manner (for instance, by activating mitogen-activated protein kinases (MAPKs), PI3K-Akt/PKB, and small GTPase pathways) [2, 6] (Figure 1).
TGF-β/Smad signaling has a biphasic role in cancer progression. In the early stages, TGF-β can inhibit growth of epithelial cells and induce apoptosis and thus act as a tumor suppressor [2, 5]. Escape from TGF-β/Smad-induced growth inhibition and apoptosis is commonly observed in tumors (for instance, by inactivation mutations or deletions in core components of the pathway, such as specific receptors or Smads, or defects in the downstream targets that mediate tumor suppression [2, 5]). Breast cancer cells frequently evade the cytostatic action of TGF-β while retaining Smad functions. In fact, in later-stage tumors, TGF-β/Smad signaling has been shown to promote tumor progression. Together with other signaling pathways activated in breast cancer, TGF-β/Smad stimulates de-differentiation of epithelial cells to malignant invasive and metastatic fibroblastic cells [2, 5].
In this review, we discuss the role of Smads as signal integrators in breast epithelial plasticity and breast cancer progression, thereby describing recent studies on the molecular mechanisms, including crosstalk with other signaling pathways. In addition, we review recent work on the roles of Smads and cooperating factors in tumor invasion and metastasis.
Molecular mechanisms of Smad signaling
Smad-mediated functions
Besides playing crucial roles in signal transmission and gene regulation, the Smad proteins have been found to exhibit functions such as enzyme regulation (Figure
4
). The role of Smads in assembly and recruitment of ubiquitin-ligase complexes has already been described. Another activity is binding to the regulatory subunit of protein kinase A (PKA), thereby activating PKA independently of increased cAMP and mediating TGF-β activation of CREB, induction of p21(Cip1), and inhibition of cell growth [
35
].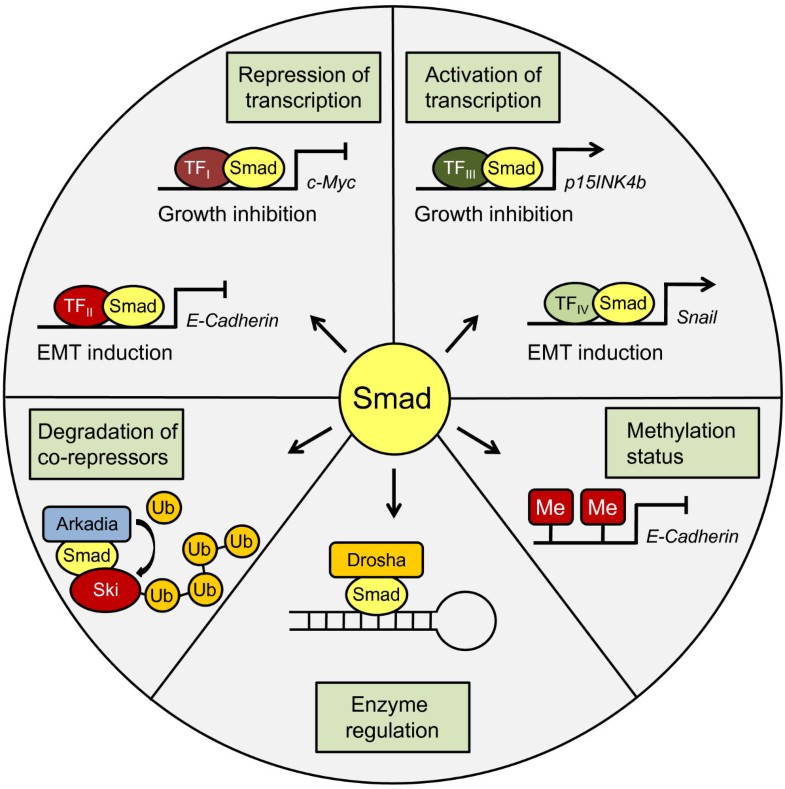 An important recently detected function of the Smads is regulation of microRNA (miRNA) processing. miRNAs are small non-coding RNAs that modulate diverse biological functions through the repression of target genes. R-Smads were found to directly interact with the RNA helicase p68, a component of the DROSHA complex that mediates the processing of miRNA precursors [36]. Smads were also shown to bind to CAGA sequences in the stem structures of a subset of miRNA precursors and thereby to facilitate their maturation [37]. It is important to note that, like Smad activity, expression of non-coding RNAs is cell type- and cell context-specific and that Smad signaling therefore results in very cell type- and cell context-specific miRNA profiles (reviewed in [5]).
Mammary development, stem cells, and cancer
TGF-β family members, including activin, are expressed throughout mammary gland development and maintain ductal morphogenesis and architecture of the gland, regulate stem cell populations, and influence epithelial proliferation and differentiation in response to hormones. Deletion of the activin βb subunit results in incomplete mammary development and absence of lactation in mice, and TGF-β has been shown to inhibit alveolar formation and synthesis of milk proteins and to induce apoptosis during involution of the mammary gland (reviewed in [38, 39]). Analysis of putative mammary phenotypes in Smad knockout mice has been complicated for Smad1, Smad2, Smad4, and Smad5, which are essential for embryonic development (reviewed in [40]). Specific disruption of Smad4 in the mammary epithelium did not affect mammary gland development during the first three pregnancies but did cause a gradual enhancement of cell proliferation, alveolar hyperplasia, and transdifferentiation of mammary epithelial cells into squamous epithelial cells. As a consequence, all mutant mice developed squamous cell carcinoma or mammary abscesses or both between 5 and 16 months of age [41]. For the other Smad knockout mice, in vivo mammary phenotypes have not been reported [40, 42].
Conclusions and perspectives
R-Smads, Co-Smads, and I-Smads transmit and integrate a large amount of distinct and context-specific positive and negative growth signals elicited by TGF-β super-family ligands and other signaling networks. The Smads perform these functions in a cell- and microenvironment-specific manner through a large number of distinct protein-protein interactions and post-translational modifications and also via regulation of miRNA processing. By regulating genes controlling cell cycle arrest, apoptosis, EMT, migration, invasion, and metastasis formation, Smads have crucial functions in both breast development and breast cancer. Crosstalk, both direct and indirect (via target genes), with the Ras-MAPK, PI3K-Akt/PKB, and p53 pathways (among others) determines the actual biological outcome of Smad signaling (Figure
5
). Future work is likely to reveal new insights in the functions of Smads in (cancer) stem cells, cancer-associated fibro-blasts, and mesenchymal stem cells, in particular with respect to invasion and metastasis. In addition, the therapeutic potential of specific inhibitors of the TGF-β/Smad pathway is heavily investigated at present.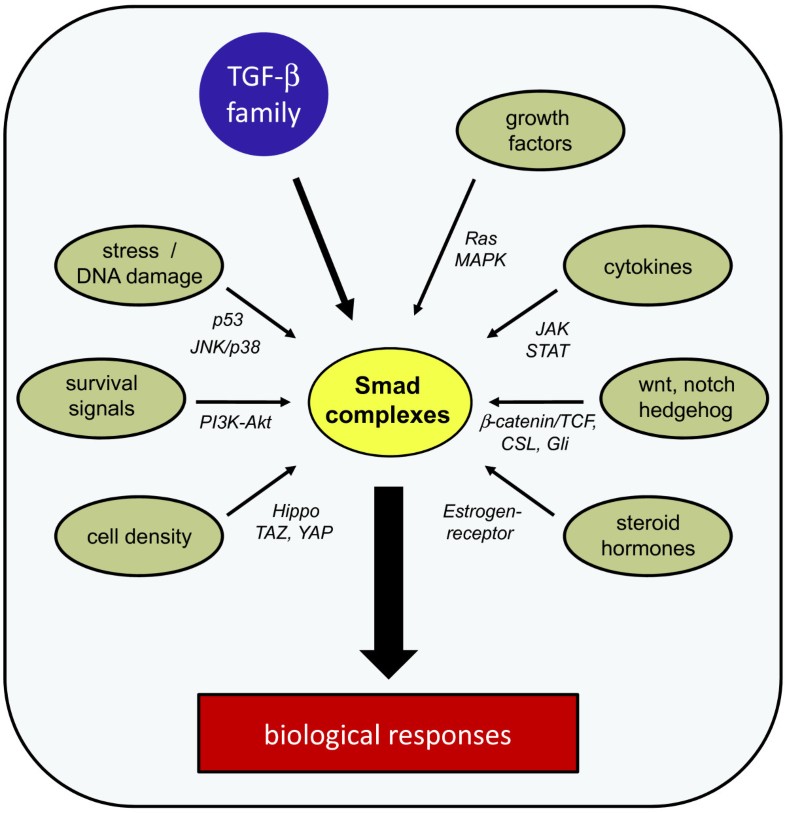 Abbreviations
BMP:

bone morphogenetic protein
CDK:

cyclin-dependent kinase
Co-Smad:

common-partner Smad
EMT:

epithelial-mesenchymal transition
ER:

estrogen receptor
GSK-3:

glycogen synthase kinase-3
HDM2:

human murine double minute
I-Smad:

inhibitory Smad
MAPK:

mitogen-activated protein kinase
MH:

mad homology
miRNA:

microRNA
mTOR:

mammalian target of rapamycin
PKA:

protein kinase A
PY:

polyproline-tyrosine
R-Smad:

receptor-regulated Smad
STAT:

signal transducer and activator of transcription
TGF-β:

transforming growth factor-beta.
Declarations
Acknowledgements
We thank our colleagues, in particular, Long Zhang, for valuable discussion and apologize to all of our colleagues whose work we could not cite directly, because of a limited amount of space. Our studies on Smads in breast cancer are supported by Swedish Cancerfonden (09 0773) and the Netherlands Centre for Biomedical Genetics.
Authors' Affiliations
(1)
Ludwig Institute for Cancer Research, Uppsala University, Uppsala, Sweden
(2)
Department of Molecular Cell Biology and Centre for Biomedical Genetics, Leiden University Medical Center, Leiden, The Netherlands
Copyright
© BioMed Central Ltd 2012