Current approaches to the management of Her2-negative metastatic breast cancer
Breast Cancer Research
2012
14:205
Abstract
While metastatic breast cancer (MBC) remains incurable, a vast array of active therapeutic agents has provided the opportunity for long-term disease control while maintaining quality of life and physical function. Optimal management of MBC balances a multitude of factors, including a woman's performance status, social support, symptoms, disease burden, prior therapies, and surrogates for tumor biology. Choosing the most appropriate initial therapy and subsequent sequence of treatments demands flexibility as goals and patient preferences may change. Knowledge of the estrogen receptor (ER), progesterone receptor (PR), and Her2 receptor status of the metastatic tumor has become critical to determining the optimal treatment strategy in the metastatic setting as targeted therapeutic approaches are developed. Patients with ER+ or PR+ breast cancer or both have a wide array of hormonal therapy options that can forestall the use of cytotoxic therapies, although rapidly progressive phenotypes and the emergence of resistance may ultimately lead to the need for chemotherapy in this setting. So-called 'triple-negative' breast cancer - lacking ER, PR, and Her2 overexpression - remains a major challenge. These tumors have an aggressive phenotype, and clear targets for therapy have not yet been established. Chemotherapy remains the mainstay of treatment in this group, but biologically based clinical trials of new agents are critical to developing a more effective set of therapies for this patient population.
Keywords
Overall SurvivalTamoxifenDocetaxelMetastatic Breast CancerCapecitabine
Introduction
Current management of metastatic breast cancer (MBC) requires nuanced decision-making, synthesizing an array of factors, including a patient's goals, performance status, comorbidities, the burden and pace of disease, tumor subtype, and exposure to prior therapies. Despite an ever-expanding armamentarium of cytotoxics, endocrine therapies, biologics, and small-molecule inhibitors, only 25% of white women and 15% of black women with MBC diagnosed between 2001 and 2008 survived 53 years [
1
]. The following review focuses on systemic management of Her2-negative MBC organized by disease subtype. In cases of locally recurrent disease or isolated distant metastasis, site- or organ-specific therapy and palliation may take precedence over systemic strategies. Figure
1
shows the current treatment paradigm for MBC on the basis of receptor status and key considerations guiding therapeutic decision-making within each group.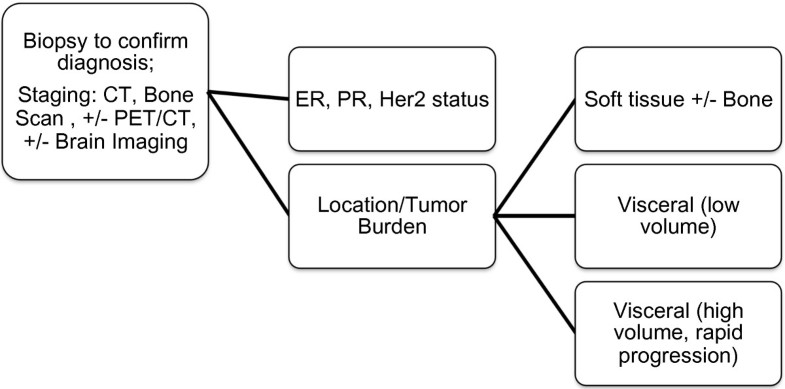 Metastatic involvement may be identified through standard baseline radiologic staging at the time of diagnosis of the incident breast cancer, baseline or subsequent abnormalities in laboratory indices, or evaluation of focal symptoms such as persistent shortness of breath, cough, abdominal pain, nausea, bone pain, or neurologic changes. In the absence of focal symptoms, the American Society of Clinical Oncology (ASCO) and clinical practice guidelines produced by the National Comprehensive Cancer Network maintain that imaging of bone, chest, abdomen, and pelvis is, at best, based on lower-level evidence without expert consensus [2, 3]. Similarly, the use of serum tumor markers and commercially available circulating tumor cell assays to detect recurrence after primary therapy is not recommended outside of a clinical trial [4]. ASCO does recognize the potential utility of serum tumor markers to assist in monitoring patients on therapy for metastatic disease.
Given the potential for discordance between the receptor status of the primary and metachronous metastases, biopsy of metastatic disease at the time of recurrence should be strongly considered not only to confirm the diagnosis but also to inform potential benefit of targeted therapies such as endocrine therapy or Her2-targeted therapies or both. However, reported rates of discordance ranging from 10% to 40% may variably reflect a true change in tumor biology, sampling error, or assay error [5]. Validated chemosensitivity or resistance assays to predict response to individual cytotoxics remain elusive tools, and this is due in part to technical limitations, sampling challenges, complex interactions between the host, tumor, and tumor microenvironment, and limited data demonstrating that in vitro results correlate to clinical outcomes [6]. Thus, at present, clinicians must optimize treatment strategies combining existing knowledge of the dominant tumor phenotype, interval from and type of prior regimens, patient's preferences, and performance status while assessing the need for rapid response in the face of a visceral threat.
Conclusions
Despite the development of numerous new agents over the past two decades and the rare durable remission, MBC remains an incurable disease. While the treatment of women with MBC will become even more complex as novel therapies emerge alongside of clinical decision-making tools that allow personalization of therapies according to molecular and genomic subtype, one basic principle ultimately will remain unchanged: do no harm. The current goal of care in metastatic disease is to palliate. Any therapeutic approach that seeks to harness the potential of a given drug to improve upon existing RRs and survival must be balanced against toxicities.
Abbreviations
AI:

aromatase inhibitor
ASCO:

American Society of Clinical Oncology
BOLERO-2:

Breast Cancer Trials of Oral Everolimus-2
CBR:

clinical benefit rate
ER:

estrogen receptor
FDA:

US Food and Drug Administration
GnRH:

gonadotropin-releasing hormone
IGFR-I:

insulin-like growth factor receptor-I
MA:

megestrol acetate
MBC:

metastatic breast cancer
mTOR:

mammalian target of rapamycin
OS:

overall survival
PARP:

poly (ADP-ribose) polymerase
PFS:

progression-free survival
PLD:

pegylated liposomal doxorubicin
PR:

progesterone receptor
RR:

response rate
TTP:

time to progression.
Authors' Affiliations
(1)
Rena Rowan Breast Center, Abramson Cancer Center, University of Pennsylvania, Perelman Center for Advanced Medicine, Philadelphia, USA
(2)
Department of Medicine, Division of Hematology/Oncology, University of Pennsylvania, Philadelphia, USA
(3)
Department of Biostatistics and Epidemiology, Center for Clinical Epidemiology and Biostatistics, Philadelphia, USA
References
Howlader N, Noone AM, Krapcho M, Neyman N, Aminou R, Waldron W, Altekruse SF, Kosary CL, Ruhl J, Tatalovich Z, Cho H, Mariotto A, Eisner MP, Lewis DR, Chen HS, Feuer EJ, Cronin KA, Edwards BK (eds): SEER Cancer Statistics Review. 1975, Bethesda, MD: National Cancer Institute, [http://seer.cancer.gov/csr/1975_2008/] -2008Google Scholar
Khatcheressian JL, Wolff AC, Smith TJ, Grunfeld E, Muss HB, Vogel VG, Halberg F, Somerfield MR, Davidson NE, American Society of Clinical Oncology: American Society of Clinical Oncology 2006 update of the breast cancer follow-up and management guideline in the adjuvant Setting. J Clin Oncol. 2006, 2: 5091-5097.View ArticleGoogle Scholar
NCCN Guidelines Breast Cancer Version 2.2011. [http://www.nccn.org/professionals/physician_gls/pdf/breast.pdf]
Harris L, Fritsche H, Mennel R, Norton L, Ravdin P, Taube S, Somerfield MR, Hayes DF, Bast RC, American Society of Clinical Oncology: American Society of Clinical Oncology 2007 update of recommendations for the use of tumor markers in breast cancer. J Clin Oncol. 2007, 25: 5287-5312. 10.1200/JCO.2007.14.2364.View ArticlePubMedGoogle Scholar
Pusztai L, Viale G, Kelly CM, Hudis CA: Estrogen and HER-2 receptor discordance between primary breast cancer and metastasis. Oncologist. 2010, 15: 1164-1168. 10.1634/theoncologist.2010-0059.View ArticlePubMedPubMed CentralGoogle Scholar
Mi Z, Holmes FA, Hellerstedt B, Pippen J, Collea R, Backner A, Bush JE, Gallion HH, Wells A, O'Shaughnessy JA: Feasibility assessment of a chemoresponse assay to predict pathologic response in neoadjuvant chemotherapy for breast cancer patients. Anticancer Res. 2008, 28: 1733-1740.PubMedGoogle Scholar
Baselga J, Campone M, Piccart M, Burris H, Rugo HS, Sahmoud T, Noguchi S, Gnant M, Pritchard KI, Lebrun F, Beck JT, Ito Y, Yardley D, Deleu I, Perez A, M Bachelot T, Vittori L, Xu Z, Mukhopadhyay P, Lebwohl D, Hortobagyi GN: Everolimus in postmenopausal hormone-receptor-positive advanced breast cancer. N Engl J Med. 2011Google Scholar
Early Breast Cancer Trialists' Collaborative Group (EBCTCG): Effects of chemotherapy and hormonal therapy for early breast cancer on recurrence and 15-year survival: an overview of the randomised trials. Lancet. 2005, 365: 1687-1717.View ArticleGoogle Scholar
NCI Drug Dictionary. [http://www.cancer.gov/drugdictionary]
Ingle JN, Krook JE, Green SJ, Kubista TP, Everson LK, Ahmann DL, Chang MN, Bisel HF, Windschitl HE, Twito DI, Pfiefle DM: Randomized trial of bilateral oopherectomy versus tamoxifen in premenopausal women with metastatic breast cancer. J Clin Oncol. 1986, 4: 178-185.PubMedGoogle Scholar
Boccardo F, Rubagotti A, Perrotta A, Amoroso D, Balestrero M, De Matteis A, Zola P, Sismondi P, Francini G, Petrioli R, Sassi M, Pacini P, Galligioni E: Ovarian ablation versus goserelin with or without tamoxifen in pre-perimenopausal patients with advanced breast cancer: results of a multicentric Italian study. Ann Oncol. 1994, 5: 337-342.PubMedGoogle Scholar
Klijn JG, Blamey RW, Boccardo F, Tominaga T, Duchateau L, Sylvester R, Combined Hormone Agents Trialists' Group and the European Organization for Research and Treatment of Cancer: Combined tamoxifen and luteinizing hormone-releasing hormone (LHRH) agonist versus LHRH agonist alone in premenopausal advanced breast cancer: a meta-analysis of four randomized trials. J Clin Oncol. 2001, 19: 343-353.PubMedGoogle Scholar
Hughes LL, Gray RJ, Solin LJ, Robert NJ, Martino S, Tripathy D, Ingle JN, Wood WC, Eastern Cooperative Oncology Group; Southwest Oncology Group; Cancer and Leukemia Group B; North Central Cancer Treatment Group: Efficacy of radiotherapy for ovarian ablation: results of a breast intergroup study. Cancer. 2004, 101: 969-972. 10.1002/cncr.20481.View ArticlePubMedGoogle Scholar
Sverrisdottir A, Johansson H, Johansson U, Bergh J, Rotstein S, Rutqvist LE, Fornander T: Interaction between goserelin and tamoxifen in a controlled clinical trial of adjuvant endocrine therapy in premenopausal breast cancer. San Antonio Breast Cancer Symposium. 2010, S1-5.Google Scholar
Di Leo A, Jerusalem G, Petruzelka L, Torres R, Bondarenko IN, Khasanov R, Verhoeven D, Pedrini JL, Smirnova I, Lichinitser MR, Pendergrass K, Garnett S, Lindemann JP, Sapunar F, Martin M: Results of the CONFIRM phase III trial comparing fulvestrant 250 mg with fulvestrant 500 mg in postmenopausal women with estrogen receptor-positive advanced breast cancer. J Clin Oncol. 2010, 28: 4594-4600. 10.1200/JCO.2010.28.8415.View ArticlePubMedGoogle Scholar
Ingle JN, Suman VJ, Rowland KM, Mirchandani D, Bernath AM, Camoriano JK, Fishkin PA, Nikcevich DA, Perez EA, North Central Cancer Treatment Group Trial N0032: Fulvestrant in women with advanced breast cancer after progression on prior aromatase inhibitor therapy: North Central Cancer Treatment Group Trial N0032. J Clin Oncol. 2006, 24: 1052-1056. 10.1200/JCO.2005.04.1053.View ArticlePubMedGoogle Scholar
Robertson JF, Llombart-Cussac A, Rolski J, Feltl D, Dewar J, Macpherson E, Lindemann J, Ellis MJ: Activity of fulvestrant 500 mg versus anastrozole 1 mg as first-line treatment for advanced breast cancer: results from the FIRST study. J Clin Oncol. 2009, 27: 4530-4535. 10.1200/JCO.2008.21.1136.View ArticlePubMedGoogle Scholar
Goss PE, Winer EP, Tannock IF, Schwartz LH: Randomized phase III trial comparing the new potent and selective third-generation aromatase inhibitor vorozole with megestrol acetate in postmenopausal advanced breast cancer patients. J Clin Oncol. 1999, 17: 52-63.PubMedGoogle Scholar
Shattuck DL, Miller JK, Carraway KL, Sweeney C: Met receptor contributes to trastuzumab resistance of Her2-overexpressing breast cancer cells. Cancer Res. 2008, 68: 1471-1477. 10.1158/0008-5472.CAN-07-5962.View ArticlePubMedGoogle Scholar
Bonneterre J, Buzdar A, Nabholtz JM, Robertson JF, Thürlimann B, von Euler M, Sahmoud T, Webster A, Steinberg M, Arimidex Writing Committee; Investigators Committee Members: Anastrozole is superior to tamoxifen as first-line therapy in hormone receptor positive advanced breast carcinoma. Cancer. 2001, 92: 2247-2258. 10.1002/1097-0142(20011101)92:9<2247::AID-CNCR1570>3.0.CO;2-Y.View ArticlePubMedGoogle Scholar
Mouridsen H, Sun Y, Gershanovich M, Perez-Carrion R, Becquart D, ChaudriRoss HA, Lang R: Superiority of letrozole to tamoxifen in the first-line treatment of advanced breast cancer: evidence from metastatic subgroups and a test of functional ability. Oncologist. 2004, 9: 489-496. 10.1634/theoncologist.9-5-489.View ArticlePubMedGoogle Scholar
Paridaens RJ, Dirix LY, Beex LV, Nooij M, Cameron DA, Cufer T, Piccart MJ, Bogaerts J, Therasse P: Phase III study comparing exemestane with tamoxifen as first-line hormonal treatment of metastatic breast cancer in postmenopausal women: the European Organisation for Research and Treatment of Cancer Breast Cancer Cooperative Group. J Clin Oncol. 2008, 26: 4883-4890. 10.1200/JCO.2007.14.4659.View ArticlePubMedPubMed CentralGoogle Scholar
Kaufmann M, Bajetta E, Dirix LY, Fein LE, Jones SE, Zilembo N, Dugardyn JL, Nasurdi C, Mennel RG, Cervek J, Fowst C, Polli A, di Salle E, Arkhipov A, Piscitelli G, Miller LL, Massimini G: Exemestane improves survival in metastatic breast cancer: results of a phase III randomized study. Clin Breast Cancer. 2000, 1 (suppl 1): S15-18.View ArticlePubMedGoogle Scholar
Campos SM, Guastalla JP, Subar M, Abreu P, Winer EP, Cameron DA: A comparative study of exemestane versus anastrozole in patients with postmenopausal breast cancer with visceral metastases. Clin Breast Cancer. 2009, 9: 39-44. 10.3816/CBC.2009.n.007.View ArticlePubMedGoogle Scholar
Brufman G, Isacson R, Haim N, Gez E, Sulkes A: Megestrol acetate in advanced breast carcinoma after failure to tamoxifen and/or aminoglutethimide. Oncology. 1994, 51: 258-261. 10.1159/000227345.View ArticlePubMedGoogle Scholar
Ellis MJ, Gao F, Dehdashti F, Jeffe DB, Marcom PK, Carey LA, Dickler MN, Silverman P, Fleming GF, Kommareddy A, Jamalabadi-Majidi S, Crowder R, Siegel BA: Lower-dose vs. high-dose oral estradiol therapy of hormone receptor-positive, aromatase inhibitor-resistant advanced breast cancer: a phase 2 randomized study. JAMA. 2009, 302: 774-780. 10.1001/jama.2009.1204.View ArticlePubMedPubMed CentralGoogle Scholar
Kaufman PA, Ferrero JM, Bourgeois H, Kennecke H, De Boer R, Jacot W, McGreivy J, Suzuki S, Loh E, Robertson J: A randomized, double-blind, placebo-controlled, phase 2 study of AMG 479 with exemestane (E) or fulvestrant (F) in postmenopausal women with hormone-receptor positive (HR+) metastatic (M) or locally advanced (LA) breast cancer (BC) [abstract]. San Antonio Breast Cancer Symposium. 2010, S1-4.Google Scholar
Bachelot T, Bourgier C, Cropet C, Guastalla J-P, Ferrero J-M, Leger-Falandry C, Soulie P, Eymard J-C, Debled M, Spaeth D, Legouffe E, Delozier T, El Kouri C, Chidiac J: TAMRAD: a GINECO randomized phase II trial of everolimus in combination with tamoxifen versus tamoxifen alone in patients (pts) with hormone-receptor positive, HER2 negative metastatic breast cancer (MBC) with prior exposure to aromatase inhibitors (AI) [abstract]. San Antonio Breast Cancer Symposium. 2010, S1-6.Google Scholar
Kennecke H, Yerushalmi R, Woods R, Cheang MC, Voduc D, Speers CH, Nielsen TO, Gelmon K: Metastatic behavior of breast cancer subtypes. J Clin Oncol. 2010, 28: 3271-3277. 10.1200/JCO.2009.25.9820.View ArticlePubMedGoogle Scholar
Chan S, Friedrichs K, Noel D, Pintér T, Van Belle S, Vorobiof D, Duarte R, Gil Gil M, Bodrogi I, Murray E, Yelle L, von Minckwitz G, Korec S, Simmonds P, Buzzi F, González Mancha R, Richardson G, Walpole E, Ronzoni M, Murawsky M, Alakl M, Riva A, Crown J, 303 Study Group: Prospective randomized trial of docetaxel versus doxorubicin in patients with metastatic breast cancer. J Clin Oncol. 1999, 17: 2341-2454.PubMedGoogle Scholar
Bastholt L, Dalmark M, Gjedde SB, Pfeiffer P, Pedersen D, Sandberg E, Kjaer M, Mouridsen HT, Rose C, Nielsen OS, Jakobsen P, Bentzen SM: Dose-response relationship of epirubicin in the treatment of postmenopausal patients with metastatic breast cancer: a randomized study of epirubicin at four different dose levels performed by the Danish Breast Cancer Cooperative Group. J Clin Oncol. 1996, 14: 1146-1166.PubMedGoogle Scholar
O'Brien ME, Wigler N, Inbar M, Rosso R, Grischke E, Santoro A, Catane R, Kieback DG, Tomczak P, Ackland SP, Orlandi F, Mellars L, Alland L, Tendler C, CAELYX Breast Cancer Study Group: Reduced cardiotoxicity and comparable efficacy in a phase III trial of pegylated liposomal doxorubicin HCl (CAELYX/Doxil) versus conventional doxorubicin for first-line treatment of metastatic breast cancer. Ann Oncol. 2004, 15: 440-449. 10.1093/annonc/mdh097.View ArticlePubMedGoogle Scholar
Jones SE, Erban J, Overmoyer B, Budd GT, Hutchins L, Lower E, Laufman L, Sundaram S, Urba WJ, Pritchard KI, Mennel R, Richards D, Olsen S, Meyers ML, Ravdin PM: Randomized phase III study of docetaxel compared with paclitaxel in metastatic breast cancer. J Clin Oncol. 2005, 23: 5542-5551. 10.1200/JCO.2005.02.027.View ArticlePubMedGoogle Scholar
Seidman AD, Berry D, Cirrincione C, Harris L, Muss H, Marcom PK, Gipson G, Burstein H, Lake D, Shapiro CL, Ungaro P, Norton L, Winer E, Hudis C: Randomized phase III trial of weekly compared with every-3-weeks paclitaxel for metastatic breast cancer, with trastuzumab for all HER-2 overexpressors and random assignment to trastuzumab or not in HER-2 nonoverexpressors: final results of Cancer and Leukemia Group B protocol 9840. J Clin Oncol. 2008, 26: 1642-1649. 10.1200/JCO.2007.11.6699.View ArticlePubMedGoogle Scholar
Perez EA, Vogel CL, Irwin DH, Kirshner JJ, Patel R: Multicenter phase II trial of weekly paclitaxel in women with metastatic breast cancer. J Clin Oncol. 2001, 19: 4216-4223.PubMedGoogle Scholar
Burris HA: Single-agent docetaxel (Taxotere) in randomized phase III trials. Semin Oncol. 1999, 26 (3 suppl 9): 1-6.PubMedGoogle Scholar
Burstein HJ, Manola J, Younger J, Parker LM, Bunnell CA, Scheib R, Matulonis UA, Garber JE, Clarke KD, Shulman LN, Winer EP: Docetaxel administered on a weekly basis for metastatic breast cancer. J Clin Oncol. 2000, 18: 1212-1219.PubMedGoogle Scholar
Gradishar WJ, Tjulandin S, Davidson N, Shaw H, Desai N, Bhar P, Hawkins M, O'Shaughnessy J: Phase III trial of nanoparticle albumin-bound paclitaxel compared with polyethylated castor oil-based paclitaxel in women with breast cancer. J Clin Oncol. 2005, 23: 7794-7803. 10.1200/JCO.2005.04.937.View ArticlePubMedGoogle Scholar
Gradishar WJ, Krasnojon D, Cheporov S, Makhson AN, Manikhas GM, Clawson A, Bhar P: Significantly longer progression-free survival with nab-paclitaxel compared with docetaxel as first-line therapy for metastatic breast cancer. J Clin Oncol. 2009, 27: 3611-3619. 10.1200/JCO.2008.18.5397.View ArticlePubMedGoogle Scholar
Zelek L, Barthier S, Riofrio M, Fizazi K, Rixe O, Delord JP, Le Cesne A, Spielmann M: Weekly vinorelbine is an effective palliative regimen after failure with anthracyclines and taxanes in metastatic breast carcinoma. Cancer. 2001, 92: 2267-2272. 10.1002/1097-0142(20011101)92:9<2267::AID-CNCR1572>3.0.CO;2-Q.View ArticlePubMedGoogle Scholar
Roché H, Yelle L, Cognetti F, Mauriac L, Bunnell C, Sparano J, Kerbrat P, Delord JP, Vahdat L, Peck R, Lebwohl D, Ezzeddine R, Curé H: Phase II clinical trial of ixabepilone (BMS-247550), an epothilone B analog, as first-line therapy in patients with metastatic breast cancer previously treated with anthracycline chemotherapy. J Clin Oncol. 2007, 25: 3415-3420. 10.1200/JCO.2006.09.7535.View ArticlePubMedGoogle Scholar
Rivera E, Gomez H: Chemotherapy resistance in metastatic breast cancer:the evolving role of ixabepilone. Breast Cancer Res. 2010, 12 (suppl 2): 1-12.Google Scholar
Denduluri N, Low JA, Lee JJ, Berman AW, Walshe JM, Vatas U, Chow CK, Steinberg SM, Yang SX, Swain SM: Phase II trial of ixabepilone, an epothilone B analog, in patients with metastatic breast cancer previously untreated with taxanes. J Clin Oncol. 2007, 25: 3421-3427. 10.1200/JCO.2006.10.0784.View ArticlePubMedGoogle Scholar
Perez EA, Lerzo G, Pivot X, Thomas E, Vahdat L, Bosserman L, Viens P, Cai C, Mullaney B, Peck R, Hortobagyi GN: Efficacy and safety of ixabepilone (BMS-247550) in a phase II study of patients with advanced breast cancer resistant to an anthracycline, a taxane, and capecitabine. J Clin Oncol. 2007, 25: 3407-3414. 10.1200/JCO.2006.09.3849.View ArticlePubMedGoogle Scholar
Thomas E, Tabernero J, Fornier M, Conté P, Fumoleau P, Lluch A, Vahdat LT, Bunnell CA, Burris HA, Viens P, Baselga J, Rivera E, Guarneri V, Poulart V, Klimovsky J, Lebwohl D, Martin M: Phase II clinical trial of ixabepilone (BMS-247550), an epothilone B analog, in patients with taxane-resistant metastatic breast cancer. J Clin Oncol. 2007, 25: 3399-3406. 10.1200/JCO.2006.08.9102.View ArticlePubMedGoogle Scholar
Cortes J, Vahdat L, Blum JL, Twelves C, Campone M, Roché H, Bachelot T, Awada A, Paridaens R, Goncalves A, Shuster DE, Wanders J, Fang F, Gurnani R, Richmond E, Cole PE, Ashworth S, Allison MA: Phase II study of the halichondrin B analog eribulin mesylate in patients with locally advanced or metastatic breast cancer previously treated with an anthracycline, a taxane, and capecitabine. J Clin Oncol. 2010, 28: 3922-3928. 10.1200/JCO.2009.25.8467.View ArticlePubMedGoogle Scholar
Vahdat LT, Pruitt B, Fabian CJ, Rivera RR, Smith DA, Tan-Chiu E, Wright J, Tan AR, Dacosta NA, Chuang E, Smith J, O'Shaughnessy J, Shuster DE, Meneses NL, Chandrawansa K, Fang F, Cole PE, Ashworth S, Blum JL: Phase II study of eribulin mesylate, a halichondrin B analog, in patients with metastatic breast cancer previously treated with an anthracycline and a taxane. J Clin Oncol. 2009, 27: 2954-2961. 10.1200/JCO.2008.17.7618.View ArticlePubMedGoogle Scholar
Cortes J, O'Shaughnessy J, Loesch D, Blum JL, Vahdat LT, Petrakova K, Chollet P, Manikas A, Diéras V, Delozier T, Vladimirov V, Cardoso F, Koh H, Bougnoux P, Dutcus CE, Seegobin S, Mir D, Meneses N, Wanders J, Twelves C, EMBRACE (Eisai Metastatic Breast Cancer Study Assessing Physician's Choice Versus E7389) investigators: Eribulin monotherapy versus treatment of physician's choice in patients with metastatic breast cancer (EMBRACE): a phase 3 open-label randomised study. Lancet. 2011, 377: 914-923. 10.1016/S0140-6736(11)60070-6.View ArticlePubMedGoogle Scholar
Blum JL, Dieras V, Lo Russo PM, Horton J, Rutman O, Buzdar A, Osterwalder B: Multicenter, phase II study of capecitabine in taxane-pretreated metastatic breast cancer. Cancer. 2001, 92: 1759-1768. 10.1002/1097-0142(20011001)92:7<1759::AID-CNCR1691>3.0.CO;2-A.View ArticlePubMedGoogle Scholar
O'Shaugh nessy J, Miles D, Vukelja S, Moiseyenko V, Ayoub JP, Cervantes G, Fumoleau P, Jones S, Lui WY, Mauriac L, Twelves C, Van Hazel G, Verma S, Leonard R: Superior survival with capecitabine plus docetaxel combination therapy in anthracycline-pretreated patients with advanced breast cancer: phase III trial results. J Clin Oncol. 2002, 20: 2812-2823. 10.1200/JCO.2002.09.002.View ArticleGoogle Scholar
Bajetta E, Procopio G, Celio L, Gattinoni L, Della Torre S, Mariani L, Catena L, Ricotta R, Longarini R, Zilembo N, Buzzoni R: Safety and efficacy of two different doses of capecitabine in the treatment of advanced breast cancer in older women. J Clin Oncol. 2005, 23: 2155-2161. 10.1200/JCO.2005.02.167.View ArticlePubMedGoogle Scholar
Blackste in M, Vogel CL, Ambinder R, Cowan J, Iglesias J, Melemed A: Gemcitabine as first-line therapy in patients with metastatic breast cancer: a phase II trial. Oncology. 2002, 62: 2-8.View ArticleGoogle Scholar
Rha SY, Moon YH, Jeung HC, Kim YT, Sohn JH, Yang WI, Suh CO, Kim GE, Roh JK, Chung HC: Gemcitabine monotherapy as salvage chemotherapy in heavily pretreated metastatic breast cancer. Breast Cancer Res Treat. 2005, 90: 215-221. 10.1007/s10549-004-2468-4.View ArticlePubMedGoogle Scholar
Albain K S, Nag SM, Calderillo-Ruiz G, Jordaan JP, Llombart AC, Pluzanska A, Rolski J, Melemed AS, Reyes-Vidal JM, Sekhon JS, Simms L, O'Shaughnessy J: Gemcitabine plus paclitaxel versus paclitaxel monotherapy in patients with metastatic breast cancer and prior anthracycline treatment. J Clin Oncol. 2008, 26: 3950-3957. 10.1200/JCO.2007.11.9362.View ArticlePubMedGoogle Scholar
Mauri D, Kamposioras K, Tsali L, Bristianou M, Valachis A, Karathanasi I, Georgiou C, Polyzos NP: Overall survival benefit for weekly vs. three-weekly taxanes regimens in advanced breast cancer: a meta-analysis. Cancer Treat Rev. 2009, 36: 69-74.View ArticlePubMedGoogle Scholar
Sparano JA, Vrdoljak E, Rixe O, Xu B, Manikhas A, Medina C, Da Costa SC, Ro J, Rubio G, Rondinon M, Perez Manga G, Peck R, Poulart V, Conte P: Randomized phase III trial of ixabepilone plus capecitabine versus capecitabine in patients with metastatic breast cancer previously treated with an anthracycline and a taxane. J Clin Oncol. 2010, 28: 3256-3263. 10.1200/JCO.2009.24.4244.View ArticlePubMedPubMed CentralGoogle Scholar
Sirohi B, Arnedos M, Popat S, Ashley S, Nerurkar A, Walsh G, Johnston S, Smith IE: Platinum-based chemotherapy in triple negative breast cancer. Ann Oncol. 2008, 19: 1847-1852. 10.1093/annonc/mdn395.View ArticlePubMedGoogle Scholar
Wang Z, Hu X, Chen L, Wang J, Wang H, Wang L, Liu G, Hu Z, Wu J, Zhimin S: Efficacy of gemcitabine and cisplatin (GP) as first-line combination therapy in patients with triple-negative metastatic breast cancer: preliminary results report of a phase II trial [abstract]. J Clin Oncol. 2010, 28 (suppl): e1100-Google Scholar
Chew HK, Doroshow JH, Frankel P, Margolin KA, Somlo G, Lenz HJ, Gordon M, Zhang W, Yang D, Russell C, Spicer D, Synold T, Bayer R, Hantel A, Stiff PJ, Tetef ML, Gandara DR, Albain KS: Phase II studies of gemcitabine and cisplatin in heavily and minimally pretreated metastatic breast cancer. J Clin Oncol. 2009, 27: 2163-2169. 10.1200/JCO.2008.17.4839.View ArticlePubMedPubMed CentralGoogle Scholar
Staudacher L, Cottu PH, Diéras V, Vincent-Salomon A, Guilhaume MN, Escalup L, Dorval T, Beuzeboc P, Mignot L, Pierga JY: Platinum-based chemotherapy in metastatic triple-negative breast cancer: the Institut Curie experience. Ann Oncol. 2011, 22: 848-856. 10.1093/annonc/mdq461.View ArticlePubMedGoogle Scholar
Miller K, Wang M, Gralow J, Dickler M, Cobleigh M, Perez EA, Shenkier T, Cella D, Davidson NE: Paclitaxel plus bevacizumab versus paclitaxel alone for metastatic breast cancer. N Engl J Med. 2007, 357: 2666-2676. 10.1056/NEJMoa072113.View ArticlePubMedGoogle Scholar
Miles DW, Chan A, Dirix LY, Cortés J, Pivot X, Tomczak P , Delozier T, Sohn JH, Provencher L, Puglisi F, Harbeck N, Steger GG, Schneeweiss A, Wardley AM, Chlistalla A, Romieu G: Phase III study of bevacizumab plus docetaxel compared with placebo plus docetaxel for the first-line treatment of human epidermal growth factor receptor 2-negative metastatic breast cancer. J Clin Oncol. 2010, 28: 3239-3247. 10.1200/JCO.2008.21.6457.View ArticlePubMedGoogle Scholar
Miller KD, Chap LI, Holmes FA, Cobleigh MA, Marcom PK, Fehrenbacher L, Dickler M, Overmoyer BA, Reimann JD, Sing AP, Langmuir V, Rugo HS: Randomized phase III trial of capecitabine compared with bevacizumab plus capecitabine in patients with previously treated metastatic breast cancer. J Clin Oncol. 2005, 23: 792-798. 10.1200/JCO.2005.05.098.View ArticlePubMedGoogle Scholar
Robert NJ, Diéras V, Glaspy J, Brufsky AM, Bondarenko I, Lipatov ON, Perez EA, Yardley DA, Chan SY, Zhou X, Phan SC, O'Shaughnessy J: RIBBON-1: randomized, double-blind, placebo-controlled, phase III trial of chemotherapy with or without bevacizumab for first-line treatment of human epidermal growth factor receptor 2-negative, locally recurrent or metastatic breast cancer. J Clin Oncol. 2011, 29: 1252-1260. 10.1200/JCO.2010.28.0982.View ArticlePubMedGoogle Scholar
Martin M, Roche H, Pinter T, Crown J, Kennedy MJ, Provencher L, Priou F, Eiermann W, Adrover E, Lang I, Ramos M, Latreille J, Jagiełło-Gruszfeld A, Pienkowski T, Alba E, Snyder R, Almel S, Rolski J, Munoz M, Moroose R, Hurvitz S, Baños A, Adewoye H, Hei YJ, Lindsay MA, Rupin M, Cabaribere D, Lemmerick Y, Mackey JR; TRIO 010 investigators: Motesanib, or open-label bevacizumab, in combination with paclitaxel, as first-line treatment for HER2-negative locally recurrent or metastatic breast cancer: a phase 2, randomised, double-blind, placebo-controlled study. Lancet Oncol. 2011, 4: 369-376.View ArticleGoogle Scholar
National Institute for Health and Clinical Excellence: Guide line for] Bevacizumab in combination with a taxane for the first-line treatment of metastatic breast cancer. [http://guidance.nice.org.uk/TA214]
Hearing on Proposal to Withdraw Approval for the Breast Cancer Indication for Bevacizumab (Avastin). Washington, DC: US Food and Drug Administration; 28-29 June 2011. [http://www.fda.gov/newsevents/meetingsconferencesworkshops/ucm255874.htm]
O'Shaughnessy J, Schwartzberg LS, Danso MA, Rugo HS, Miller K, Yardley DA, Carlson RW, Finn RS, Charpentier E, Freese M, Gupta S, Blackwood-Chirchir A, Winer EP: A randomized phase III study of iniparib (BSI-201) in combination with gemcitabine/carboplatin (G/C) in metastatic triple-negative breast cancer (TNBC) [abstract]. J Clin Oncol. 2011, 29 (Suppl): e1007-Google Scholar
O'Shaughnessy J, Osborne C, Pippen JE, Yoffe M, Patt D, Rocha C, Koo IC, Sherman BM, Bradley C: Iniparib plus chemotherapy in metastatic triplenegative breast cancer. N Engl J Med. 2011, 364: 205-214. 10.1056/NEJMoa1011418.View ArticlePubMedGoogle Scholar
Tutt A, Robson M, Garber JE, Domchek SM, Audeh MW, Weitzel JN , Friedlander M, Arun B, Loman N, Schmutzler RK, Wardley A, Mitchell G, Earl H, Wickens M, Carmichael J: Oral poly(ADP-ribose) polymerase inhibitor olaparib in patients with BRCA1 or BRCA2 mutations and advanced breast cancer: a proof-of-concept trial. Lancet. 2010, 376: 235-244. 10.1016/S0140-6736(10)60892-6.View ArticlePubMedGoogle Scholar
Isakoff SJ, Overmoyer B, Tung NM, Gelman RS, Giranda VL, Bernhard KM, Habin KR, Ellisen LW, Winer EP, Goss PE: A phase II trial of the PARP inhibitor veliparib (ABT888) and temozolomide for metastatic breast cancer [abstract]. J Clin Oncol. 2010, 28 (Suppl): e1019-Google Scholar
Bergh J, Greil R, Voytko N, Makhson A, Cortes J, Lortholary A, Huang X, Giorgetti C, Kern KA, Lichinitser M: Sunitinib (SU) in combination with docetaxel (D) versus D alone for the first-line treatment of advanced breast cancer (ABC) [abstract]. J Clin Oncol. 2010, 28 (Suppl): LBA1010-Google Scholar
Ponzo MG, Lesurf R, Petkiewicz S, O'Malley FP, Pinnaduwage D , Andrulis IL, Bull SB, Chughtai N, Zuo D, Souleimanova M, Germain D, Omeroglu A, Cardiff RD, Hallett M, Park M: Met induces mammary tumors with diverse histologies and is associated with poor outcome and human basal breast cancer. Proc Natl Acad Sci USA. 2009, 106: 12903-12908. 10.1073/pnas.0810402106.View ArticlePubMedPubMed CentralGoogle Scholar
Adjei A, Sosman J, Martell R, Dy G, Goff L, Ma W, Horn L, Fetterly G, Michael A, Means J, Chai F, Lamar M, Strauss G, Chiang W, Jarboe J, Schwartz B, Puzanov I: Efficacy in selected tumor types in a phase I study of the c-MET inhibitor ARQ 197 in combination with sorafenib. J Clin Oncol. 2011, 29 (Suppl): 3034-Google Scholar
Camacho L, Pant S, Saleh M, Abbadessa G, Kazakin J, Schwartz B, Bendell J: Phase Ib results of c-MET inhibitor ARQ 197 in combination with gemcitabine in a cohort of patients (pts) with advanced breast, ovarian, and uterine tumors. J Clin Oncol. 2011, 29 (Suppl): 3077-Google Scholar
Donehower R, Scardina A, Hill M, Bowman J, Newton R, Liu X, Scherle P, Wang Q, Diamond S, Boer J, Lee F, Gau T, Burris H, Bendell J, Jones S, Infante J: A phase I dose-escalation study of INCB028060, an inhibitor of c-MET receptor tyrosine kinase, in patients with advanced solid tumors. J Clin Oncol. 2011, 29 (Suppl): 3091-Google Scholar
Kuss JT, Muss HB, Hoen H, Case LD: Tamoxifen as initial endocrine therapy for metastatic breast cancer: long term follow-up of two Piedmont Oncology Association (POA) trials. Breast Cancer Res Treat. 1997, 42: 265-274. 10.1023/A:1005758127114.View ArticlePubMedGoogle Scholar
Klijn JG, Beex LV, Mauriac L, van Zijl JA, Veyret C, Wildiers J, Jassem J, Piccart M, Burghouts J, Becquart D, Seynaeve C, Mignolet F, Duchateau L: Combined treatment with buserelin and tamoxifen in premenopausal metastatic breast cancer: a randomized study. J Natl Cancer Inst. 2000, 92: 903-911. 10.1093/jnci/92.11.903.View ArticlePubMedGoogle Scholar
Howell A, Robertson JF, Abram P, Lichinitser MR, Elledge R, Bajetta E, Watanabe T, Morris C, Webster A, Dimery I, Osborne CK: Comparison of fulvestrant versus tamoxifen for the treatment of advanced breast cancer in postmenopausal women previously untreated with endocrine therapy: a multinational, double-blind, randomized trial. J Clin Oncol. 2004, 22: 1605-1613. 10.1200/JCO.2004.02.112.View ArticlePubMedGoogle Scholar
Thürlimann B, Hess D, Köberle D, Senn I, Ballabeni P, Pagani O, Perey L, Aebi S, Rochlitz C, Goldhirsch A: Anastrozole ('Arimidex') versus tamoxifen as first-line therapy in postmenopausal women with advanced breast cancer: results of the double-blind cross-over SAKK trial 21/95--a sub-study of the TARGET (Tamoxifen or 'Arimidex' Randomized Group Efficacy and Tolerability) trial. Breast Cancer Res Treat. 2004, 85: 247-254. 10.1023/B:BREA.0000025420.78346.f9.View ArticlePubMedGoogle Scholar
Mouridsen H, Gershanovich M, Sun Y, Pérez-Carrión R, Boni C, Monnier A, Apffelstaedt J, Smith R, Sleeboom HP, Jänicke F, Pluzanska A, Dank M, Becquart D, Bapsy PP, Salminen E, Snyder R, Lassus M, Verbeek JA, Staffler B, Chaudri-Ross HA, Dugan M: Superior efficacy of letrozole versus tamoxifen as first-line therapy for postmenopausal women with advanced breast cancer: results of a phase III study of the International Letrozole Breast Cancer Group. J Clin Oncol. 2001, 19: 2596-2606.PubMedGoogle Scholar
Muss HB, Case LD, Atkins JN, Bearden JD, Cooper MR, Cruz JM, Jackson DV, O'Rourke MA, Pavy MD, Powell BL, Richards F, Spurr CL, Eagle K, White DR: Tamoxifen versus high-dose oral medroxyprogesterone acetate as initial endocrine therapy for patients with metastatic breast cancer: A Piedmont Oncology Association Study. J Clin Oncol. 1994, 12: 1630-1638.PubMedGoogle Scholar
Seidman AD, Tiersten A, Hudis C, Gollub M, Barrett S, Yao TJ, Lepore J, Gilewski T, Currie V, Crown J, Hakes T, Baselga J, Sklarin N, Moynihan ME, Tong W, Egorin M, Kearns C, Spriggs D, Norton L: Phase II trial of paclitaxel by 3-hour infusion as initial and salvage chemotherapy for metastatic breast cancer. J Clin Oncol. 1995, 13: 2575-2581.PubMedGoogle Scholar
Oshaughnessy JA, Blum J, Moiseyenko V, Jones SE, Miles D, Bell D, Rosso R, Mauriac L, Osterwalder B, Burger HU, Laws S: Randomized, open-label, phase II trial of oral capecitabine (Xeloda) vs. a reference arm of intravenous CMF (cyclophosphamide, methotrexate and 5-fluorouracil) as first-line therapy for advanced/metastatic breast cancer. Ann Oncol. 2001, 12: 1247-1254. 10.1023/A:1012281104865.View ArticlePubMedGoogle Scholar
Carmichael J, Possinger K, Phillip P, Beykirch M, Kerr H, Walling J, Harris AL: Advanced breast cancer: a phase II trial with gemcitabine. J Clin Oncol. 1995, 13: 2731-2736.PubMedGoogle Scholar
ClinicalTrials.gov homepage. [http://www.clinicaltrials.gov/]
Copyright
© BioMed Central Ltd 2012