Research article

Open Access
Gene expression profiling spares early breast cancer patients from adjuvant therapy: derived and validated in two population-based cohorts
Breast Cancer Research
2005
7:R953
Received: 17 May 2005
Accepted: 2 September 2005
Published: 3 October 2005
Abstract
Introduction
Adjuvant breast cancer therapy significantly improves survival, but overtreatment and undertreatment are major problems. Breast cancer expression profiling has so far mainly been used to identify women with a poor prognosis as candidates for adjuvant therapy but without demonstrated value for therapy prediction.
Methods
We obtained the gene expression profiles of 159 population-derived breast cancer patients, and used hierarchical clustering to identify the signature associated with prognosis and impact of adjuvant therapies, defined as distant metastasis or death within 5 years. Independent datasets of 76 treated population-derived Swedish patients, 135 untreated population-derived Swedish patients and 78 Dutch patients were used for validation. The inclusion and exclusion criteria for the studies of population-derived Swedish patients were defined.
Results
Among the 159 patients, a subset of 64 genes was found to give an optimal separation of patients with good and poor outcomes. Hierarchical clustering revealed three subgroups: patients who did well with therapy, patients who did well without therapy, and patients that failed to benefit from given therapy. The expression profile gave significantly better prognostication (odds ratio, 4.19; P = 0.007) (breast cancer end-points odds ratio, 10.64) compared with the Elston–Ellis histological grading (odds ratio of grade 2 vs 1 and grade 3 vs 1, 2.81 and 3.32 respectively; P = 0.24 and 0.16), tumor stage (odds ratio of stage 2 vs 1 and stage 3 vs 1, 1.11 and 1.28; P = 0.83 and 0.68) and age (odds ratio, 0.11; P = 0.55). The risk groups were consistent and validated in the independent Swedish and Dutch data sets used with 211 and 78 patients, respectively.
Conclusion
We have identified discriminatory gene expression signatures working both on untreated and systematically treated primary breast cancer patients with the potential to spare them from adjuvant therapy.
Keywords
Breast Cancer
Tamoxifen
Goserelin
Progesterone Receptor Status
Early Breast Cancer Patient
Introduction
Adjuvant systemic therapy saves a significant number of lives [1–3], but many patients are subjected to unnecessary adjuvant therapies with the potential of causing more harm than good [4]. Approximately 25% [5] of all women diagnosed with breast cancer die from their disease despite having been treated according to state-of-the-art clinical guidelines [6, 7]. The present lack of criteria to help individualize breast cancer treatment indicates a need for a novel technology to develop better prognostication and therapy prediction.
The stage, the tumor size and the histological grade are accepted as prognostic markers for breast cancer [8]. Estrogen receptor status, sometimes accompanied by progesterone receptor status, is the only globally accepted treatment predictive factor for hormonal therapy for primary breast cancer [6]. However, about one-half of the patients with estrogen-receptor-positive cancer fail on tamoxifen [9, 10].
The microarray technology can simultaneously characterize the RNA expression profile of thousands of genes in a single tumor. Most microarray studies so far reported have utilized highly selected patient populations [11–13] and hereditary breast cancer [14], and few studies have focused on treatment prediction [15]. Prognostication of distant metastases [16, 17] could potentially serve as the basis of patient selection for adjuvant therapy. There was no guarantee that the high-risk patients selected for therapy would actually benefit from it, however, and none of these previous studies addressed the important problem that a subgroup of women failed to respond to therapy.
The aim of our project was to use gene expression profiling to identify patients whose tumors have a low malignant potential, making adjuvant therapy unnecessary and potentially harmful, and to identify patients in need of more effective adjuvant therapies. Furthermore, we wanted to show that the expression profile worked irrespective of primary adjuvant therapy or not and provided independent information to the established clinical factors.
Results
Clinical characteristics of the patients (
n
= 159) in this study (Table
2
) showed that those who died or who had distant metastases (
n
= 38) more often had tumors ≥ 21 mm in size (
P
= 0.06), had a higher mean diameter (
P
= 0.05), were more often progesterone-receptor-negative (
P
= 0.01) and less often received endocrine therapy (
P
= 0.03). No significant difference was detected in the proportion of patients receiving chemotherapy or radiotherapy. A similar pattern was observed when the analyses were limited to breast-cancer-specific deaths (
Additional file 1
).
Table 2
Univariate comparison of clinical variables among patients with good prognosis and poor prognosis
| | Alive (n = 121) | Deceased (n = 38) | P value |
| --- | --- | --- | --- |
| Proportion of patients with poor prognosis score (%) | 0.34 | 0.74 | <0.0001 |
| Mean age at breast cancer diagnosis (years) | 57.5 (±12.4) | 58.8 (±16.8) | 0.59 |
| Mean tumor size (mm) | 21.3 (±11.5) | 25.6 (±12.6) | 0.05 |
| Proportion of patients with tumor size <21 mm (%) | 0.65 | 0.47 | 0.06 |
| Proportion of patients with positive lymph nodes (%) | 0.37 | 0.39 | 0.71 |
| Proportion of patients with grade I (%) | 0.23 | 0.08 | 0.06a |
| Proportion of patients with grade II (%) | 0.41 | 0.36 | |
| Proportion of patients with grade III (%) | 0.36 | 0.56 | |
| Proportion of patients with estrogen-receptor-positive tumors (%) | 0.83 | 0.79 | 0.61 |
| Proportion of patients with progesterone-receptor-positive tumors (%) | 0.77 | 0.55 | 0.01 |
| Proportion of patients receiving chemotherapy (%) | 0.18 | 0.21 | 0.69 |
| Proportion of patients receiving endocrine therapy (%) | 0.76 | 0.58 | 0.03 |
| Proportion of patients receiving radiotherapy (%) | 0.51 | 0.39 | 0.21 |
Of the 159 patients in the training set, 38 patients died or relapsed by 5 years and were thus defined as the poor-prognosis group. Twenty-six of these patients had distant metastases by 5 years, and 12 patients died within 5 years without diagnosis of distant relapse; six of the 12 deaths were due to breast cancer. The remaining 121 patients were defined as the good-prognosis group. Of these patients, after more than 5 years of follow-up, four patients died without recurrence of breast cancer and four patients had distant relapse.
The leave-one-out procedure (Additional file 1) suggested k = 64 genes as an optimal number of genes for separating the patients with good prognosis and poor prognosis, giving an overall error rate of 33%. The list of these genes is presented in Additional file 1. Among the genes that have higher expression in tumors with good prognosis, we found cyclin-dependent kinase inhibitor 1 C (CDKN1C), spinal-cord-derived growth factor B, homeobox A5 (HOXA5) and insulin-like growth factor 1 (IGF1). Of the genes highly expressed in the poor-prognosis group we found genes primarily involved in cell-cycle regulation.
To check whether the expression profile has an independent predictive value compared with standard clinical factors, we performed a multivariate logistic regression analysis of the 5-year status. The results (Table
3
) showed high risk associated with the poor-prognosis score (odds ratio, 4.19; 95% confidence interval, 1.49–11.77) after adjusting for age, stage, grade, estrogen receptor status and progesterone receptor status. Of these clinical variables, only progesterone-receptor-positive status was associated with better prognosis (odds ratio, 0.35; 95% confidence interval, 0.12–0.99). When we considered breast cancer endpoints (
Additional data 1
), the result for the microarray-based prognostic score is more significant than for overall endpoints (odds ratio, 10.64; 95% confidence interval, 2.91–38.87). The multivariate Cox regression analysis of the overall and breast cancer endpoints (
Additional data 1
) produced similar results to those of the previous logistic regression analysis.
Table 3
Multivariate logistic regression of the 5-year disease free status in relation to the poor-prognosis score and other clinical variables
All events (n = 159) (number of events = 38)

Odds ratio (95% confidence interval)

P value

Poor-prognosis score

4.19 (1.49–11.77)

0.007

Age (per 10 years)

1.11 (0.79–1.54)

0.55

Stage

   Stage 2 versus 1

1.28 (0.4–4.08)

0.68

   Stage 3 versus 1

1.11 (0.42–2.95)

0.83

Elston grade

   Grade 2 versus 1

3.32 (0.63–17.56)

0.16

   Grade 3 versus 1

2.81 (0.5–15.74)

0.24

Estrogen-receptor-positive

2.94 (0.76–11.28)

0.12

Progesterone-receptor-positive

0.35 (0.12–0.99)

0.05
The use of the risk score as a classifier offered only a rigid classification of the patients into good-prognosis and poor-prognosis groups. To overcome this rigidity, we performed a more flexible classification by hierarchical clustering of 159 patients using the 64-gene set; here the risk score was only used for a description of the resulting clusters. The clustering procedure identified three expression-based subgroups with significantly distinct prognoses (Fig.
2
), arranged from left to right in increasing risk level. There were 59 patients in the high-risk cluster, of which 29 patients (49%) had distant metastases or died within 5 years (Table
4
). The subset of the patients treated with tamoxifen and its combinations (
n
= 104) revealed the high-risk signature in 33 patients, of which 16 patients (48%) had distant metastases or died within 5 years (Table
4
). The high-risk profile was validated by observations from an independent group of adjuvant-treated patients from Uppsala (
n
= 76) (Fig.
3
), where 21 out of 35 patients (60%) from the high-risk cluster had distant metastases or died within 5 years (Table
4
). As seen in Fig.
2
, the clusters were correlated with tumor grade but not with nodal status.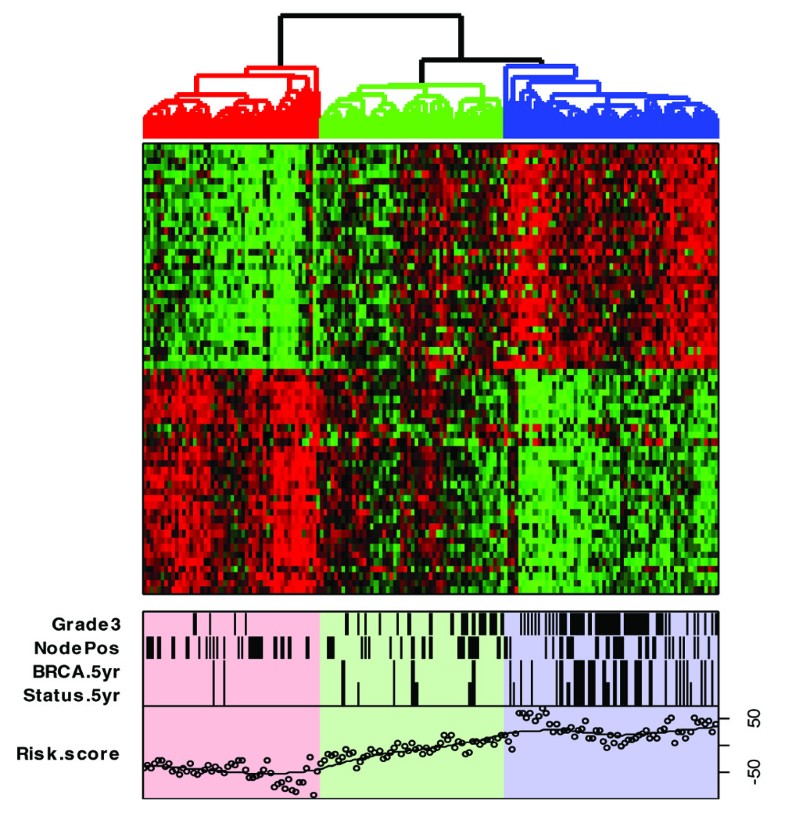 Table 4
Prognosis of the clusters identified in the training and validation sets
Cohort

Risk cluster

P valuea

Total

Low

Medium

High

Training set

   Stockholm

n

159

49

51

59

5-year eventb

38 (24%)

2 (4.2%)

7 (14%)

29 (49%)

<10-7

Treated with adjuvant therapy

   Stockholm tamoxifen only

N c

104

38

33

33

5-year event

22 (21%)

0 (0%)

6 (18%)

16 (48%)

<10-6

   Uppsala node-positive

n

76

14

27

35

5-year event

33 (43%)

2 (14%)

10 (37%)

21 (60%)

0.002

Untreated with adjuvant therapy

   Stockholm

n c

33

7

10

16

5-year event

11

1 (14%)

0 (0%)

11 (69%)

0.002

   Uppsala node-negative

n

135

51

55

29

5-year event

17 (12%)

3 (5.8%)

7 (13%)

7 (24%)

0.02

   Van't veer

n

78d

19

33

25

5-year event

33

2 (17%)

18 (53%)

13 (55%)

0.01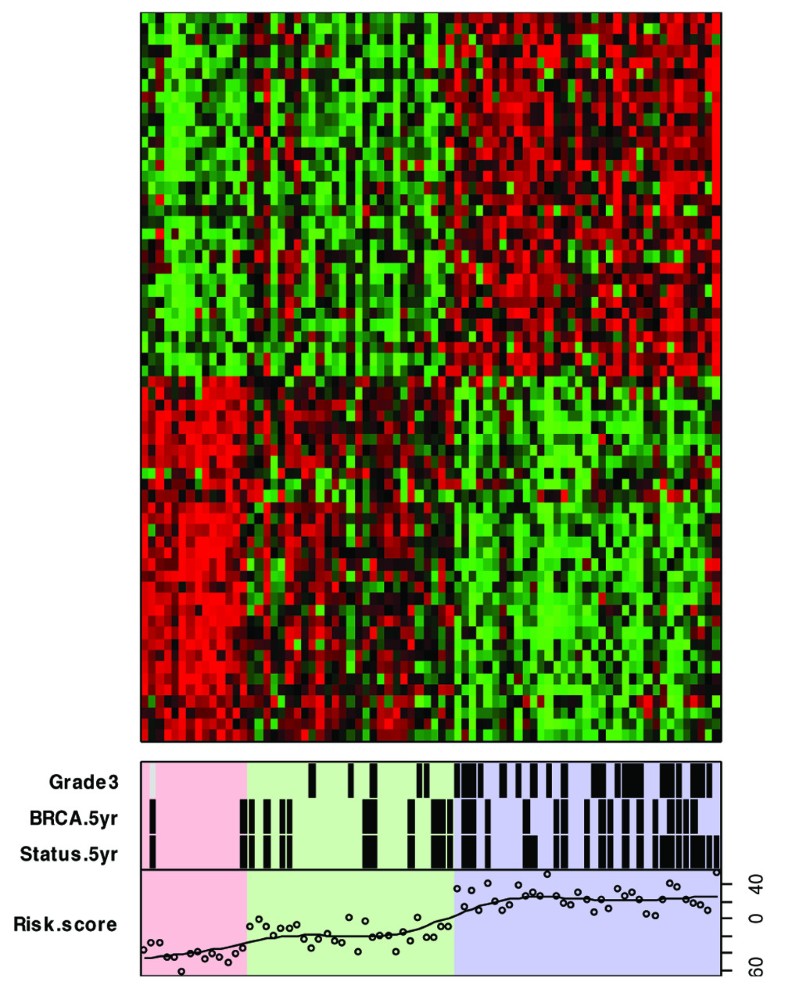 Among the untreated subgroup from Stockholm (
n
= 33), 11 out of 16 patients (69%) of the high-risk subgroup reached the primary endpoint by 5 years (Table
4
). Examinations of the clustering of the untreated patients from Uppsala (
n
= 135) (Fig.
4
) and from the van't Veer cohort (
n
= 78) (Fig.
5
) indicated that the high-risk cluster had a consistently higher 5-year event rate than the other clusters in the same cohort (Table
4
). A similar result was obtained for the van't Veer cohort when the additional 19 patients used for validation in the original publication [
16
] were added: 57% of the high-risk group had a 5-year event rate (data not shown).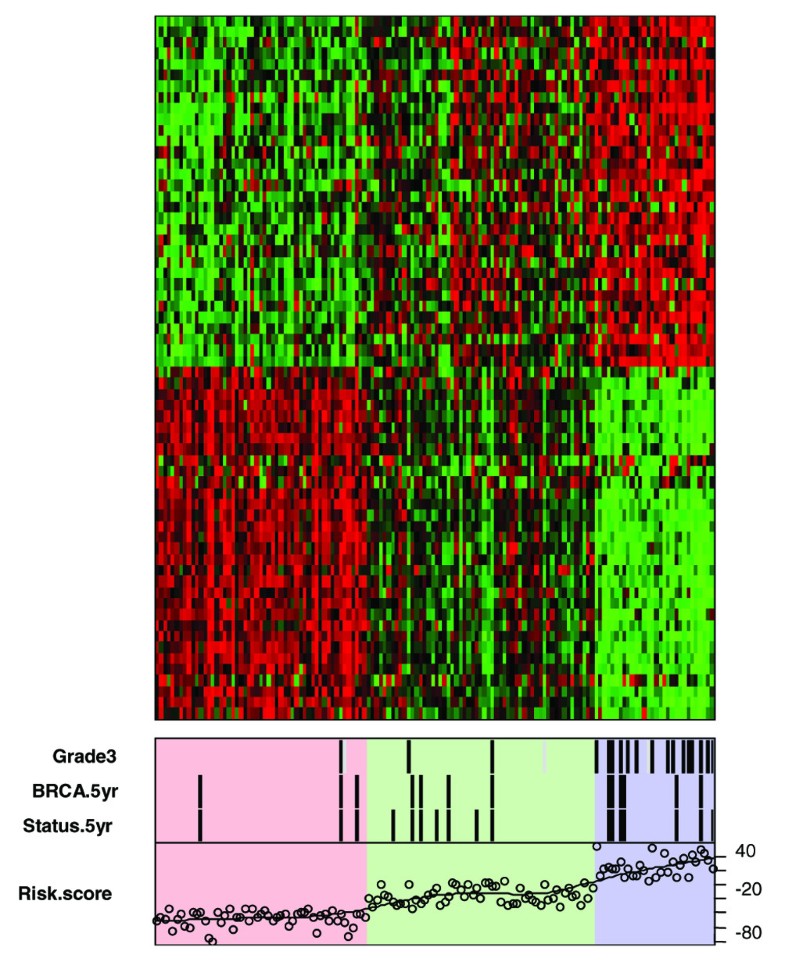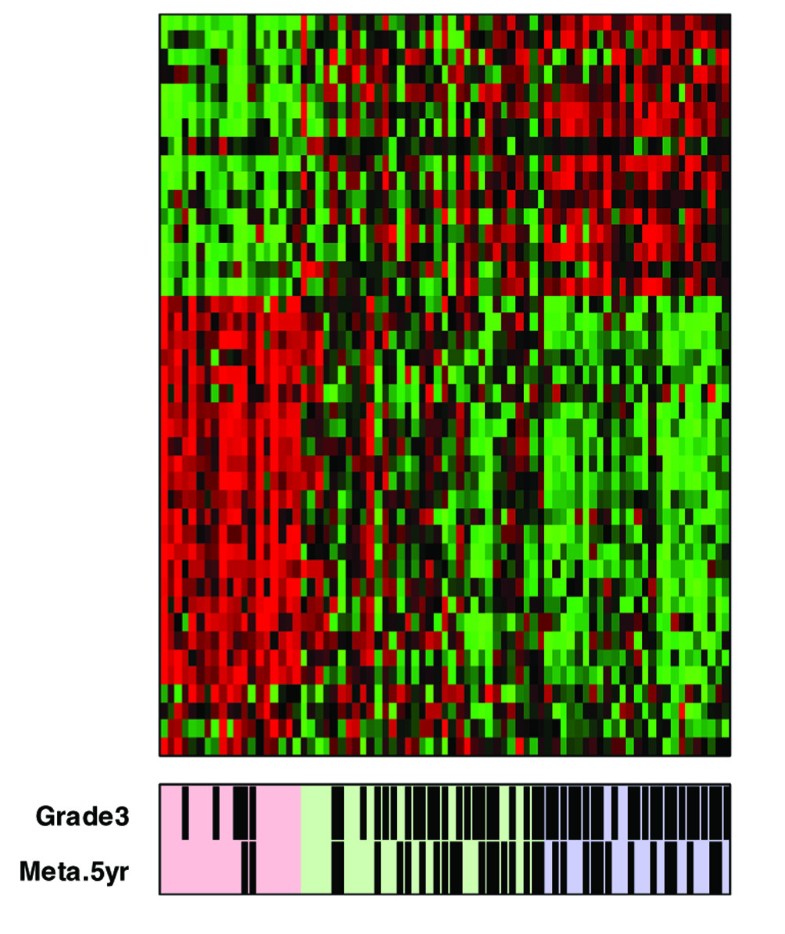 To identify women who will do well with or without adjuvant treatment, we examined the clustering of the untreated patients in Figs 4 and 5. The rates of death or distant metastases within 5 years were three out of 53 patients (5.7%) and four out of 25 patients (16%), respectively. Among the treated groups (Figs 2 and 3), the same expression profile is associated with the lowest event rates of two out of 49 patients (4.2%) and two out of 14 patients (14%), respectively, compared with the other clusters (Table 4). In the tamoxifen-treated subgroup in Stockholm, none of the 38 patients with a low-risk profile had any event by 5 years (Table 4).
To summarize, the gene profiling revealed a statistically significant 5-year outcome result for treated patients in the Stockholm (n = 104, P < 10-6) and the Uppsala (n = 76, P = 0.002) cohorts, respectively (Table 4). The expression profile also provided similar 5-year outcome data for patients not receiving adjuvant therapy (Stockholm cohort, n = 33, P = 0.002; van't Veer cohort, n = 78, P = 0,01; Uppsala cohort, n = 135, P = 0.02) (Table 4).
To gain a better description of the results throughout the follow-up period and across studies, we computed the Kaplan–Meier survival curves of the risk clusters we found in all datasets (Fig.
6
). For the high-risk group in all studies, survival tended to drop fastest in the first 5 years after surgery and to level off after 5 years. This means that the 5-year survival rate provided the best comparison between risk clusters. The results were mainly consistent across studies and confirmed the expected survival patterns of risk groups (Fig.
6
). For the node-negative untreated Uppsala patients (Fig.
6c
), the lack of significance is due to the convergence of the survival curves at around 8 years after surgery. If we limit the comparison to 5-year survival, the survival curves are significantly different (i.e. consistent with the result in Table
4
).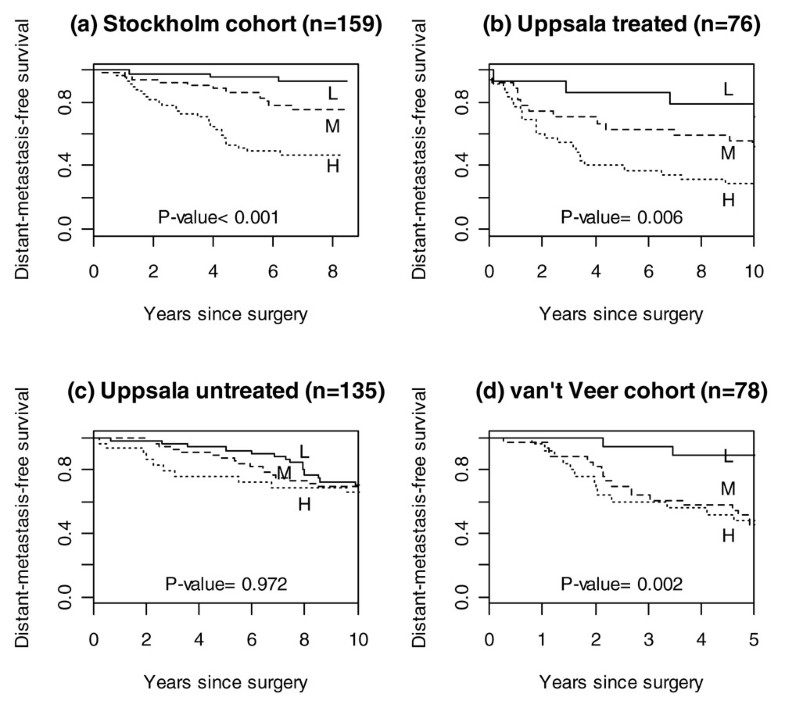 Discussion
Several consensus documents [6, 7] have underlined the lack of useful prognostic and predictive factors beyond tumor size, axillary lymph node status, histological grade and hormone receptor status. Our expression profile, consisting of 64 genes, was better than those in clinical use today, including the factors histological grade, tumor stage and age. Using gene expression profiling we were able to stratify patients into those that did well and where treatment did not appear to contribute, and into those with an aggressive tumor who failed to respond or developed resistance to the used adjuvant therapies.
Analysis of adjuvant-treated and untreated groups
Our analytic approach improved the previous studies of breast cancer prognosis using microarray gene expression data by jointly analyzing adjuvant-treated patients and untreated patients. A previous Dutch study identified 70 prognostic genes from an analysis of untreated patients [16], but provided no indication of who might fail to respond to adjuvant therapy. Other studies involving treated patients also did not discuss the treatment assessment [27].
Any evaluation of adjuvant therapy must consider three types of patients: type A, those patients who do well without treatment; type B, those patients who do poorly without treatment, but may benefit from treatment; and type C, those patients who do poorly despite treatment. It is clear that type-A patients should not be treated, while type-C patients require new treatment protocols that were not available during the study periods 1987–1989 and 1994–1996, respectively. Our results indicate that the low-risk cluster consists mostly of type-A patients and the high-risk cluster consists mostly of type-C patients. The medium-risk group does not provide such clear information. In the present study we identified that around 30% of the patients in the Stockholm cohort were of low risk, hence requiring no adjuvant therapy, and that almost 40% were of high risk, for whom the existing adjuvant therapy failed. Almost three-quarters of the patients therefore did not benefit from treatment. To our knowledge, no previous study has stated this as explicitly.
One weakness of the current study as well as all of the previous studies is the inability of the gene expression profile to identify patients that will actually benefit from treatment (type-B patients). Without a randomized trial, this goal appears difficult to reach.
Molecular biology of the markers
Twenty-two of the 64 genes have unknown function, while the other genes represent various biological pathways such as DNA replication and transcription, cell-cycle regulation, cell adhesion and metastasis (Table
5
). Among the genes associated with low-risk tumors we found CDKN1C, PDGFD, IGF1, HOXA5, SLIT2 and PTN, and many of the genes associated with high-risk tumors appeared to be involved in cell-cycle regulation (including CDC2, CDC20, BUB1B, PRC1 and RRM2) and in transcription (such as TOP2A).
Table 5
Main biological functions among the present 64-gene set and the 70-gene set from the van't Veer study
| Biological function | 64-gene set (present study) | 70-gene set (van't Veer and colleagues) |
| --- | --- | --- |
| DNA replication/transcription/nucleosome assembly | IGF1, RRM2×2, TOP2A | ORC6L, MCM6, RFC4 |
| | PFS2, CENPF, HOXA5, CBFA2T1, SETBP1, UHRF1, MKI67, HIST1H2BG, H2AFZ | KIAA1442, CENPA |
| Cell cycle/proliferation/growth | CDKN1C, PTN, CDC2×2, | EXT1, HEC, PRC1, NUSAP1 (LOC51203), MCM6, Cyclin E2, TGFB3, FLT1, FGF18, ECT2, GMPS, IGFBP5 × 2, ESM1, WISP1 |
| | BUB1B, ESPL1, PRC1, TOP2A, NUSAP1 (LOC51203), CENPF, IGF1, RHOJ, UHRF1,PDGFD, CBFA2T1, NOV | |
| Apoptosis | ESPL1 | FLT1 |
| Cell adhesion/motility/invasion/metastasis | SLIT2, COL14A1, FLRT2, MFAP4, CLDN7, IGF1, RHOJ | WISP1, FGF18, MMP9 |
| Angiogenesis | PTN | FLT1 |
| Signal transduction | IGF1, RHOJ, | EXT1, GNAZ, GFBP5, CFFM4, FGF18, NMU, RAB6B, PK428, PK428 MP1, WISP1, DKFZP564D0462 (GPR126) |
| | PTN, DNM1, GPR56 | |
Some of the genes have been reported to be involved in breast cancer. CDKN1C, a tumor suppressor gene that regulates cell proliferation, was recently found to be downregulated in metastatic tumors [28]. Circulating IGF1 levels are associated with increased breast cancer risk [29]. The HOXA5 gene has been shown to play an important role in breast tumorigenesis. Its expression is higher in normal breast epithelium than in breast carcinomas, and expression of HOXA5 is lost in over 60% of breast tumors and cell lines, largely due to methylation, while its overexpression has been shown to induce apoptosis [30]. HOXA5 functions as a positive regulator of p53 transcription, and breast cancer cell lines and breast tumors display a coordinate loss of p53 and HOXA5 mRNA and protein expression [31]. Other direct targets of HOXA5 are the progesterone receptor and PTN genes. Microarray analysis has shown significantly lower expression of pleiotrophin in breast carcinomas [32, 33]. In agreement with this, both HOXA5 and PTN were associated with the low-risk tumors in our data set. SLIT2 is also a potential tumor suppressor gene. Promoter methylation associated with reduced SLIT2 expression was found in 43% of breast tumors [34]. The TOP2A gene, which was associated with the high-risk tumors, was recently identified as one of the genes of a general cancer metasignature [35]. TOP2A has an essential role in DNA replication and is a molecular target for many anticancer drugs. In breast cancer, gene copy aberrations of the TOP2A gene have been detected [36].
Only three of the 64 genes in our study were among the 70 genes found to have a prognostic value identified by van't Veer and colleagues [16]: LOC51203, PRC1 and L2DTL. Table 5 compares the gene functions according to the gene ontology. To obtain an assessment of genome-wide correlation, we obtained the t statistics from 6434 genes in common between the Stockholm and van't Veer cohorts, and obtained a correlation of 0.31. The lack of strong correlation is probably not surprising, as there are several differences between the two studies. Firstly, the tumors analyzed came from different patient cohorts; the Stockholm and Uppsala cohorts were population-derived with clearly described inclusion and exclusion criteria (Fig. 1), while the van't Veer cohort of lymph-node-negative patients were preselected to have a distant recurrence versus no relapse within 5 years. Secondly, different gene expression platforms were used in the two studies, probably resulting in both different initial gene sets being quantified and examined, and in different relative quantification values for a given gene. Thirdly, different methodologies may have been used in tumor archiving and RNA preparation. Finally, different statistical and filtering approaches were used to obtain a subset of genes that make up the best prognostic gene sets.
Conclusion
The adjuvant therapy experienced by the patients in this study included CMF for the premenopausal patients and tamoxifen for the postmenopausal patients. The use of anthracycline-based and taxane-based therapy and more optimal endocrine therapy strategies might alter the distribution of patients, especially moving individuals from type C to type B [37–41], as experienced with the Her-2 status and adjuvant anthracycline therapy [42]. Our results would suggest that the individuals who would potentially benefit from aggressive therapies with anthracyclines or taxanes would be primarily those identified by our classifier as the high-risk cluster, but that has to be investigated in a prospective study.
In summary, using the expression profiles of 64 genes we developed a prognostication of breast cancer patients after surgery. We identified that almost three-quarters of early breast cancer patients might not benefit from adjuvant therapy because of superior outcome or because of failing to respond to current adjuvant therapy. With recent molecular studies showing that breast cancer consists of a number of different subgroups with unique prognostic properties, the conventional management of breast cancer patients seems ripe for improvement.
Abbreviations
CDKN1C:

cyclin-dependent kinase inhibitor 1C
CMF:

cyclophosphamide methotrexate and 5-fluorouracil
HOXA5:

homeobox A5
IGF1:

insulin-like growth factor 1.
Declarations
Acknowledgements
The study was supported by grants from the Swedish Cancer Society, the king Gustav the Fifth Jubilee Fund, the Cancer Society in Stockholm, Sweden, Bristol-Myers-Squibb, and funding from the Agency for Science, Technology, and Research (Singapore). The authors thank the clinical head Professor Ulrik Ringborg, Radiumhemmet for being instrumental for this project. They are also indebted to associate Professor Nils Wilking, Karolinska Institutet, Sweden. The authors are grateful to Marianne Frostvik and Torsten Hägerström for excellent assistance in managing the tumor bank, handling the frozen tumors and for excellent RNA preparations and quality controls. They also sincerely thank Nancy-Anne Perkins and Karen Reeves, Bristol-Myers Squibb, for performing gene expression profiling experiments.
Authors' Affiliations
(1)
Department of Medical Epidemiology and Biostatistics, Karolinska Institutet, Stockholm, Sweden
(2)
Department of Oncology and Pathology, Radiumhemmet, Karolinska Institutet and University Hospital, Stockholm, Sweden
(3)
Genentech, California, USA
(4)
Bristol-Myers Squibb, Princeton, USA
(5)
Regional Oncological Center, Uppsala University Hospital, Uppsala, Sweden
(6)
Genome Institute of Singapore, Singapore
(7)
Department of Pathology, Uppsala University Hospital, Uppsala, Sweden
(8)
Department of Surgery Sciences, Karolinska Institutet and Hospital, Stockholm, Sweden
Copyright
© Pawitan et al.; licensee BioMed Central Ltd. 2005
This article is published under license to BioMed Central Ltd. This is an Open Access article distributed under the terms of the Creative Commons Attribution License (http://creativecommons.org/licenses/by/2.0), which permits unrestricted use, distribution, and reproduction in any medium, provided the original work is properly cited.