Research article
Open Access
Pathobiology of the 129:Stat1 −/− mouse model of human age-related ER-positive breast cancer with an immune infiltrate-excluded phenotype
Breast Cancer Research
2017
19:102
Received: 30 December 2016
Accepted: 7 August 2017
Published: 2 September 2017
Abstract
Background
Stat1 gene-targeted knockout mice (129S6/SvEvTac-Stat1 tm1Rds) develop estrogen receptor-positive (ER+), luminal-type mammary carcinomas at an advanced age. There is evidence for both host environment as well as tumor cell-intrinsic mechanisms to initiate tumorigenesis in this model. In this report, we summarize details of the systemic and mammary pathology at preneoplastic and tumor-bearing time points. In addition, we investigate tumor progression in the 129:Stat1 −/− host compared with wild-type 129/SvEv, and we describe the immune cell reaction to the tumors.
Methods
Mice housed and treated according to National Institutes of Health guidelines and Institutional Animal Care and Use Committee-approved methods were evaluated by histopathology, and their tissues were subjected to immunohistochemistry with computer-assisted quantitative image analysis. Tumor cell culture and conditioned media from cell culture were used to perform macrophage (RAW264.7) cell migration assays, including the 129:Stat1 −/−-derived SSM2 cells as well as control Met1 and NDL tumor cells and EpH4 normal cells.
Results
Tumorigenesis in 129:Stat1 −/− originates from a population of FoxA1+ large oval pale cells that initially appear and accumulate along the mammary ducts in segments or regions of the gland prior to giving rise to mammary intraepithelial neoplasias. Progression to invasive carcinoma is accompanied by a marked local stromal and immune cell response composed predominantly of T cells and macrophages. In conditioned media experiments, cells derived from 129:Stat1 −/− tumors secrete both chemoattractant and chemoinhibitory factors, with greater attraction in the extracellular vesicular fraction and inhibition in the soluble fraction. The result appears to be recruitment of the immune reaction to the periphery of the tumor, with exclusion of immune cell infiltration into the tumor.
Conclusions
129:Stat1 −/− is a unique model for studying the critical origins and risk reduction strategies in age-related ER+ breast cancer. In addition, it can be used in preclinical trials of hormonal and targeted therapies as well as immunotherapies.
Keywords
Estrogen receptorLuminal breast cancer Stat1-knockout mousePathobiologyTumor microenvironmentTumor immunology
Background
Mammary tumors in the 129/SvEv mouse strain with knockout (KO) of Stat1 (129S6/SvEvTac-Stat1 tm1Rds; 129:Stat1 −/− or Stat1-null) are unique among genetically modified mouse (GMM) models of human breast cancer [1]. In contrast to most other mouse models of human breast cancer, the resulting tumors are ovary-dependent and have uniformly high levels of estrogen receptor (ER)-α and progesterone receptor (PR), as well as elevated transcription of Forkhead box A1 (FoxA1) [2]. FoxA1-positive cells in the mammary gland are known to originate in the mammary ducts rather than in the lobuloalveolar units [3] and thus could potentially give rise to ductal tumors rather than alveolus-based tumors that occur in most mouse models of mammary cancer [4–6]. Further, Stat1-null females exhibit a prolonged tumor latency that models the majority of human breast cancers that are age-related [2, 7, 8]. Given these relevant characteristics, we sought to investigate the origins, evolution, and progression of tumors in the context of the whole animal, with detailed observations afforded by anatomic, histologic, endocrine function, immune cell reaction, and molecular evaluations of organs from aged 129:Stat1 −/− mice [9–12].
The 129:Stat1 −/− model has been used to study a variety of phenomena, including natural killer cell responses during obligate intracellular pathogen infection, immune editing, mammary gland development [2, 7, 13–15], and mammary tumorigenesis [2]. Regarding changes in the mammary glands, these studies documented deficiencies in the immune and endocrine systems; dramatic changes in cytokine concentrations both systemic and tissue; localized effects on mammary development and the microenvironment; and the spontaneous, cell-autonomous development of mammary neoplasia [2, 16]. Reciprocal mammary gland transplantation in immune intact syngeneic 129/SvEv and in 129:Stat1 −/− mice, as well as tissue coculture experiments, has facilitated isolation and investigation of the host environment [7].
The luminal mammary carcinomas in 129:Stat1 −/− occur as spontaneous neoplasms in nulliparous and parous females, and they have a prolonged latency [2]. The tumor cytology is unique among GMM models of mammary cancer and is relatively uniform throughout all tumors. Molecular analysis of Stat1-null tumors revealed decreased levels of Janus kinase 2 (JAK2) and downstream activity resulting in tumorigenesis [2, 16]. Moreover, genomic analysis of mammary tumors arising in the 129:Stat1 −/− mouse established they almost always harbored a truncating exon 10 mutation of the prolactin receptor (PRLR) that was tumorigenic when heterozygously expressed in embryonic fibroblasts lacking Stat1 but overexpressing Jak2 [17].
Although mammary gland development in the 129:Stat1 −/− model was initially described as normal [2], a subsequent and more detailed study revealed that the mammary glands had delayed development, defective branching morphogenesis, and abnormal terminal end buds [7]. Further, the gland-free KO mammary fat pad produces only low concentrations of a number of growth factors/cytokines [7]. Interestingly, mammary growth and the cytokine profile can be restored to normal levels either with pregnancy or by administering exogenous progesterone and prolactin (PRL) [7]. Therefore, the 129:Stat1 −/− model provides an opportunity to investigate the dependence of mammary development and tumorigenesis on endocrine-cytokine interactions between the tumor and the microenvironment.
KO of Stat1 in other mouse strains and using other targeting approaches does not lead to spontaneous primary mammary tumors. When these Stat1 −/− mice are crossed with Neu-expressing GMM, the resulting bigenic animals do, however, exhibit accelerated tumorigenesis, suggesting that STAT1 functions as a tumor suppressor [18–21]. Forced breeding of Balb/c:Stat1 −/− females stimulated mammary neoplasia but resulted in a variety of tumor types that are different from the homogeneous 129:Stat1 −/− tumors [21]. Thus, the 129:Stat1 −/− model offers the unique opportunity to identify host and tumor factors modeling similar human breast cancers [2, 17]. Mammary tumors in 129:Stat1 −/− occur exclusively in aged females and depend on hormonal and microenvironmental changes. Their ER+ luminal phenotype, which is the most common phenotype in human breast cancers and the most common phenotype associated with advanced age, occurs only in Stat1 KO on the 129 background, implying there are genetic modifiers of this phenotype.
We have studied the origin and progression of primary mammary tumors in 129:Stat1 −/− in our colony from early development [7] and, now, to over 2 years of age (120 weeks). We report the findings of additional morphological abnormalities in the Stat1 −/− mouse that reflect systemic endocrine and environment effects, as well as the identification of a FoxA1+ large oval pale (LOP) cell that appears along some Stat1-null ducts as their hosts approach tumor-bearing age. These LOP cells precede the invasive cancers, and their distribution is consistent with evolution of a mutant mammary epithelial cell (MEC) clone that populates contiguous segments of the mammary gland.
A role for the microenvironment in the initiation of cancers is clear, given the age dependency of the cancers and their thoracic location. We also describe an unusually strong host immune response (compared with other GMM mammary cancer models, including GMM transplants such as the Met1 model Fig.
1a
[
22
]) to the invasive
Stat1
-null neoplasm that increases with lesion progression. These host responses are similar in both 129:wild-type (129:WT) and 129:
Stat1
−/−
hosts, suggesting that the tumor cells produce chemoeffectors, which were subsequently found in both the soluble and the exosome fractions from cultured tumor cells.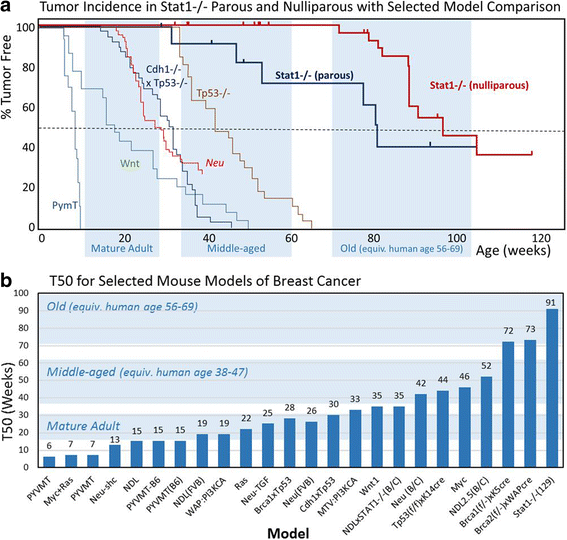 Methods
Mouse model
129:Stat1 −/− mice [7, 23] were provided by the Schreiber laboratory (Washington University, St. Louis, MO, USA), and 129S6/SvEvTac mice were purchased from Taconic Farms (Hudson, NY, USA). Mice were housed in a vivarium according to National Institutes of Health guidelines, and all animal experiments were performed following procedures approved by the UC Davis Institutional Animal Care and Use Committee. The procedures for transplantation [7] and the conditions for maintaining mice [24] were described previously.
Histopathology and whole-mount preparation
Most tissues were fixed in 10% neutral buffered formalin (NBF) at room temperature for 24 h, then placed in 70% ethanol until processing, which was normally within 24 h. To validate the immunohistochemical staining with NBF-fixed samples, some tissues were fixed in zinc-based fixative as described elsewhere [24]. Procedures for infiltrating tissue with paraffin, sectioning, and hematoxylin and eosin (H&E) staining were described previously [24]. The preparation of whole mounts of mouse mammary glands was carried out as previously described [7].
Transplants
Fragments (1 mm3) of freshly dissected tumors were transplanted into uncleared thoracic and inguinal mammary fat pads of 3- to 6-week old nulliparous WT and Stat1-null females under appropriate anesthesia and sterile conditions as previously described [7]. The animals were monitored at least twice per week. Growth of palpable tumors was noted and measured in two dimensions using calipers. The volumes were calculated using the average diameter [4/3 × π × (d1 + d1/4)3].
Immunohistochemistry
Immunohistochemistry (IHC) was performed as previously described [7, 24]. Stained slides were scanned on an Aperio AT2 ScanScope (Leica Biosystems, Buffalo Grove, IL, USA), and digital images were viewed using the ImageScope application (Leica Biosystems). Digital images were captured and processed using Photoshop software (Adobe Systems, San Jose, CA, USA). The imaging analysis for counting marker-positive cells was performed with inForm Cell Analysis software (PerkinElmer, Waltham, MA, USA). Multiplex IHC was performed with tyramide signal amplification (TSA)-based fluorescence color visualization [25]. TSA-based multiplex IHC was performed according to the manufacturer's protocol (PerkinElmer). FoxA1, epithelial cell adhesion molecule (EpCAM), and keratin-14 (KRT14) were detected with TSA Plus fluorescein, cyanine 3 (Cy3), and Cy5, respectively. Visualization of multiplexed images was performed with an LSM710 laser scanning confocal microscope (Carl Zeiss Microscopy, Oberkochen, Germany). Antibodies used were anti-ER-α (clone MC-20; Santa Cruz Biotechnology, Dallas, TX, USA), anti-PR (polyclonal; Dako North America, Carpinteria, CA, USA), anti-Ki67 (clone Ab-4, Lab Vision; Thermo Fisher Scientific, Fremont, CA, USA), anti-CD3 (clone SP7; Abcam, Cambridge, MA, USA), anti-CD4 (clone RM4-5; eBioscience, San Diego, CA, USA), anti-CD8a (clone 4SM15; eBioscience), anti-F4/80 (clone MCA497, AbD Serotec; Bio-Rad Laboratories, Hercules, CA, USA), anti-B220 (clone RA3-6B2; BD Biosciences, San Jose, CA, USA), anti-KRT14 (Covance Poly19053; BioLegend, San Diego, CA, USA), anti-FoxA1 (clone EPR10881; Abcam), anti-EpCAM (EPR677; Abcam), anti-KRT8/18 (CK209; Fitzgerald Industries International, Acton, MA, USA), and anti-type IV collagen (polyclonal; Abcam).
Collecting conditioned media
A Stat1-null cell line (SSM2) [2], an MMTV-NDL-derived cell line (NDL) [26], and an MMTV-PyMT-derived cell line (Met1) [22] were cultured in T75 culture flasks at 1 × 106 cells in growth medium (DMEM supplemented with 10% FBS) for 2 days. A phenotypically normal MEC line, EpH4, was cultured as described previously [27]. To prepare conditioned medium (CM) from each cell line, cells were rinsed three times with serum-free medium and then cultured in 10 ml of serum-free medium for 48 h. CM was collected, centrifuged to eliminate cells and debris, and filtered (0.2 μm). To isolate extracellular vesicles (EVs), CM was ultracentrifuged at 100,000 × g for 2 h. The pellet (EV-rich fraction) was resuspended in DMEM with the same volume as the supernatant (soluble fraction).
Time-lapse migration assay
The green fluorescent protein (GFP)-tagged H2B [28] was transduced into RAW264.7 mouse macrophages (American Type Culture Collection, Manassas, VA, USA) using pLenti-EF1a-Puro bearing a GFP-tagged H2B complementary DNA [27]. Preparation of lentiviral particles and transduction of target cells were performed as previously described [27]. To maintain GFP-H2B-positive cells, growth medium was supplemented with 0.5 μg/ml puromycin. To observe RAW264.7/GFP-H2B cell migration, cells were plated at 2 × 104 cells/well of an eight-well Lab-Tek II chambered coverglass (Thermo Fisher Scientific, Waltham, MA, USA) in growth medium for 2 days before stimulating cell migration with CM. Fluorescence was visualized with an LSM710 confocal microscope equipped with a temperature- and CO2-controlled chamber [29, 30]. Before cell migration was analyzed, cells were rinsed twice and maintained in 400 μl of serum-free DMEM for 2 h. The action of RAW264.7/GFP-H2B cells was monitored at 5-minute intervals for more than 8 h. Cell migration was evaluated using time-lapse images with Imaris software (Bitplane, South Windsor, CT, USA).
Transwell migration assay
RAW264.7 cells were resuspended in DMEM at a density of 1 × 106 cells/ml, and 100 μl of resuspended cells were placed into the upper chamber of Transwell culture inserts (8-μm pore size) in 24-well plates (Corning, Corning, NY, USA). Quantities of 600 μl of DMEM or CM from each cell line were applied in the bottom chamber for 5 h to test the chemoattractant activity. Cells on the underside of the insert were fixed with 70% ethanol for 10 minutes and then stained with 0.2% crystal violet before rinsing to remove background staining and air-drying, followed by microscopic imaging.
Statistical analysis
All statistical analyses were done using Prism 7 software (GraphPad Software, La Jolla, CA, USA). Kaplan-Meier plots were generated to compare the tumorigenesis of nulliparous and multiparous 129:Stat1 −/− animals (Fig. 1). The difference was detected with the log-rank test. Similarly, Kaplan-Meier plots were created to compare the latency of palpable tumor onset between tumors transplanted to 129:Stat1 −/− or 129:WT hosts. The difference was detected with the log-rank test. The asymmetries of primary tumor occurrence between left-right and caudal-cephalad mammary fat pads (Additional file 1: Table S1) were tested with a binomial test.
Discussion
In the 129:Stat1 −/− model of breast cancer, germline deletion results in host, stromal, and epithelial changes that de-suppress mammary adenocarcinoma [2]. These tumors differ from those arising in mice harboring other Stat1-targeting KO constructs or in other mice that are knocked out for tumor suppressor genes such as Trp53 or Brca1. 129:Stat1 −/− tumors share a signature histological and cytological phenotype, with ER+, PR+, and FoxA1+ LOP cells. This degree of tumor homogeneity suggests that the same oncogenic driver leads to tumorigenesis [38]. In our experience, the other tumor suppressor KO models develop a variety of tumor types, suggesting they involve a diversity of oncogenic drivers [5].
Consideration of oncogenesis in this Stat1 −/− model requires integrating the disease state within the context of animal aging. We report that mammary tumorigenesis in 129:Stat1 −/− mice is associated with important pathological features that make this model comparable to human luminal breast cancers. These include ductal origin, topographical asymmetry, age-related ablation of the ovaries, endocrine regulation, host immune response, and tumor-secreted factors. Taken together, this model uniquely reflects host-tumor relationships in an aging host during mammary tumorigenesis.
Conclusions
The incidence of human breast cancer increases with age, and luminal ER+ breast cancers are most frequent in this population. Although luminal breast cancers typically respond to hormone therapy and carry a better prognosis than other subtypes, this subtype accounts for the highest mortality in all age groups. Mouse models of this phenotype are rare, perhaps due to the difficulty in targeting the cell of origin for these cancers. Both "basal" and "luminal" phenotype tumors in GMM models and in human disease appear to arise from luminal progenitors [76, 77], whereas different cells of origin give rise to different tumor types [78]. Most GMM models with expression of transgenes under the control of hormone-responsive promoters such as MMTV-LTR or Wap generally yield ER-negative tumors primarily located in lobuloalveolar units that are presumably composed of alveolar MECs [1, 79]. Recent work using promoters from MEC progenitors, such as Lrg5, produce multilineage tumors [80]. In contrast to those studies, the 129:Stat1 −/− neoplastic LOP cells express ER and FoxA1, as well as STAT3, STAT5, PR, a truncating PRLR mutation, and downstream elements such as JAK2 and SOCS1 [16, 17]. As a result, a different type of cell, the hormone-sensitive LOP cell, has emerged as a cell of origin, with the resulting neoplasms originating from this ductal progenitor cell. Segmental expansion of the FoxA1+ LOP cell population occurs with advanced age and confers an increased risk of this ER+ phenotype cancer. In addition, the model, in either the native 129:Stat1 −/− mouse or transplanted into WT mice, shows a consistent immune reaction resistant to tumor immune cell infiltration, a phenotype also common in human cancers. Thus, 129:Stat1 −/− is a unique model for studying the critical origins and risk reduction strategies in age-related ER+ breast cancer in addition to preclinical trials of hormone and targeted therapies as well as immunotherapies.
Abbreviations
CM:

Conditioned medium
Cy:

Cyanine
DCIS:

Ductal carcinoma in situ
EpCAM:

Epithelial cell adhesion molecule
ER:

Estrogen receptor
EV:

Extracellular vesicle
FoxA1:

Forkhead box A1
GFP:

Green fluorescent protein
GMM:

Genetically modified mouse
H&E:

Hematoxylin and eosin
HS:

Hormone-sensing
IHC:

Immunohistochemistry
JAK2/Jak2:

Janus kinase 2
KO:

Knockout
KRT:

Keratin
LN:

Lymph node
LOP:

Large oval pale
MEC:

Mammary epithelial cell
MIN:

Mammary intraepithelial neoplasia
NBF:

Neutral buffered formalin
PR:

Progesterone receptor
PRL:

Prolactin
PRLR:

Prolactin receptor
TDLU:

Terminal ductal lobular unit
TSA:

Tyramide signal amplification
WT:

Wild type
Declarations
Acknowledgements
We thank Judith E. Walls and Herlina Sugandha for histology and immunohistochemistry. Dr. Robert D. Schreiber (Department of Pathology and Immunology, Washington University School of Medicine, St. Louis, MO, USA) for sharing his mouse model and his discussions.
Funding
This research was supported by grants U01 CA196406 (ADB), U01 CA141541 and U01 CA141582 (RDC, ADB) from the National Cancer Institute's Mouse Models of Human Cancers Consortium.
Availability of data and materials
N/A.
Authors' contributions
RDC, HM, and ADB conceptualized the study. JQC, HM, and NEH were responsible for study methodology. JQC, HM, RDC, RCH, and JFT performed formal analysis and investigation. HM and RDC wrote the original draft of the manuscript. HM, RDC, NEH, RCH, JFT, ZP, LS, and ADB reviewed and edited the manuscript. ADB acquired funding. RDC and ADB supervised the study. All authors read and approved the final manuscript.
Ethics approval
Mice were housed in a vivarium according to National Institutes of Health guidelines, and all animal experiments were performed following procedures approved by the UC Davis Institutional Animal Care and Use Committee.
Consent for publication
N/A.
Competing interests
The authors declare that they have no competing interests.
Publisher's Note
Springer Nature remains neutral with regard to jurisdictional claims in published maps and institutional affiliations.
Open AccessThis article is distributed under the terms of the Creative Commons Attribution 4.0 International License (http://creativecommons.org/licenses/by/4.0/), which permits unrestricted use, distribution, and reproduction in any medium, provided you give appropriate credit to the original author(s) and the source, provide a link to the Creative Commons license, and indicate if changes were made. The Creative Commons Public Domain Dedication waiver (http://creativecommons.org/publicdomain/zero/1.0/) applies to the data made available in this article, unless otherwise stated.
Authors' Affiliations
(1)
Center for Comparative Medicine, University of California at Davis, Davis, USA
(2)
Department of Pathology and Laboratory Medicine, School of Medicine, University of California at Davis, Sacramento, USA
(3)
Department of Animal Science, University of California at Davis, Davis, USA