Research article

Open Access
A knowledge-based framework for the discovery of cancer-predisposing variants using large-scale sequencing breast cancer data
Breast Cancer Research
2017
19:63
Received: 21 December 2016
Accepted: 8 May 2017
Published: 31 May 2017
Abstract
Background
The landscape of cancer-predisposing genes has been extensively investigated in the last 30 years with various methodologies ranging from candidate gene to genome-wide association studies. However, sequencing data are still poorly exploited in cancer predisposition studies due to the lack of statistical power when comparing millions of variants at once.
Method
To overcome these power limitations, we propose a knowledge-based framework founded on the characteristics of known cancer-predisposing variants and genes. Under our framework, we took advantage of a combination of previously generated datasets of sequencing experiments to identify novel breast cancer-predisposing variants, comparing the normal genomes of 673 breast cancer patients of European origin against 27,173 controls matched by ethnicity.
Results
We detected several expected variants on known breast cancer-predisposing genes, like BRCA1 and BRCA2, and 11 variants on genes associated with other cancer types, like RET and AKT1. Furthermore, we detected 183 variants that overlap with somatic mutations in cancer and 41 variants associated with 38 possible loss-of-function genes, including PIK3CB and KMT2C. Finally, we found a set of 19 variants that are potentially pathogenic, negatively correlate with age at onset, and have never been associated with breast cancer.
Conclusions
In this study, we demonstrate the usefulness of a genomic-driven approach nested in a classic case-control study to prioritize cancer-predisposing variants. In addition, we provide a resource containing variants that may affect susceptibility to breast cancer.
Keywords
Breast cancerPredispositionGermline mutationsSomatic mutations
Background
Breast cancer is one of the most common cancers with more than 1,300,000 cases and 450,000 deaths per year worldwide [1]. It is caused, as any other tumor, by the accumulation of somatic mutations over time. Somatic mutations arise spontaneously in somatic cells and they are passed on to all descendants of these cells. The probability of acquiring mutations that can lead to breast cancer is sometimes increased by pre-existent germline variants that predispose to cancer or cause cancer-related syndromes. Germline variants are present in all the cells of a person and they can be inherited and passed on to the next generation. It is estimated that approximately 5–10% of women have germline mutations and polymorphisms that lead to hereditary predisposition to breast cancer [2]. Although specific mutations in BRCA1 and BRCA2 are known to be responsible for inherited susceptibility to breast cancer in families with early-onset disease [3], BRCA1/2 mutation carriers account for just 20% of the enhanced risk in first-degree relatives [3]. Mutations in other genes, such as PALB2, PTEN and TP53, have been also associated with increased risk of breast cancer. Nevertheless, many familiar breast cancers (approximately 50%) are still unexplained at the genetic level and many predisposing variants are yet to be found [4].
Beside the use of linkage analysis, which requires families with a penetrant phenotype, the discovery of the majority of well-known cancer-predisposing genes (CPGs) has been through the analysis of candidate genes [5]. To shed light on the remaining hidden heritability in breast cancer, genome-wide association studies (GWAS) have been extensively carried out [6]. A large meta-analysis and integration of multiple GWAS carried out by the Collaborative Oncological Gene-environment Study (COGS) consortium led to the identification of dozens of susceptibility loci [4, 7]. However, GWAS suffer from a number of well-recognized limitations. First, they can only suggest the regions where the pathogenic variants might actually reside, but not their identity. Second, they rely on single nucleotide polymorphisms (SNP, by definition occurring in >1% of the population) and thus are poorly suited to identify rare variants. Whole exome sequencing (WES) and whole genome sequencing (WGS) can theoretically overcome most of these limitations. WES/WGS-based studies to investigate breast cancer-associated risk variants have not been carried out to date, since the size imposed by the millions of variants to be tested simultaneously is technically unreachable [8]. However, germline sequencing is routinely performed in projects aimed at identifying somatic tumor variants. Indeed, looking at matched germline DNA in a consecutive series of tumors sequenced to find somatic mutations, it could be demonstrated that disease susceptibility due to rare variants in sporadic cancers is much more common than previously anticipated [9].
Large collections of WES/WGS of both tumor patients and healthy subjects are available through multicentric efforts like The Cancer Genome Atlas (TCGA) [10] and the Exome Aggregation Consortium (ExAC) [11] and can be leveraged to identify putative risk variants. For reasons highlighted above, a straightforward case-control comparison on allele frequencies would be underpowered. Thus, we planned a computational framework based on our knowledge of the characteristics of known cancer-predisposing genes and variants. In particular, we took advantage of the characteristics of somatic driver genes (like their gain or loss-of-function) to reproduce a candidate gene analysis. Cancer is, in fact, a unique example of disease causation and disease predisposition, being strongly linked to clear definitions of gain-of-function/oncogenes and loss-of-function/tumor suppressor genes [5]. Using these cancer unique characteristics, we have been able to identify a set of variants and genes that may affect susceptibility to breast cancer.
Method
Study design
We designed this study as a classic case-control study, with emphasis on variants rather than entire genes. In particular, we took advantage of several databases for the annotation of the variants, to produce a hypothesis-based framework that could preselect valid candidates and apply statistical tests afterward. Within this framework, we studied the normal genomes coming from 673 breast cancer patients of European origin from the TCGA against over 27,000 control genotypes, unselected for cancer phenotype, from the ExAC database with matched ethnicity (Fig.
1
).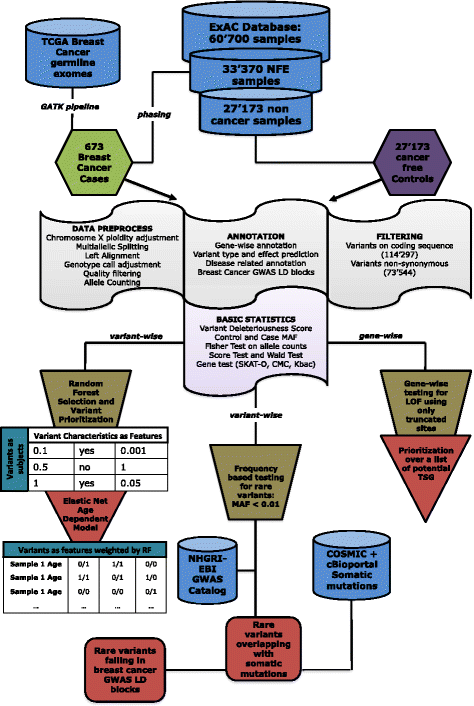 Study data
Case dataset
We downloaded from the TCGA the original Binary Alignment/Map (BAM) files of the normal sample for all the 695 women and men of Caucasian origin diagnosed with breast cancer. We then used 673 (7 men and 666 women) of the 695 samples, considering only WES data and blood-derived normal samples. We analyzed the BAM files, following the exact same Genome Analysis Toolkit (GATK) pipeline and the same level of sensitivity used for the control dataset (see Additional file 1: Data preprocess). We retrieved from the TCGA open access database the available clinical information for these patients, including age and sex, estrogen receptor (ER) status and molecular subtypes.
Control dataset
We used the aggregated results from the ExAC database as control population. This resource aggregates more than 60,000 samples with germline genotype data, of which 33,370 are classified as of European origin. The original data source is both from population studies (1000 Genome Project, HapMap, Exome Sequencing Consortium) and from disease-related studies (including part of the TCGA). To avoid any overlap with tumor samples, we filtered our data against cancer samples, remaining with a total of 53,105 samples, of which 27,173 were of Caucasian origin.
Annotation data
To perform our analysis we took advantage of several resources and custom-made datasets to annotate and filter variants. In particular we used:
Further details can be found in Additional file 1: Annotation data.
Statistical analyses
Statistical power is a critical issue in genome-wide case-control studies. In particular, exome data are even more underpowered than GWAS, since potentially millions of variants can be tested at a time. The initial call from all the 673 samples included millions of variants that were filtered to keep only coding and non-synonymous events. Since we did not perform any imputation and we applied a strict quality filter after the raw calls, retaining only exonic variants was the best way to maximize coverage in a dataset composed for the large majority by exome sequencing data (including all cases). We thus performed the following three analyses (Fig.
1
):
1.

Hypothesis-driven analysis of rare variants in target cancer genes. We devised the following scheme to prioritize candidate cancer-predisposing variants in target genes:

Identification of variants in known breast cancer-predisposing genes

Identification of variants in CPGs with no known association with breast cancer

Identification of somatically mutated germline variants. A germline variant able to favor carcinogenesis may have a higher chance of being also somatically mutated in cancer genomes [5]. We called these variants ("somatically mutated germline variants", SMGVs). To identify SMGVs, we composed a large set of somatic variants from WGS and WES studies, combining the COSMIC and cBioPortal databases, and checked for possible matches between germline variants and somatic mutations (see Additional file 1: Annotation data).

2.

Tumor suppressor-like analysis. All known breast CPGs, and at least 90% of all CPGs across cancer types, show their oncogenic potential through loss-of-function mutations. In the same way, tumor suppressor genes at the somatic level are generally hit by truncating mutations (nonsense or frameshift insertions or deletions) that disrupt the original function of the gene. We therefore selected truncating variations in our dataset and checked for any positive imbalance between the minor allele frequency (MAF) in the cases and in the controls gene-wise (see Additional file 1: Annotation-based analysis).

3.

Age-dependent polygenic modeling. In this analysis we put no filter on frequency by running a completely unbiased regression analysis on all non-synonymous variants over age at onset. As explained in the section Additional file 1: Age-dependent polygenic model, we implemented a double-step machine-learning approach composed by (1) a tree-based supervised classification with variants as subjects (dimensionality reduction step via random forest), and (2) a penalized linear model regressing the age to the cases' genotypes, so that the variants become now covariates (feature selection step via elastic net).
Detailed information about these three analyses can be found in Additional file 1: Statistical analyses.
Results
Hypothesis-driven analysis of rare variants in target cancer genes
Discussion
Our study represents one of the first attempts to prioritize germline variants that may predispose to breast cancer using publicly available sequencing data.
We developed a computational framework based on the characteristics of somatic mutations to identify putative cancer-predisposing variants. In particular, we provided an analysis of rare variants, observing that variants in known CPGs are frequent in sporadic TCGA cases. In addition, we detected 183 variants that overlap with somatic mutations in cancer. Furthermore, we carried out an analysis of truncating mutations on suspected tumor suppressors, uncovering both known and novel loss-of-function candidates. We detected 41 variants associated with possible loss-of-function in 38 genes, including PIK3CB and KMT2C. Lastly, we built a robust age-dependent polygenic model that involves a mixture of supervised and regression-based algorithms to uncover variants at any frequency level. With this model, we identified a set of 19 variants potentially pathogenic and negatively associated with age at onset, and belonging to genes that have never been associated to breast cancer. Finally, we checked if any of the identified candidate variants fell into GWAS known breast cancer susceptibility regions.
We detected several expected variants on known breast cancer-predisposing genes like BRCA1 and BRCA2, which are a confirmation of the validity of this study. We also identified 11 variants on genes known to predispose to other cancer types or cancer syndromes, like RET and AKT1, which have never been previously associated with breast cancer predisposition.
To our knowledge, there are few examples in the literature that attempt an analysis of predisposing genetic makeups in cancer by exploiting sequencing data [66, 67]. While these works provide an in-depth analysis of known predisposing genes, they lack of a sufficiently extended control dataset; for instance, in the two referenced studies, the authors used, respectively approximately 400 normal controls, against a dataset of ovarian cancer cases of approximately the same size [66], and approximately 1000 samples, against approximately 4000 cases of various cancer types [67]. The use of the ExAC database, which comprises over 27,000 control samples, allowed higher resolution, which we emphasized at the level of the single variants within a candidate predisposing gene, separating variants of scarce significance from true candidate pathogenic variations. Furthermore, in our knowledge-based approach, we introduced more variables, also including over 20 years of breast cancer GWAS data and patients' characteristics like age at onset. In particular, the latter information was used not only to confirm the association between early onset of disease and known predisposing genes but as a new explanatory variable to further enlarge our set of candidates beyond the limits of already known cancer-related genes.
With our analysis we provided a detailed study of missense variants per se and we offered a way to prioritize cancer-predisposing variants, while previous analysis were more descriptive and mainly focused on truncation events and on loss of heterozygosity. In particular, for breast cancer, previous analysis [67] listed all the rare germline truncation variants present in 624 cancer-associated genes and performed burden test to identify genes with significant enrichment of rare truncations. While they were able to detect BRCA1 and BRCA2 as significant in Caucasians, they focused their attention on further characterizing these mutations and on evaluating co-occurrence and mutual exclusivity of BRCA1/BRCA2 germline and somatic variants but there is no attempt at a prioritization of new candidates, especially at the missense variant level.
We are aware that our analysis has several limitations. First, to improve our understanding of the association of rare variants with breast cancer hereditability, we should sequence a larger number of individuals and possibly extend our analysis to other ethnicities. For example, we should use an independent longitudinal cohort to clarify the prevalence of the identified variants, or a smaller cohort of suspected familial cases. Second, genomic data could be associated to patients' family history, since this information is missing in the TCGA clinical data.
Nevertheless, we have provided a valuable resource of potential new cancer-related variants that can be characterized from a functional point of view.
Conclusions
In this study, we have developed a genomic-driven approach able to prioritize cancer-predisposing variants using a case-control genetic scheme. We demonstrate the benefits of using publicly available sequencing data to characterize known susceptibility genes, and to identify novel cancer-predisposing variants. The opportunity to classify individuals according to their risk of developing hereditary-based cancer will improve clinical management of breast cancer patients in terms of genome-tailored prevention strategies, programs for early diagnosis, and possible treatments.
Abbreviations
BAM:

Binary Alignment/Map
CIViC:

Clinic Interpretation of Variants in Cancer
COGS:

Collaborative Oncological Gene-environment Study
COSMIC:

Catalogue of Somatic Mutations in Cancer
CPGs:

Cancer-predisposing genes
DoCM:

Database of Curated Mutations
ER:

Estrogen receptor
ExAC:

Exome Aggregation Consortium
FDR:

False discovery rate
GATK:

Genome Analysis Toolkit
GWAS:

Genome-wide association study
HER2:

Human epidermal growth factor receptor 2
Kbac:

Kernel-based adaptive cluster test
LD:

Linkage disequilibrium
MAF:

Minor allele frequency
NFE:

Non-Finnish European
NGS:

Next-generation sequencing
PR:

Progesterone receptor
SKAT-O:

Sequence kernel association test optimal
SMGVs:

Somatically mutated germline variants
SNP:

Single nucleotide polymorphism
SNV:

Single nucleotide variant
TCGA:

The Cancer Genome Atlas
WES:

Whole exome sequencing
WGS:

Whole genome sequencing
Declarations
Acknowledgements
We would like to thank the CINECA consortium for providing the computational resources to carry on part of the analysis and in particular Nicola Spallanzani (CINECA), Walter Rocchia, and Andrea Cavalli (IIT) for their help during the set-up. We would like to thank Vincenzo Bagnardi and Sara Gandini for helpul discussion. The results published here are in whole or part based upon data generated by the TCGA Research Network: http://cancergenome.nih.gov/. We thank dbGap for granting access to the data (phs000178/GRU). We would like also to thank the Exome Aggregation Consortium (ExAC) for the control data set.
Funding
No funding to declare.
Authors' contributions
GEMM designed the study, performed the analysis, interpreted the results, and wrote the manuscript. LM, LB and PGP participated in the design of the study and in the interpretation of results. MB, AR and LL performed part of the analysis. LR designed and supervised the study, interpreted the results, and wrote the manuscript. All authors read and approved the final manuscript.
Competing interests
The authors declare that they have no competing interests.
Consent for publication
Not applicable.
Ethics approval and consent to participate
Not applicable.
Publisher's Note
Springer Nature remains neutral with regard to jurisdictional claims in published maps and institutional affiliations.
Open AccessThis article is distributed under the terms of the Creative Commons Attribution 4.0 International License (http://creativecommons.org/licenses/by/4.0/), which permits unrestricted use, distribution, and reproduction in any medium, provided you give appropriate credit to the original author(s) and the source, provide a link to the Creative Commons license, and indicate if changes were made. The Creative Commons Public Domain Dedication waiver (http://creativecommons.org/publicdomain/zero/1.0/) applies to the data made available in this article, unless otherwise stated.
Authors' Affiliations
(1)
Center for Genomic Science of IIT@SEMM, Fondazione Istituto Italiano di Tecnologia, Milan, Italy
(2)
Department of Experimental Oncology, European Institute of Oncology, Milan, Italy
(3)
Division of New Drug Development, European Institute of Oncology, Milan, Italy
(4)
Clinical Genomics Lab, European Institute of Oncology, Milano, Italy
(5)
Department of Oncology and Hemato-oncology, University of Milan, Milan, Italy