Delivery of gene silencing agents for breast cancer therapy
Breast Cancer Research
2013
15:205
Abstract
The discovery of RNA interference has opened the door for the development of a newclass of cancer therapeutics. Small inhibitory RNA oligos are being designed tospecifically suppress expression of proteins that are traditionally considerednondruggable, and microRNAs are being evaluated to exert broad control of geneexpression for inhibition of tumor growth. Since most naked molecules are notoptimized for in vivo applications, the gene silencing agents need to bepackaged into delivery vehicles in order to reach the target tissues as theirdestinations. Thus, the selection of the right delivery vehicles serves as a crucialstep in the development of cancer therapeutics. The current review summarizes thestatus of gene silencing agents in breast cancer and recent development of candidatecancer drugs in clinical trials. Nanotechnology-based delivery vectors for theformulation and packaging of gene silencing agents are also described.
Keywords
Breast CancerTrastuzumabCancer Stem CellBreast Cancer TherapyMultiple Cancer Type
Introduction: challenges in breast cancer treatment
Breast cancer is the most frequently diagnosed malignancy in women. In 2012, anestimated 229,060 new cases of invasive breast cancer and 39,920 cancer deaths wereexpected in women in the United States [1]. With the availability of modern diagnostic tools and increased use ofadjuvant systemic therapies, significant progress has been made on early stage breastcancer treatment, and consequently the overall survival rates in breast cancer patients.However, only marginal improvements have been achieved in patients with relapsedmetastatic cancer, making it an urgent medical need to develop new, effectivetherapeutics to treat late-stage breast cancer.
Small molecule inhibitors targeting selected protein kinases and monoclonal antibodiestargeting cell-surface receptors have shown promising results in the fight againstcancer, including breast cancer, in the past decade. However, the success stories havebeen limited to only a handful of drug targets. Many of the key cancer-causing genes aretraditionally considered 'nondruggable' [2], and thus not enough effort has been dedicated to these genes. Moreover,tumor heterogeneity and genetic instability make it unlikely that a single target willsuffice for long-term treatment of most solid tumors.
Ever since its discovery [3], RNA interference has been considered to be capable of rapidly andefficiently knocking down the expression of any gene in any cell type, thus opening adoor to treat cancer by targeting every cancer-causing gene. Recent progress in researchin gene silencing agents and their delivery systems has shed light on the potential ofthese therapeutic agents for cancer treatment.
In this review, we will summarize the current status of development of gene silencingagents as breast cancer therapeutics and describe the enabling systems for effectivedelivery of such therapeutics.
Gene silencing agents in breast cancer
Introduction
Two classes of gene silencing agents have been the focus of intense study in recentyears: small interfering RNA (siRNA) and small non-coding microRNA. The siRNAmolecule regulates expression of a specific protein via degradation of the mRNAmolecule. It usually demands a perfect match between the siRNA oligo and thecorresponding sequence in mRNA (Figure
1
). On the other hand,microRNA molecules regulate gene expression via suppression of translation. OnemicroRNA molecule often modulates the expression of a group of genes.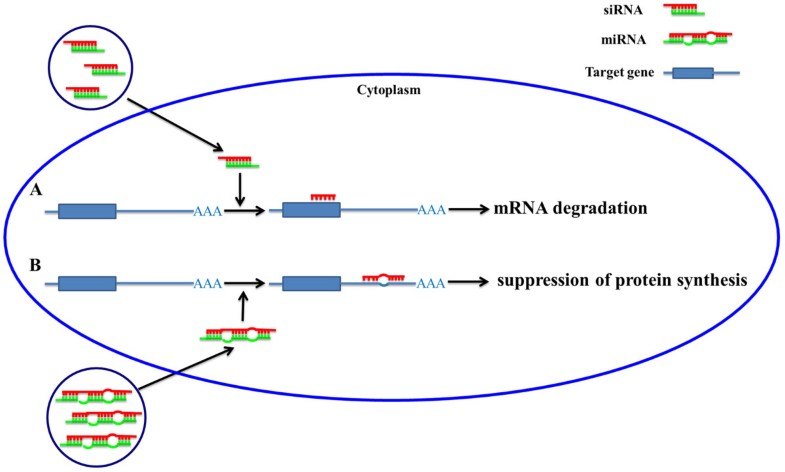 Small inhibitory RNA
Although originally discovered as long double-stranded RNA molecules, double-strandedsiRNA constructs of 30 nucleotides or less have been the default choice to avoidinterferon response from longer molecules [4]. Thousands of siRNA-related research articles have since been publishedthat demonstrate the essential roles of the individual genes in cell growth andviability. Key cancer genes have also been identified through screening ofsiRNA/small hairpin RNA (shRNA) libraries for cell proliferation and survival [5]. These genes are involved in almost all the important signal transductionpathways that control tumor initiation, progression, metastasis, and tumorangiogenesis. Detailed information on the individual genes has been publishedelsewhere, and is not the scope of this article. It has been estimated that there areabout 80 mutations in an individual breast tumor, of which a dozen are drivingmutations [6]. Adding to the complexity, every cancer patient carries a unique spectrumof gene mutations, making the pool of mutant genes unimaginably large. While thecurrent small molecule cancer drugs can only impact a very small portion ofcancer-causing genes, the availability of the specially designed siRNAs targeting thelarge number of genes makes it possible for personalized treatment of breast cancerbased on the genetic and epigenetic changes of every patient.
Genes and pathways that contribute to resistance to current cancer therapy have alsobeen identified. Trastuzumab has been a key drug to treat Her2-positive breast cancerpatients, but not everyone who is positive for Her2 responds to the treatment. In alarge scale RNA interference screening with the Her2-overexpressing BT474 breastcancer cell line, Berns and colleagues [7] discovered that loss of PTEN expression caused resistance to trastuzumabtreatment. Since PTEN is a negative regulator of the phosphoinositide 3-kinase(PI3K)/AKT pathway, it is speculated that activation of PI3K signaling conferstherapy resistance to trastuzumab. To support this notion, it was found thatoverexpression of PI3K also caused therapy resistance [7]. Another application of siRNA is to sensitize chemotherapy by knockingdown expression of multidrug resistant genes in breast cancer cells. Details will bedescribed in the 'Overcoming therapy resistance' section below.
microRNA
The microRNAs can be arbitrarily divided into two groups based on their target genesin breast cancer. Table
1
lists microRNAs that play significantroles with known target genes in breast cancer. The group I micro-RNAs regulate keygenes in cancer cell growth and survival. These include let-7, miR-17/20, miR-21,miR-103/107, the miR-200 family and miR-708, and more members will be identified. Oneof the first identified microRNAs was let-7. This molecule regulates expression ofsuch important cancer genes as
KRAS
and
MYC
[
8
]. Another example is miR-21, which is overexpressed in breast cancer. Itmodulates the activity of PI3K/AKT and ERK1/2 pathways via control of PTENexpression. Consequently, treatment of MDA-MB-231 human breast cancer cells with amiR-21 antagomir reversed the oncogenic phenotype of the cell line [
9
]. In contrast to those described above, miR-103/107 exert their globalcontrol of gene expression through modulating dicer expression [
10
]. Owing to the pivotal role of Dicer in processing and maturation of allnon-coding microRNAs, fluctuation of miR-103/107 levels could have a genome-wideimpact on gene expression.
Table 1
microRNAs as potential targets for breast cancer therapy
| microRNA | Selected target gene(s) | Function | References |
| --- | --- | --- | --- |
| let-7 | KRAS, MYC | Tumor growth inhibition | |
| miR-17/20 | CCND1, IL-8 | Regulation of tumor microenvironment | [48] |
| miR-21 | PTEN/AKT pathway | Tumor progression and metastasis | [9] |
| miR-103/107 | Dicer | Global microRNA downregulation | [10] |
| miR-200 family | ZEB1, SIP1 | Epithelial-mesenchymal transition | [49] |
| miR-205 | HER3, E2F, ZEB1 | Regulation of HER3 expression | [11] |
| miR-206 | ERα | Suppression of ERα expression | [50] |
| miR-221/222 | ERα | Tamoxifen resistance by suppression of ERα expression | [51] |
| miR-708 | NNAT | Inhibition of tumor metastasis | [52] |
Molecules such as miR-205, miR-206, and miR-221/222 represent members of the group IImicroRNA family. Besides regulating expression of many other genes, members in thisgroup also affect the expression of breast cancer surface markers such as HER3 andERα. For example, miR-205 is one of the regulators of HER3 expression [11]. Interestingly, a recent report revealed that the expression of miR-205itself was down-regulated by Her2 [12].
It is noteworthy that expression of one specific gene could be controlled by severalmicroRNA molecules. As indicated in Table 1, both the miR-200family and miR-205 modulate epithelial-mesenchymal transition through regulatingZEB1 expression, and ERa expression is regulated by miR206 andmiR-221/222.
Systemic delivery of gene silencing agents for breast cancer therapy
Conclusion and perspectives
Gene silencing agents will continue to contribute significantly to breast oncologytreatment. Recent advances in RNA interference have resulted in the development ofmultiple candidate siRNA therapeutics being evaluated in the clinic. Non-codingmicroRNAs will follow suit to be added to the candidate drug list soon. On the otherhand, development of delivery vectors for most solid tumor types has lagged. There arenot many options available to deliver siRNA/microRNA to primary breast cancer. It isever harder to deliver therapeutics to distant organs of breast cancer metastasis, suchas the brain and bone. More effort should be spent on the design and development oftissue-specific and tumor type-specific delivery systems for siRNAs and microRNAs.
Abbreviations
DOPC:

dioleoylphosphatidylcholine
DOPE:

dioleoylphosphatidylethanolamine
MSV:

multistage vector
PEI:

polyethylenimine
PI3K:

phosphoinositide 3-kinase
PKN3:

proteinkinase N3
PLK:

polo-like kinase
shRNA:

small hairpin RNA
siRNA:

small interferingRNA
SNALP:

stable nucleic acid lipid particle.
Declarations
Acknowledgements
The authors acknowledge financial support from the following sources: Department ofDefense grants DODW81XWH-09-1-0212 and DODW81XWH-12-1-0414; National Institute ofHealth grants NIH R01CA128797, NIH R01CA138197, NIH U54CA143837, NIH U54CA149196, NIHU54CA151668; Breast Cancer Research Foundation; Cancer Prevention Research Instituteof Texas RP121071; Komen Promise for the Cure KG081694; Golfer's Against Cancer; TeamTiara; Causes for a Cure.
Authors' Affiliations
(1)
Department of Nanomedicine, The Methodist Hospital Research Institute, Houston, USA
(2)
Department of Cell and Developmental Biology, Weill Cornell Medical College, New York, USA
(3)
Department of Cardiothoracic Surgery, Weill Cornell Medical College, New York, USA
(4)
Department of Medicine, Weill Cornell Medical College, New York, USA
(5)
The Methodist Cancer Center, Houston, USA
Copyright
© BioMed Central Ltd 2013