Targeted therapies in breast cancer: are heart and vessels also being targeted?
Breast Cancer Research
2012
14:209
Abstract
The concept of 'targeted' therapies implies that such drugs only act on cells that specifically express the particular target, therefore giving rise to a low incidence of side effects. However, targeted therapies currently approved for the treatment of breast cancer have demonstrated a relatively high incidence of cardiovascular events. The anti-HER2 agents trastuzumab and lapatinib may cause left ventricular dysfunction or even congestive heart failure. Bevacizumab, an antiangiogenic drug, has been shown to increase the risk of hypertension, cardiovascular dysfunction and thromboembolic events. In addition, several anti-human epidermal growth factor receptor 2 (HER2) and antiangiogenic agents plus their combinations are currently being developed and evaluated for the treatment of breast cancer. In this review, we aim to assess the incidence of cardiac adverse events associated with targeted therapies designed to block HER2 and angiogenic pathways.
Keywords
Breast Cancer
Bevacizumab
Trastuzumab
Left Ventricular Ejection Fraction
Human Epidermal Growth Factor Receptor
Introduction
Cardiovascular toxicity following breast cancer (BC) treatments may manifest as hypertension, ischemic heart disease, rhythm disturbances, thromboembolic events, or congestive heart failure (CHF). The Common Terminology Criteria for Adverse Events (CTCAE; version 4.03, June 2010) encompasses 36 distinct cardiac disorders and 17 vascular disorders. Classic risk factors for cardiac disease, such as diabetes, dyslipidemia, obesity, hyper-tension and smoking, are frequent among BC patients, adding detrimental effects to cardiotoxic drugs used in conventional therapy. When assessing the cardiotoxicity associated with the targeted therapies now available for BC, one needs to take into account several variables (Figure
1
). Considerable data are available regarding trastuzumab-associated cardiotoxicity, but knowledge about other targeted therapies is more limited.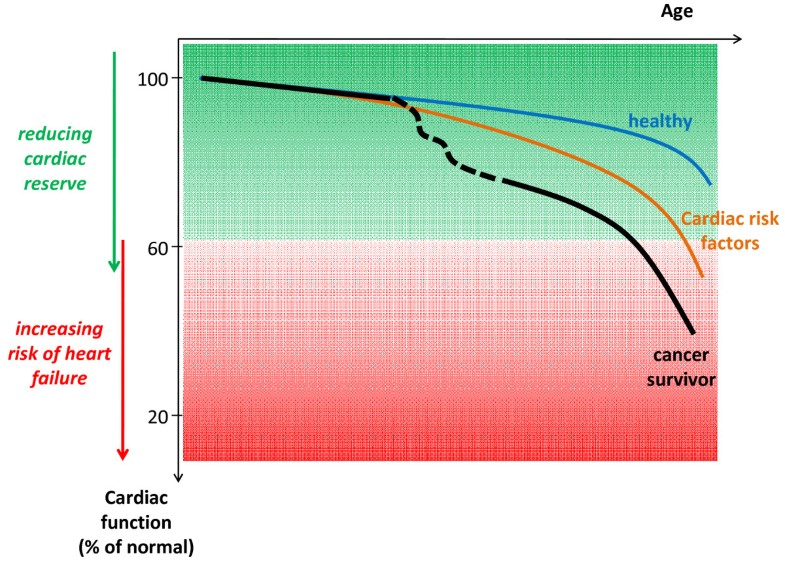 Conclusion
The increasing number of targeted therapies is broadening the therapeutic options available to patients with cancer, and survival from cancer has been improving overall. Nevertheless, targeted agents are associated with an increased incidence of different cardiovascular AEs. This being the case, and with targeted agents being increasingly used to treat EBC in the adjuvant setting with cure as the main objective, special attention to the short- and long-term toxicities to the heart and cardiovascular system is essential.
Previous clinical trials suggest that the combined use of trastuzumab and anthracyclines should be avoided due to the high incidence of LVEF drop and CHF [105]. Some investigators challenge this concept and have included this type of combination (low cumulative dose of anthracycline and trastuzumab) in neoadjuvant trials with the intention of obtaining a high rate of pathological complete response and, ultimately, improving patient prognosis [106–108]. Though these studies did not show significant cardiotoxicity at the time of reporting, a recent meta-analysis suggests that they may be individually underpowered to show any cardiac risk and that when the data are combined, there is indeed an increase in the risk of CHF for patients with EBC. This approach should therefore remain investigational: only patients included in clinical trials with close cardiac assessment and long follow-up should receive treatment combining trastuzumab and anthracyclines [109].
It is a challenge to provide the maximum therapeutic benefit to a patient while minimizing the risk of cardiotoxicity. To enable physicians to avoid using drugs most likely to cause cardiotoxicity in patients with previous cardiovascular comorbidities, it is paramount to deter-mine the exact cardiac risk associated with each targeted therapy and to balance decision-making between risks and benefits. Importantly, for patients with early HER2-positive BC who have cardiac risks prior to chemotherapy, the use of non-anthracycline-based regimens, such as docetaxel, carboplatin and trastuzumab, may be an option. Close cardiac assessment in all patients receiving targeted therapies should take place before, during and after treatment with such drugs.
In large phase III studies, strategies to manage and prevent cardiac toxicities should be implemented so physicians will be better informed about how to optimally manage such complications when they occur. In the adjuvant trastuzumab trials, echocardiogram, cardiac scintigraphy and magnetic resonance imaging were used, with LVEF readings as the main tool to define cardiotoxicity. A drawback of LVEF, however, is that it lacks sensitivity: a reduction in LVEF does not necessarily mean myocardial damage, and an unchanged LVEF does not mean that significant myocardial damage has not occurred. LVEF is a blunt tool being used for increasingly heterogeneous patterns of myocardial injury. Therefore, efforts to better characterize the underlying mechanisms of cardiotoxicity induced by targeted therapy are ongoing, and we believe that in the near future a detailed understanding of these mechanisms will be possible. This in turn will lead to the development of even more 'intelligent' targeted drugs, those that spare the cardiovascular system from damage while offering patients maximum benefits and chances for cure.
New generation studies incorporating BNP and TNI as markers of cardiac toxicity as well as cardiac imaging (such as cardiac magnetic resonance imaging) are very much needed to establish their definitive role in the assessment of patients treated with targeted agents. Importantly, the management of cancer patients experiencing cardiac dysfunction is similar to traditional approaches used in non-cancer patients. As previously mentioned, only the continuous collaboration between different disciplines, in particular cardiologists and oncologists, will make cardio-oncology a well-defined area where patients will benefit the most.
Abbreviations
AE:

adverse event
BC:

breast cancer
BNP:

B-type natriuretic peptide
CHF:

congestive heart failure
CI:

confidence interval
CRCD:

chemotherapy-related cardiac dysfunction
ddAC:

dose-dense doxorubicin plus cyclophosphamide
EBC:

early-stage breast cancer
EGF:

epidermal growth factor
EGFR:

epidermal growth factor receptor
HER:

human epidermal growth factor receptor
LVEF:

left ventricular ejection fraction
MBC:

metastatic breast cancer
NRG:

neuroregulin
T-DM1:

T-DM1: trastuzumab-DM1
TIC:

trastuzumab-induced cardiotoxicity
TKI:

tyrosine kinase inhibitor
TNI:

troponin I
VEGF:

vascular endothelial growth factor.
Authors' Affiliations
(1)
Department of Medical Oncology, Jules Bordet Institute, Université Libre de Bruxelles, Brussels, Belgium
(2)
Breast International Group, Brussels, Belgium
(3)
Department of Clinical Oncology, Instituto do Câncer do Estado de São Paulo and Faculdade de Medicina da Universidade de São Paulo, São Paulo, Brazil
(4)
Department of Cardiovascular Medicine, University Hospital Leuven, B-3000 Belgium and Department of Cardiology, St Vincent's Hospital, University of Melbourne, Melbourne, Australia
Copyright
© BioMed Central Ltd 2012