The role and function of cadherins in the mammary gland
Breast Cancer Research
2012
14:203
Published: 8 February 2012
Members of the cadherin superfamily provide cell-cell contact and communication in many different organ systems. Cadherins comprise a large superfamily consisting of six groups: classical, fat and daschous, flamingo, protocadherins, 7-pass transmembrane, and desmosomal cadherins. They operate as transmembrane receptors that mediate calcium-dependent homophilic and heterophilic interactions between cells. These interactions are crucial for enhancing the cell's ability to not only interact with neighboring cells, but also for cell signaling [1]. This review will provide an overview of all cadherins known to be expressed in the mammary gland with particular focus on the less reviewed cadherins and atypical cadherins. Information on the regulation and function of these cadherins in the mammary gland and during breast cancer will be included.
Cadherins have specific structural features that are used to classify them into type I, type II, and type III or atypical cadherins (Figure
1
). Type I cadherins possess a unique histidine-alanine-valine (HAV) motif in their amino acid sequence before the first calcium binding site in the amino terminus of the protein that is suggested to function in cadherin-cadherin interactions and has a single tryptophan (W) before the first calcium binding site. Type II cadherins contain the HAV motif, but this has two tryptophan residues (WW) instead of the one tryptophan found in type I cadherins. Type III or atypical cadherins possess calcium binding sites, but do not typically have HAV or W residues in their amino acid sequence [
2
]. All three classifications of cadherin are expressed in the mammary gland (Table
1
).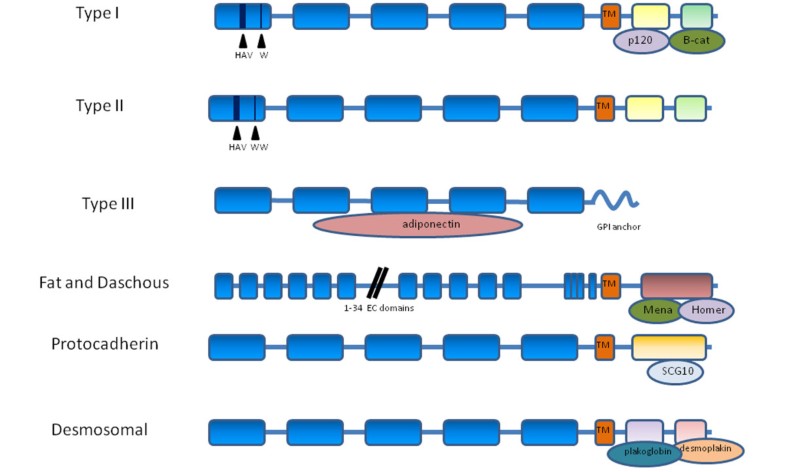 Table 1
Identification and description of cadherins present in the mammary gland and altered in breast cancer
| Cadherin | Name | Classification | Localization in the mammary gland | Involvement in breast cancer |
| --- | --- | --- | --- | --- |
| CDH1 | E-cadherin | Classical type I | Luminal epithelial | Downregulated and overexpression, somatic mutations |
| CDH2 | N-cadherin | Classical type I | Nerve and mesenchymal | Upregulated |
| CDH3 | P-cadherin | Classical type I | Myoepithelial, ducts and alveoli | Upregulated |
| CDH4 | R-cadherin | Classical type I | Epithelial | Downregulated |
| CDH5 | VE-cadherin | Classical type II | Vascular endothelial | Overexpression and misexpressed |
| CDH11 | OB-cadherin | Classical type II | Unknown | Upregulated in epithelial |
| CDH13 | T/H-cadherin | Classical type III | Ductal epithelium, endothelial and smooth muscle cells | Downregulated/decreased expression, promoter methylation |
| CDH15 | M-cadherin | Classical type III | Unknown | Downregulated, LOH |
| FAT4 | Protocadherin Fat4 | Fat and Daschous | Epithelial | Downregulated, promoter methylation |
| PCDH8 | Protocadherin-8 | Protocadherin | Luminal epithelial | Downregulated, somatic missense, LOH, homozygous deletion, promoter methylation |
| PCDH10 | OL-protocadherin | Protocadherin | Epithelial | Downregulated, frequent promoter methylation |
| DSG2 | Desmoglein-2 | Desmosomal | Epithelial | Unknown |
| DSC3 | Desmocollin-3 | Desmosomal | Epithelial | Downregulated, promoter methylation |
(1)
St Bonaventure University, Biology Department, William Walsh Science Building, #213, St Bonaventure, NY 14778, USA
© BioMed Central Ltd 2012