Breast cancer epithelial-to-mesenchymal transition: examining the functional consequences of plasticity
Breast Cancer Research
2011
13:226
Published: 1 November 2011
Abstract
The epithelial-to-mesenchymal transition (EMT) is a critical developmental process that has recently come to the forefront of cancer biology. In breast carcinomas, acquisition of a mesenchymal-like phenotype that is reminiscent of an EMT, termed oncogenic EMT, is associated with pro-metastatic properties, including increased motility, invasion, anoikis resistance, immunosuppression and cancer stem cell characteristics. This oncogenic EMT is a consequence of cellular plasticity, which allows for interconversion between epithelial and mesenchymal-like states, and is thought to enable tumor cells not only to escape from the primary tumor, but also to colonize a secondary site. Indeed, the plasticity of cancer cells may explain the range of pro-metastatic traits conferred by oncogenic EMT, such as the recently described link between EMT and cancer stem cells and/or therapeutic resistance. Continued research into this relationship will be critical in developing drugs that block mechanisms of breast cancer progression, ultimately improving patient outcomes.
Keywords
Breast CancerCancer Stem CellBreast Cancer ModelSalinomycinAnoikis Resistance
Introduction
Medical advances in the breast cancer field have dramatically altered the overall 5-year survival rate for women in the United States from 63% in the 1960s to 90% as of 2010 [1]. Despite these advances, the 5-year survival rate is a mere 23% for women diagnosed with distant metastatic disease [1]. Accordingly, basic researchers and clinicians have been working to combat breast cancer mortality by unraveling the molecular mechanisms that underlie metastasis, in an effort to improve treatment regimens and ultimately prognostic outcomes.
A recent focus in breast cancer metastasis research is the epithelial-to-mesenchymal transition (EMT). Classical EMT is a critical developmental program that entails the transdifferentiation of epithelial cells to mesenchymal cells, giving rise to different cell types, often in new locales [2]. As tumors progress, a subset of epithelial cancer cells may attain attributes of mesenchymal cells, a process that is broadly referred to as an oncogenic EMT. Amongst other things, an oncogenic EMT can result in increased migratory and invasive capabilities that may in turn contribute to metastatic dissemination. Oncogenic EMTs are not equivalent to developmental EMTs, as mesenchyme, by definition, is embryonic in origin. Instead, oncogenic EMTs should be viewed more as a partial EMT, in which carcinoma cells gain characteristics of mesenchymal cells, but may not fully lose epithelial characteristics (see 'Type III epithelial-to-mesenchymal transition' section for further discussion). This intermediate phenotype represents a plastic state, and it is speculated that plastic cells that have undergone an EMT to escape from a primary tumor must subsequently undergo the reverse mesenchymal-to-epithelial transition (MET) prior to colonizing a secondary site [3]. Such plasticity may also allow for cellular alterations that facilitate newly uncovered and important functional characteristics that have been linked to EMT, such as increased tumor-initiation and self-renewal capacity [4, 5] and increased resistance to conventional therapies [6, 7]. Thus, the role of epithelial plasticity will be an underlying theme throughout this review.
While the debate regarding the exact role of EMT in human breast cancers continues [8], such debate should not distract from the fact that the study of oncogenic EMT has led to significant findings that have widespread implications in the treatment of breast cancer patients. This review highlights such important findings.
Epithelial-to-mesenchymal transition
EMT occurs in a number of contexts with characteristic differences, and while three different subtypes have been classified (types I, II and III), there are large areas of overlap [9, 10]. In general, EMT programming allows epithelial cells to become invasive and motile mesenchymal or mesenchymal-like cells that are no longer spatially restricted by extracellular matrix [9]. This programming occurs in part through loss of apical-basal polarity and tight cell-cell contacts, with a concomitant gain in front-back end polarity and focal cell-cell contacts. In addition, the process of EMT leads to the formation of filopodia, accompanied by a switch from integrin receptors that mediate cell-cell adhesion to cell-extracellular matrix adhesion-specific integrins that are critical for cell motility [11, 12]. The epithelial cytokeratin-based intermediate filament network is replaced with vimentin (VIM) along with actin (ACTA1) stress fiber formation, yielding a more spindle-like shape in vitro [11]. An increase in the mesenchymal N-cadherin (CDH2) also facilitates focal cell-cell contacts and mobility, while the epithelial E-cadherin (CDH1) functionally dissipates through either down-regulation or relocalization away from the adherens junctions in the membrane [13].
Type I and II epithelial-to-mesenchymal transition
Type I EMT occurs during development and is responsible for the complex tissue types and organization present in metazoans [9]. A classic example of this EMT in humans is the formation of the primitive streak that defines the first embryonic axis and designates where cells will ingress to form new tissue layers during gastrulation [2]. In some instances of type I EMT, mesenchymal cells revert back to an epithelial phenotype in a MET, such as during nephrogenesis, when the metanephric mesenchyme transitions into epithelial nephric tubules, re-establishing epithelial structures at novel sites [11]. Thus, although some type I EMTs are permanent, interconversion between epithelial and mesenchymal phenotypes (that is, epithelial plasticity) is observed during development.
Type II EMTs are those that occur in wound healing and fibrosis [9, 10]. In some instances, fibrosis can arise as a result of inappropriate presence of myofibroblasts at an injured/inflamed site due to an EMT response to persistent injury or inflammation [9]. During wound healing, an EMT causes integrin changes and lamellipodia formation that allow keratinocytes at injured edges to migrate to close a wound [14]. An important aspect of the wound healing response is that only cells of the leading edge appear to undergo an EMT [14]. As the leading cells migrate, they pull a sheet of keratinocytes behind them. The cell-cell contacts required during this co-migration indicate that these cells only undergo a partial EMT, in that an individual cell exhibits spatially restricted epithelial and mesenchymal-like properties simultaneously, demonstrating another instance of epithelial plasticity. Type I and II EMTs are more thoroughly reviewed elsewhere [9, 14, 15].
Type III epithelial-to-mesenchymal transition
Type III EMT, or oncogenic EMT, is the name given to an EMT-like process that is observed in carcinoma cells, and is associated with tumor progression and metastasis [
9
,
10
]. EMT-associated gains in migration and invasion are thought to allow tumor cells to better navigate elements of the metastatic cascade, such as invasion through the basement membrane and intravasation into the circulatory system. Additionally, oncogenic EMT is linked to other pro-metastatic phenotypes, including resistance to chemo- and radiation therapy, self-renewal, evasion of the immune system and anoikis resistance (Figure
1
). It should be noted that the scope or completeness of a type III EMT is often less than that of a type I EMT; depending on the cellular and microenvironmental context, different EMT-associated traits may or may not be acquired. Thus, oncogenic EMT could be defined as an EMT-like process in which carcinoma cells gain mesenchymal-like characteristics and/or lose epithelial characteristics; morphological alterations may or may not accompany such changes (see 'Breast cancer EMT mediators' section for further discussion).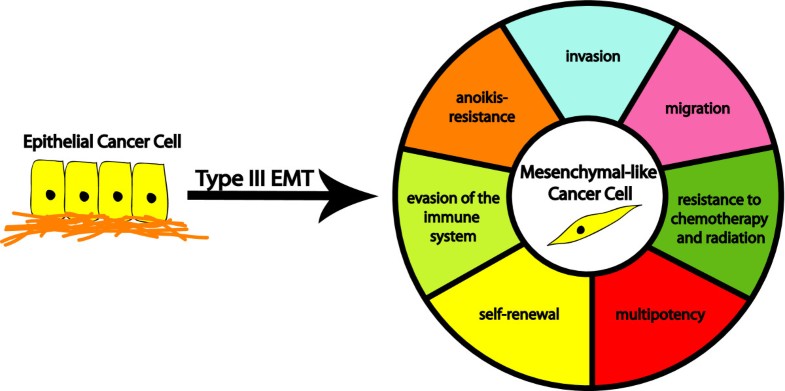 If carcinoma cells that have undergone an oncogenic EMT retain some epithelial features, while gaining mesenchymal characteristics, does that mean that a complete conversion never occurs? Unfortunately, complete loss of epithelial characteristics from a carcinoma cell would be difficult to detect in human cancers, as these cells would no longer morphologically or molecularly appear epithelial and may be confused with stromal cells. Nonetheless, evidence for an oncogenic EMT does exist in mouse models and in human tumors [16–18]. A recent study used fate mapping to examine MYC-initiated breast tumors in mice, specifically focusing on histologically identified tumor-adjacent stroma and breast tumor epithelium. Using a Cre and Rosa26 LoxP system to mark tumor cells, an epithelial promoter-driven Cre marked tumor-adjacent stroma, which also stained positive for epithelial cytokeratins, indicative of late type III EMT where carcinoma cells have transitioned into mesenchymal-like cells [19]. Conversely, tumor epithelia were marked with a fibroblast promoter-driven Cre, suggestive of early stage type III EMT where carcinoma cells are beginning to acquire mesenchymal characteristics [19]. Additional studies further demonstrate the presence of an oncogenic EMT, where a gain of mesenchymal characteristics occurs while epithelial characteristics are in part maintained. For example, Sine oculis homeobox homolog 1 (SIX1) overexpression in mammary epithelial cells of transgenic mice leads to tumors, 21% of which are sarcomatoid in morphology and are negative for CDH1 and positive for α-Smooth muscle actin (ACTA2) [20]. Importantly, these tumors are also cytokeratin18 (KRT18) positive, supporting an epithelial origin [20]. Of the non-sarcomatoid SIX1 tumors, almost 80% appeared morphologically epithelial, but contained regions in which membranous CDH1 is decreased and nuclear β-catenin (CTNNB1) is upregulated, indicative of a cell in the earlier stages of EMT [20]. Indeed, there are now several additional studies demonstrating such an oncogenic EMT within mouse and human breast cancer cell lines and tumors [16–18].
Breast cancer EMT mediators
Many groups have dedicated significant effort towards elucidating causes and effects of EMT in breast cancer, yielding a better, though still incomplete, understanding of the process. Numerous mediators of EMT have been discovered, including transcription factors, signaling molecules and microRNAs (miRNAs). Many downstream markers are used to distinguish between epithelial and mesenchymal-like phenotypes, including loss of epithelial proteins that exist in junctional complexes. A variety of proteins that are down-regulated in response to an EMT include CDH1, plakoglobin (JUP), occludin (OCLN), zonula occludens1 (TJP1), α-catenin (CTNNA3) and claudins 3/4/7 (CLDN-3/4/7) [10]. On the other end of the spectrum, the promotion of a mesenchymal-like phenotype is indicated by the up-regulation of proteins such as fibronectin (FN1), CDH2, VIM, ACTA2 and nuclear CTNNB1 [10]. As noted above, carcinoma cells may not completely lose their epithelial phenotype during an oncogenic EMT and may express epithelial and mesenchymal markers simultaneously [3].
A common theme among oncogenic EMT inducers is their crucial role in type I EMT. It has become increasingly evident that improper activation of developmental EMT inducers in adults gives rise to an out of context EMT-like program that contributes to the progression of breast cancer, as well as other cancers. A few examples of transcription factors and signaling pathways known to play a role in both type I and type III EMT include Twist1 (TWIST1), SIX1, Snail1 (SNAI1) and Ladybird homeobox (LBX1) and the Wnt and transforming growth factor-β (TGF-β) signaling pathways [2]. The relationship between developmental regulators and type III EMT is more thoroughly reviewed in other bodies of work [2, 15, 21].
Impact of EMT on breast cancer: metastasis, cancer stem cells and therapeutics
Conclusions
While epithelial cancers may metastasize via various mechanisms, including, but not restricted to, their ability to induce oncogenic EMT, it is clear that epithelial plasticity is an important means by which carcinoma cells can acquire numerous pro-metastatic characteristics. Defining an oncogenic EMT by precise mesenchymal and epithelial alterations runs counter to the fact that these cells are plastic and not created equal: each possesses a different metastatic potential that is either harnessed or repressed by the host. In closing, it is indisputable that studies related to oncogenic EMT have critically contributed to, and will continue to contribute to, our understanding of the most devastating aspect of breast cancer: metastatic dissemination.
Abbreviations
ADAM:

a disintegrin and metalloprotease
CSC:

cancer stem cell
EGF:

epidermal growth factor
EMT:

epithelial-to-mesenchymal transition
HMEC:

human mammary epithelial cell
MaSC:

mammary stem cell
MET:

mesenchymal-to-epithelial transition
miR:

microRNA
MMP:

matrix metalloprotease
TGF:

transforming growth factor
TNF:

tumor necrosis factor.
Declarations
Acknowledgements
HLF is funded by grants from the National Cancer Institute (2RO1-CA095277, 1R01-CA157790, and 1R01-CA124545-01), The American Cancer Society (#RSG-07-183-01-DDC), The Department of Defense (BC084105), and The Breast Cancer Research Foundation-American Association for Cancer Research, as well as from the State of Colorado. TPR is supported by the Cancer League of Colorado.
Authors' Affiliations
(1)
Program in Molecular Biology, University of Colorado Anschutz Medical Campus, Aurora, USA
(2)
Program in Molecular Biology, Medical Scientist Training Program, University of Colorado Anschutz Medical Campus, Aurora, USA
(3)
Department of Obstetrics and Gynecology, Department of Biochemistry and Molecular Genetics, Program in Molecular Biology, Medical Scientist Training Program, University of Colorado Anschutz Medical Campus, Aurora, USA
Copyright
© BioMed Central Ltd 2010