P-cadherin expression in breast cancer: a review
Breast Cancer Research
2007
9:214
Published: 31 October 2007
Abstract
P-cadherin is frequently over-expressed in high-grade invasive breast carcinomas and has been reported to be an enhancer of migration and invasion of breast cancer cells, being correlated with tumour aggressiveness. In addition, expression of P-cadherin is well established as an indicator of poor prognosis in human breast cancer, which has stimulated our interest in studying its role in this setting. This review describes the most important findings on P-cadherin expression and function in normal mammary tissue and breast cancer cells, emphasizing that further research is required to elucidate the role played by this protein in human mammary tumours.
Keywords
Breast Cancer CellMammary GlandMyoepithelial CellInvasive Breast CarcinomaCarcinosarcoma
Introduction
Classical cadherins, such as E-cadherin, N-cadherin and P-cadherin, are the best characterized subgroup of adhesion proteins; they mediate calcium-dependent cell-cell bonds when they are localized to the adherens-type junctions. These cellular structures are found near to the apical surface of polarized epithelial cells, where E-cadherin (or epithelial cadherin) is the typical adhesion molecule present. However, other cadherins are found in similar structures in various cell types [1].
P-cadherin (or placental cadherin) was the third classical cadherin to be identified and characterized in the mouse visceral endoderm cell line PSA5-E [2, 3], and it is this protein that constitutes the main subject of this review. Despite its name, P-cadherin is not expressed in human placenta [4]; its name results from the fact that this molecule was originally observed to be highly expressed in mouse placenta throughout pregnancy [2, 4].
The gene encoding P-cadherin (CDH3) is far less well characterized than is CDH1 (the gene that encodes E-cadherin), although they share 66% homology. It also maps to chromosome 16q22.1, a region that contains a cluster of several cadherin genes, just 32 kilobases upstream of the gene encoding human E-cadherin [5, 6]. Mutations in the CDH3 gene have been reported to be responsible for congenital hypotrichosis associated with juvenile macular dystrophy, which is a rare autosomal-recessive disorder characterized by abnormal growth of scalp hair, followed by progressive macular retinal degeneration that leads to early blindness [7].
The mature P-cadherin glycoprotein has a molecular weight of 118 kDa, and its structure is similar to that of classical cadherins but different from those of E-cadherin and N-cadherin in terms of immunological specificity and molecular mass [
2
]. It is comprised of three distinct domains (extracellular, transmembrane and cytoplasmic) and it mainly, but not exclusively, promotes homotypic interactions (between cadherins of the same type) [
1
,
2
]. The amino-terminal domain is essential for the creation of lateral dimmers that act together in a zipper-like structure between neighbouring cells (Figure
1
) [
8
].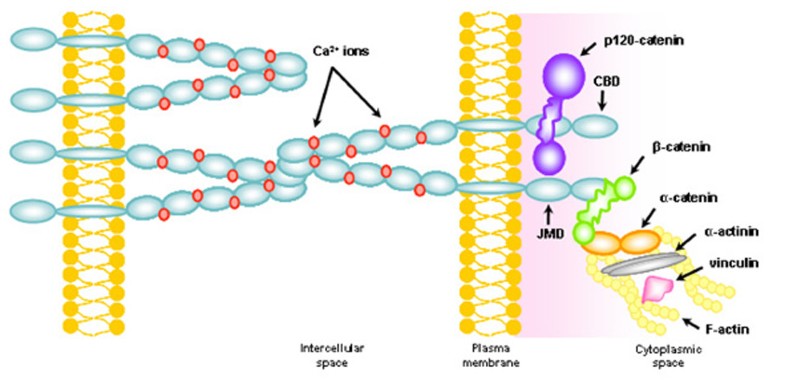 The function and strength of P-cadherin mediated adhesion probably depends on its dynamic association with a group of cytoplasmic molecules, called catenins. These molecules serve to link the cadherin cytoplasmic tail to the actin cytoskeleton and facilitate clustering into the junctional structure, forming cadherin-catenin complexes (Figure 1) [8, 9]. This tail comprises two main domains: the catenin-binding domain (CBD), which is known to be essential for cadherin function, and the juxtamembrane domain (JMD), which has been suggested to play a critical role in allowing cells to relocate [1]. The α, β, γ and p120 catenins are the documented interaction partners [10]. β-Catenin (and also γ-catenin) is a signalling molecule that is involved in tissue patterning, and it is regulated by the CBD, tyrosine phosphorylation and transcriptional factors [11]. P120-catenin interacts directly with the JMD and is also regulated by tyrosine kinases, modulating cadherin intracellular trafficking, stability, adhesive capacity and cell motility [12–14]. The α-catenin links the cadherin-catenin junctional complex to the actin cytoskeleton [11].
In 1989, Shimoyama and coworkers [4] showed that NIH3T3 cells transfected with human P-cadherin cDNA expressed the functional cadherin molecule, which was able to mediate cell-cell adhesion. The amino-terminal domain is essential in determining the specificity of this molecule [15]. Although both E-cadherin and P-cadherin are found in areas of cell-cell contact, the relative ease with which P-cadherin can be extracted from cells, using a non-ionic detergent, demonstrated weaker anchorage of this protein to the actin cytoskeleton when compared with E-cadherin. Also, the binding corresponds to less permanent cell-cell interactions than those attributed to epithelial cadherin [16].
P-cadherin is transiently expressed in various tissues during development [17, 18] and its permanent expression is limited to adult epithelial tissues, at cell-cell boundaries [19]. Unlike E-cadherin, which is broadly distributed in all epithelial tissues, P-cadherin exhibits a singular pattern of expression, co-localizing partially with E-cadherin and being restricted to the basal proliferative cell layer of the majority of stratified epithelia. Some authors have even suggested that its expression could be correlated with cell undifferentiation and proliferation in these type of tissues, as well as with the connection or segregation of cell layers, as found for other cadherins [2, 19–21].
The adherens-type junctions play an important role in cell sorting during embryogenesis and in the maintenance of specific organ and adult tissue architecture [22, 23]. They are also essential in intracellular signalling mechanisms [11, 24], which regulate cell polarity, differentiation, growth and migration [25]. Because of their importance in normal development, disorders involving dysfunction of classical cadherins/catenins are related to various disease states, including cancer [10, 26, 27].
P-cadherin in embryogenesis, mammary development and normal breast tissue
The formation of tissues and organs during embryogenesis requires the coordination of cellular processes, including cell polarization, aggregation, segregation and migration. Each of these processes depends on the expression of specific adhesion proteins. The various cadherin family members are expressed in specific spatiotemporal patterns during the development of an embryo, which is consistent with the view that cadherins play roles in regulation of morphogenesis and in tissue formation.
It has become clear that cadherins constitute a major cellular adhesion/recognition system that confers upon cells the ability to sort from one another during embryogenesis, in order to form specific tissues. For example, cells transfected with E-cadherin segregate from cells transfected with P-cadherin when these two populations are mixed together in an aggregation assay [28]. In addition, Steinberg and Takeichi [29] showed that cells expressing different levels of the same cadherin also sort from one another. Based on these experiments, the general idea is that when a group of cells separate from an existing cell layer, the segregating cells express a qualitatively or quantitatively altered set of cadherin family members. This might mean that cells are able to turn off some cadherin genes or turn on others during their lives [30].
P-cadherin was first described in developing mouse embryos, specifically in the extra-embryonic ectoderm and in the visceral endoderm at the egg cylinder stage, but not in the embryonic ectoderm. Later, it is expressed in various tissues, with the mouse placenta and uterine decidua exhibiting the most abundant expression of this protein [2]. Based on these findings, Nose and Takeichi [2] proposed that differential expression of P-cadherin on both sides of embryonic and maternal tissues of the early placenta could play a role in implantation and morphogenesis of mice embryos, by providing cells with heterogeneous adhesive specificities. The expression of P-cadherin is transient in several mouse tissues during development, and its permanent expression becomes limited to the epidermis, the mesothelium and the corneal endothelium [2]. In the adult mouse, some tissues such as skin, intestine, heart and lung only weakly express this protein. Brain and liver are essentially negative for P-cadherin.
In both mouse and human embryos, during the histogenesis of the surface epidermis and hair follicles, P-cadherin is expressed exclusively in the proliferating region of these tissues [20], segregating hair follicle keratinocytes into functionally distinct subpopulations [31]. Based on these findings, P-cadherin has been described as being crucial for orderly progression of terminal differentiation of the epidermis [21].
Mammary ducts and the highly mitotic terminal end buds from which they are derived consist of two layers of ectodermally derived epithelium, forming a 'tube within a tube' structure. Immunostaining shows abundant E-cadherin on the lateral membranes of end bud body cells and ductal luminal cells, but no P-cadherin expression. The basally located 'cap' cells, which represent the growth point for ductal development of the mammary gland and their differentiated descendants, the ductal myoepithelial cells, exhibit strong P-cadherin expression [32]. Because functional blocking cadherin antibodies induce disruption of these layers, previous data indicate that spatially selective expression of E-cadherin and P-cadherin is required for mammary tissue integrity [33]. Interestingly, virgin P-cadherin null female mice exhibit precocious differentiation of the mammary gland, and develop hyperplasia and dysplasia with age. These results indicate that P-cadherin mediated adhesion or signals derived from its cell-cell interactions are indeed important determinants of mammary gland growth control and in the maintenance of an undifferentiated state during a specific period of time [34].
In normal adult nonlactating breast tissue, spatially selective expression of E-cadherin and P-cadherin appears to be important for mammary gland differentiation [35]. E-cadherin is expressed by both luminal and myoepithelial cells, whereas P-cadherin is restricted to myoepithelial cells [35, 36]. However, during late pregnancy and lactation in humans and dogs P-cadherin is not found at cell-cell borders, as expected for an adhesion molecule, but rather appears to be secreted by epithelial cells [37, 38]. Additionally, an 80 kDa soluble fragment of P-cadherin is frequently found in body fluids, including milk from the lactating breast, although its biological role in this context is still unknown [37, 39, 40].
P-cadherin role in breast carcinogenesis
Because of the importance of cadherins in cell recognition, adhesion, sorting and signalling, their disruptive function of P-cadherin has significant implications in disease states, including cancer. P-cadherin has been detected as altered in various human tumours, but its role in the carcinogenic process remains unclear because it behaves differently depending on the cancer cell model studied.
For example, P-cadherin behaves like a tumour suppressor gene in malignant melanoma, in which there is a progressive loss of normal E-cadherin and P-cadherin expression from melanocytes, followed by an increase in N-cadherin expression [41, 42]. This allows cells to invade and migrate, releasing them from the control of keratinocytes and enabling interaction with fibroblasts and vascular endothelial cells [42]. Therefore, in this model P-cadherin functions as a pro-adhesive and anti-invasive molecule, inhibiting invasion and metastasis [43].
On the other hand, and particularly in breast cancer, P-cadherin is able to enhance cell invasion and tumour aggressiveness, and constitutes a factor that indicates a poorer prognosis for the patient [44]. Thus, our current understanding of the role played by P-cadherin in carcinogenesis and progression of breast cancer continues to direct research toward its putative value in diagnosis, prognosis and treatment of this heterogeneous disease.
Conclusion
Several reports have already indicated that P-cadherin expression in mammary carcinomas is associated with poor prognosis in patients [45, 48, 49]. However, the effect and regulation of this protein in breast tumour cell biology, and consequently in the progression of this disease, remain unknown. The experiments and results that are discussed in the present review provide four novel insights into the role played by P-cadherin in breast carcinogenesis. Specifically, they show that its expression is associated with more aggressive tumours and with shorter patient survival; it reflects the methylation status of its promoter gene; it is regulated by the ER-α signalling pathway; and it is involved in the ability of cells to invade through artificial extracellular matrices, such as collagen type I and matrigel.
It remains to be determined whether P-cadherin is an independent predictor of outcome and a true determinant of the biology of breast cancers, or is a mere surrogate marker for a more global basal-like profile.
Abbreviations
CBD:

catenin-binding domain
CK:

cytokeratin
E2:

17β-oestradiol
ER:

oestrogen receptor
JMD:

juxtamembrane domain
PgR:

proges-terone receptor.
Declarations
Acknowledgements
The performance of this review was supported by four research grants (Joana Paredes: SFRH/BPD/15319/2005; André Albergaria: SFRH/BD/15316/2005; Ana Sofia Ribeiro: POCI/BIA-BCM/59252/2004; and Ana Luísa Correia: POCI/N/07.01.02/10/25/2005) and by a scientific project (POCI/BIA-BCM/59252/2004), all financed by the Portuguese Science and Technology Foundation. We also give thanks to the Calouste Gulbenkian Foundation for the 'Programa Gulbenkian de Estímulo à Investigação (FCG 55/05)'. We thank Dr Ursula McGovern for help in the English text edition.
Authors' Affiliations
(1)
Life and Health Sciences Research Institute (ICVS), School of Health Sciences, University of Minho, Braga, Portugal
(2)
Institute of Molecular Pathology and Immunology of the University of Porto (IPATIMUP), Porto, Portugal
(3)
Medical Faculty of the University of Porto, Porto, Portugal
Copyright
© BioMed Central Ltd 2007