Mouse models of breast cancer metastasis
Breast Cancer Research
2006
8:212
Abstract
Metastatic spread of cancer cells is the main cause of death of breast cancer patients, and elucidation of the molecular mechanisms underlying this process is a major focus in cancer research. The identification of appropriate therapeutic targets and proof-of-concept experimentation involves an increasing number of experimental mouse models, including spontaneous and chemically induced carcinogenesis, tumor transplantation, and transgenic and/or knockout mice. Here we give a progress report on how mouse models have contributed to our understanding of the molecular processes underlying breast cancer metastasis and on how such experimentation can open new avenues to the development of innovative cancer therapy.
Keywords
Breast CancerMammary GlandConnective Tissue Growth FactorBreast Cancer MetastasisMammary Epithelium
Introduction
Breast cancer is the most frequently diagnosed form of cancer and the second leading cause of death in Western women [1]. Death, and most of the complications associated with breast cancer, are due to metastasis developing in regional lymph nodes and in distant organs, including bone, lung, liver, and brain [1, 2]. As in many other metastatic cancer types, specific molecular changes occurring within both the tumor cells and the tumor microenvironment contribute to the detachment of tumor cells from the primary tumor mass, invasion into the tumor stroma, intravasation into nearby blood vessels or lymphatics, survival in the bloodstream, extravasation into and colonization of the target organ and, finally, metastatic outgrowth [3, 4].
In the recent past, our understanding of breast cancer progression and metastasis has greatly profited from the use of genetically modified mouse models and advanced transplantation techniques. Here we describe the currently employed mouse models of breast cancer metastasis and how their use has contributed significantly to our understanding of the molecular processes underlying breast cancer metastasis.
Mechanisms contributing to breast cancer metastasis
A critical step towards the generation of mouse models of breast cancer is the understanding of the molecular pathways underlying mammary carcinogenesis. Our knowledge on how breast tumor progression occurs has also been markedly improved by unraveling the dynamics and the key factors of mammary gland development.
Mammary gland development
Mouse breast tissue undergoes continuous changes throughout the lifespan of reproductively active females, mediated mainly by interactions between the mammary epithelium and the surrounding mesenchyme (Figure
1
). The mammary bud develops by forming a network of branched ducts invading into the mammary fat pad [
5
]. With the release of ovarian hormones, terminal end buds are formed. They represent the invading front of the ducts and they are able to proliferate, to extend into the fat pad, and to form branches. During pregnancy and lactation, hormone-induced terminal differentiation of the mammary epithelium into milk-secreting lobular alveoli takes place. After weaning, the secretory epithelium of the mammary gland involutes into an adult nulliparous-like state by apoptosis and redifferentiation. During these processes, the developing mammary gland has the ability to induce angiogenesis to adjust for blood supply and is protected against premature involution; it is therefore resistant to apoptosis [
6
]. Interestingly, proliferation, invasion, angio-genesis, and resistance to apoptosis are all features that are abused during the etiology of breast carcinogenesis.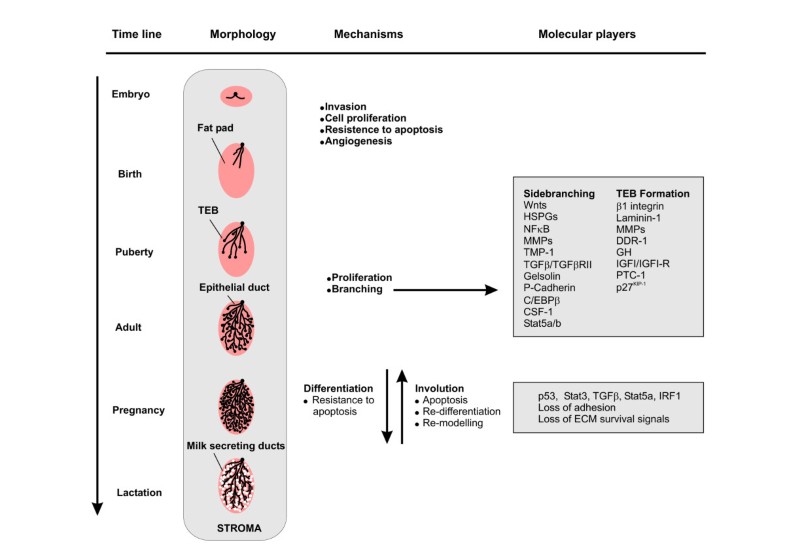 Transformation and metastasis
Mammary gland morphogenesis and branching involve the regulatory function of several signaling pathways, including signaling by Wnt family members [7], transforming growth factor-β (TGF-β) [8], insulin-like growth factor-I (IGF-I) [9], and epidermal growth factor (EGF) and others [10]. These pathways are frequently activated during the tumorigenic process by mutation or gene amplification, thus allowing the mammary epithelium to expand, proliferate, and invade neighboring tissue. The cross-talk and interactions between tumor cells and the surrounding stroma, the extracellular matrix (ECM), and infiltrating cells of the immune system are constantly modulating tumor development. The mammary stroma, composed of pre-adipocytes, adipocytes, fibroblasts, endo-thelial cells, and inflammatory cells, contributes functionally to mammary gland development [6]. In a similar manner, tumor–stroma interactions, occurring via soluble growth factors, cytokines and chemokines, remodeling of the extra-cellular matrix, or direct cell–cell adhesion, are critical for tumor growth, migration, and metastasis. Alteration of the expression or function of adhesion molecules responsible for the adhesion of breast cancer cells to themselves, to stromal cells, or to tumor matrix, including integrin family members, immunoglobulin-domain cell adhesion molecules (such as L1 and NCAM), cadherin family members, or other cell surface receptors (such as CD44), contributes predominantly to late-stage tumor progression and metastatic dissemination of cancer cells [11, 12].
The formation of new blood vessels (angiogenesis) is crucial for the growth and persistence of primary solid tumors and their metastases, and it has been assumed that angiogenesis is also required for metastatic dissemination, because an increase in vascular density will allow easier access of tumor cells to the circulation. Induction of angiogenesis precedes the formation of malignant tumors, and increased vascularization seems to correlate with the invasive properties of tumors and thus with the malignant tumor phenotype [13]. In fact, angiogenesis indicates poor prognosis and increased risk of metastasis in many cancer types, including breast cancer [14]. With the recent identification of lymphangiogenic factors and their receptors it has also been possible to investigate the causal role of lymphangiogenesis in the metastatic process (reviewed in [15]). It is therefore not surprising that molecules essential for mammary gland development, many of them stromal factors, are also critical participants in breast carcinogenesis.
The knowledge gained on the several mechanisms contributing to tumor progression can be used to design and generate better mouse models. At the same time, such models allow a thorough investigation of all different aspects of multistage breast carcinogenesis, including the genetic alterations leading to tumor onset, neovascularization, tumor progression, and formation of metastasis in secondary organs.
Breast cancer metastasis models
Molecular pathways dissected using breast cancer mouse models
Conclusion
Elucidation of the molecular mechanisms underlying breast cancer progression and metastasis has gained tremendously from mouse models in which the multiple stages of tumor progression are recapitulated. However, despite their obvious convenience in basic cancer research and in the testing of experimental therapies, the use of mouse models carries several limitations. There are obvious differences between human and mouse tumorigenesis, among which are the kinetics of carcinogenesis and the final size of tumors, differences in cell intrinsic features such as the requirements to transform cells, and differences in organ-specific gene expression, in physiology, metabolism, pathology, and in the immune system. Moreover, metastatic dissemination occurs mainly via hematogenous spreading to lungs and lymph nodes in MMTV-PyMT and MMTV-Neu mice, as opposed to the initial spreading of cancer cells to local lymph nodes via the lymphatics in human breast cancer.
Another important aspect to the understanding of breast cancer metastasis is the role of different subpopulations of breast cells, including cancer stem cells. A great effort is put into their isolation by means of molecular markers or functional assays. The use of transplanted breast cancer stem cells isolated from mice harboring different genetic modifications thereby offers a valuable tool not only in the unraveling of breast cancer development but also in designing effective therapeutic strategies.
Recent technological advances have greatly improved the use of animal models in breast cancer research, such as the use of bioluminescence and fluorescence systems, magnetic resonance, positron-enhanced tomography scans or in vivo confocal analysis to image tumor development in live animals, also allowing observation for long periods. Moreover, extended time-lapse observation of labeled tumor cells in vivo provides new insights into the actual dynamics of tumor growth, extravasation, cell migration, and organ colonization, as well as the contribution of the tumor stroma and subsets of immune cells. Finally, gene expression analysis of tumor samples matched with normal tissue from patients will provide gene signatures that will have to be tested in vivo by proof-of-concept experiments in reliable mouse models of breast cancer metastasis.
In the future it will be necessary to generate mouse models that more accurately recapitulate human breast carcino-genesis, while offering the advantages of model systems, such as easy genetic or pharmacological manipulation and imaging. The quest for such improved models has just begun.
Abbreviations
COX:

cyclo-oxygenase
CSF:

colony-stimulating factor
CTGF:

connective tissue growth factor
ECM:

extracellular matrix
EGF:

epidermal growth factor
EMT:

epithelial–mesenchymal transition
IGF:

insulin-like growth factor
IL:

interleukin
MEKK:

MAP kinase/ERK kinase kinase
MMP:

matrix metalloproteinase
MMTV:

murine mammary tumour virus
PTHrP:

parathyroid hormone-related protein
PyMT:

polyoma middle T antigen
SDF:

stromal cell-derived factor
TGF:

transforming growth factor
VCAM:

vascular cell adhesion molecule
VEGF:

vascular endothe-lial growth factor.
Declarations
Acknowledgements
We are grateful to Dr Miguel Cabrita and Dr François Lehembre for critical comments on the manuscript, and to Dr Jos Jonkers for sharing unpublished results. Research in the laboratory of the authors is supported by the Krebsliga Beider Basel, Novartis Pharma Inc., NCCR Molecular Oncology, the Swiss National Science Foundation and the EU-FP6 framework programs LYMPHANGIOGENOMICS LSHG-CT-2004-503573 and BRECOSM LSHC-CT-2004-503224.
Authors' Affiliations
(1)
Institute of Biochemistry and Genetics, Department of Clinical-Biological Sciences (DKBW), Center of Biomedicine, University of Basel, Basel, Switzerland
Copyright
© BioMed Central Ltd 2006