Research article
Open Access
Increased peri-ductal collagen micro-organization may contribute to raised mammographic density
Breast Cancer Research
2016
18:5
Received: 25 September 2015
Accepted: 15 December 2015
Published: 8 January 2016
Abstract
Background
High mammographic density is a therapeutically modifiable risk factor for breast cancer. Although mammographic density is correlated with the relative abundance of collagen-rich fibroglandular tissue, the causative mechanisms, associated structural remodelling and mechanical consequences remain poorly defined. In this study we have developed a new collaborative bedside-to-bench workflow to determine the relationship between mammographic density, collagen abundance and alignment, tissue stiffness and the expression of extracellular matrix organising proteins.
Methods
Mammographic density was assessed in 22 post-menopausal women (aged 54–66 y). A radiologist and a pathologist identified and excised regions of elevated non-cancerous X-ray density prior to laboratory characterization. Collagen abundance was determined by both Masson's trichrome and Picrosirius red staining (which enhances collagen birefringence when viewed under polarised light). The structural specificity of these collagen visualisation methods was determined by comparing the relative birefringence and ultrastructure (visualised by atomic force microscopy) of unaligned collagen I fibrils in reconstituted gels with the highly aligned collagen fibrils in rat tail tendon. Localised collagen fibril organisation and stiffness was also evaluated in tissue sections by atomic force microscopy/spectroscopy and the abundance of key extracellular proteins was assessed using mass spectrometry.
Results
Mammographic density was positively correlated with the abundance of aligned periductal fibrils rather than with the abundance of amorphous collagen. Compared with matched tissue resected from the breasts of low mammographic density patients, the highly birefringent tissue in mammographically dense breasts was both significantly stiffer and characterised by large (>80 μm long) fibrillar collagen bundles. Subsequent proteomic analyses not only confirmed the absence of collagen fibrosis in high mammographic density tissue, but additionally identified the up-regulation of periostin and collagen XVI (regulators of collagen fibril structure and architecture) as potential mediators of localised mechanical stiffness.
Conclusions
These preliminary data suggest that remodelling, and hence stiffening, of the existing stromal collagen microarchitecture promotes high mammographic density within the breast. In turn, this aberrant mechanical environment may trigger neoplasia-associated mechanotransduction pathways within the epithelial cell population.
Keywords
Mammographic densityCollagen organisationTissue micro-stiffnessAtomic force microscopyBreast cancerCancer risk
Background
Although the causative mechanisms of most breast cancers remain poorly understood, epidemiological evidence indicates that women with radiopaque tissue occupying over 60 % of the breast are three to six times more likely to develop cancer than those with predominantly radio-translucent tissue [1, 2]. As a consequence, the proportion of radio-dense breast tissue (commonly referred to as mammographic density (MD)) is an important breast cancer risk factor [3, 4]. Crucially, unlike most breast cancer risk factors, MD can be therapeutically modified. Prophylactic treatment of patients with high MD with tamoxifen or aromatase inhibitors can reduce MD and hence breast cancer risk, but unfortunately patient tolerance to such long-term endocrine therapy is low [5, 6]. As yet the structural and compositional differences between dense and non-dense breasts, and the identity of potential therapeutic targets, remain poorly defined [7].
Since fat-rich adipose tissue is radiologically translucent, MD is determined primarily by the amount of fibroglandular material (comprising cell-rich epithelial and extracellular matrix (ECM)-rich stromal tissues) [3, 8, 9]. X-ray imaging combined with haematoxylin and eosin (H&E) staining of breast tissue implicates stromal collagen fibrosis as a key factor in raised MD [10, 11]. Such perturbations in ECM homeostasis may influence epithelial cell phenotype and tumour progression [12]. Moreover, changes in collagen organisation in the tumour microenvironment, may promote tumour initiation and progression [13]. Whilst the unmodified H&E staining protocol is well-suited to characterizing breast tissue architecture, it does not specifically identify collagen [14]. Previous studies have failed to delineate the causative mechanisms and biological consequences of increased MD because of: 1) the use of methodological approaches which are unsuited to detecting specific changes in micro-scale (i.e., cellular) ECM composition, organization and tissue stiffness and 2) inadequate control of sampling with regards to age, menopausal status and/or localized variations in breast density.
To overcome these shortcomings, and to define clear links between increased MD and altered breast biology, we have developed a new collaborative workflow for sampling localized regions of elevated density breast tissue from age-matched postmenopausal women. In this workflow, we have linked surgeon, radiologist, pathologist, tissue biobank, and laboratory scientist (Fig.
1
). We use this workflow to test the hypothesis that increased MD in recently postmenopausal women is caused by the deposition of an ordered, and hence stiffened, fibrillar collagen matrix.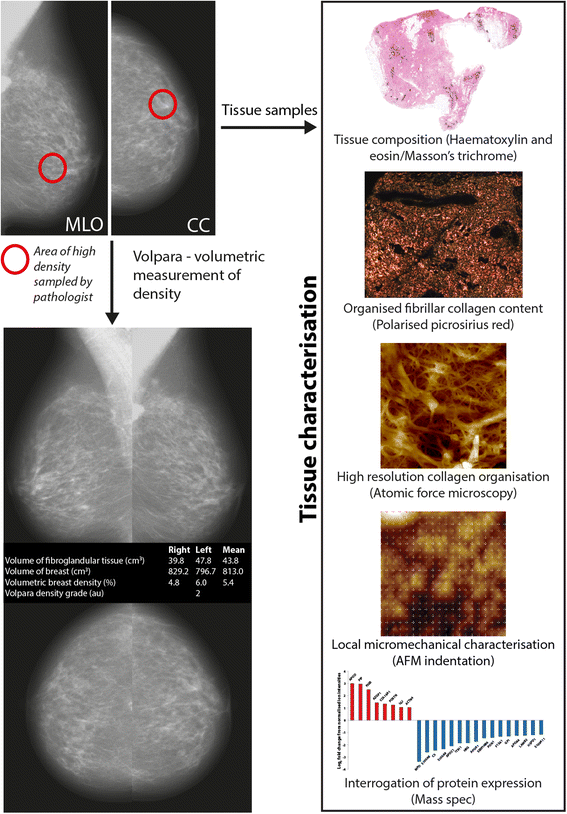 Methods
Cohort
Twenty-two women (54–66 years) were recruited from the Nightingale Centre breast-screening clinic. Although this Centre is one of the largest breast clinics in the UK, only about 30 suitable patients within this age range undergo surgery each year. Of these patients we were able to achieve a consent rate of 50–60 % during the duration of the study period. The local Research Ethics Committee approved the study, and all patients gave written informed consent. Women on hormone replacement therapy or who had neoadjuvant breast cancer treatment were not included in the study cohort.
Ethics and consent statements
These studies fall under the ethics approvals for the MCRC Biobank, which is licensed by the Human Tissue Authority (licence number 30004) and has been ethically approved as a research tissue bank by the South Manchester Research Ethics Committee (Reference 07/H1003/161 + 5). Written informed consent was obtained at the time of tissue collection.
Study workflow
All of the study participants were characterised for breast cancer risk by oestrogen receptor (ER), human epidermal growth factor receptor 2 (HER-2) and breast cancer gene (BRCA) status – none of the individuals recruited were BRCA-positive. A clinical radiologist assessed digital mammograms from each patient, and identified the area of highest radiographic density. All studies were performed on tissue situated at least 4 cm distant from any neoplasia. There is clear evidence from assessments of adipokine expression, genetic changes, mechanical properties, and radiofrequency characteristics, that tissue distant from the tumour margin will not be subject to a field change and hence can be considered to be benign [15–18]. Following surgery, highlighted tissue areas (5–10 mm3) were sampled from the area of high radiographic density in the resected breast, by a clinical histopathologist.
The samples were prepared for histological analysis of tissue architecture, and amorphous and aligned fibrillar collagen, by H&E, Masson's trichrome and Picrosirius red (PSR) staining, respectively. MD was quantified by image analysis (Volpara® breast density [
19
]), validated against visual estimation recorded on a visual analogue scale (VAS) by a single experienced assessor. In six individuals with low and six with high MD (Table
1
) micromechanical analysis was performed on sections cut from frozen tissue samples. Subsequently, ultrastructural and proteomic analyses were carried out on six tissue samples (n =3/group). Tissue samples were assessed by a histopathologist to confirm the absence of neoplasias.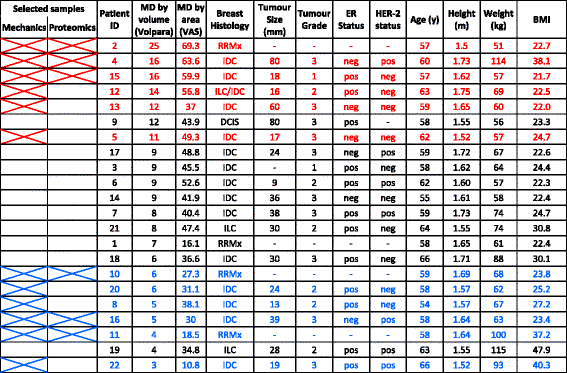 Mammographic density
For each patient, mediolateral oblique (MLO) and craniocaudal (CC) digital mammograms were processed by Volpara® to compute the percentage of the breast volume occupied by dense tissue [19, 20]. They were also assessed by an experienced radiologist who recorded the percentage of the breast area occupied by dense tissue on a VAS.
Tissue histology
H&E and Masson's trichrome staining were used to assess cellularity, stromal and fat content and the abundance of amorphous collagen [21, 22]. Tissue samples were bisected, one half was fixed overnight in 4 % paraformaldehyde in PBS before processing to wax with an ASP6025 automated tissue processor (Leica, Newcastle, UK). Sections (3 μm thick) were adhered to positively charged slides, before dewaxing and methanol processing prior to staining. Following batch staining with the histology stains H&E and Masson's trichrome, mounted sections were imaged sequentially using an SCN400 digital slide scanner (Leica, Newcastle, UK), with a Leica NA Plan Apo × 20/0.75 objective. Slides were only scanned in areas where specimen tissue was present. Resulting images (0.46 μm/pixel resolution) were saved in the MIRAX format. Image analysis was performed with custom-written rule sets for the Tissue Studio 3 software package (Definiens, Munich, Germany) [23]. More specifically, images were thresholded using the hue, saturation and brightness colour space with epithelial regions identified as the areas of lowest brightness and hue, adipose regions as areas of highest brightness and hue and stromal regions as intermediate values.
Fibrillar collagen abundance and organisation
As ECM organisation, and not just abundance, plays a key role in determining the mechanical properties of tissues [24], we additionally stained breast tissue samples with PSR (1 h incubation with 0.1 % sirius red F3BA in saturated aqueous picric acid at pH 2 followed by clearing in 0.1 % HAc, dehydration and mounting in DPX) [25]. When visualised under cross-polarised light, the resultant collagen-associated birefringence can be semiquantitatively assessed against total tissue area [26, 27]. To clarify whether this PSR enhanced birefringence was induced by collagen fibrils alone [28], or only by assembled collagen fibrils aligned into fibres [25], we assessed the ability of PSR/polarised light microscopy to visualise aligned collagen I fibrils in young Wistar rat tail tendon, and in non-aligned fibrils reconstituted in vitro from bovine collagen I (Thermo Fisher Scientific Ltd., Loughborough, UK). Collagen fibril gels were formed at 37 °C in a hydrated atmosphere, with a gelation time of approximately 30 minutes [29]. Additional quantitative analyses of collagen orientation (coherency) were conducted on PSR stained images using a well-established methodology [105].
Ultrastructure
We have previously shown that AFM can readily image nano-scale structural detail in unstained tissue cryosections [30]. We applied this technique to characterise the effects of MD on fibrillar collagen organisation in peri-ductal tissues, and to compare the ultrastructural architecture of collagen fibrils in rat tail tendon and reconstituted gels. The other halves of the bisected breast tissue samples, along with the rat tail tendon and reconstituted collagen fibrils were embedded in optimal cutting temperature cryo-sectioning media and snap frozen into a 2.5-cm mould with liquid nitrogen cooled isopentane [30]. Frozen sections were then cut to a nominal thickness of 5 μm in a cryostat microtome at −20 °C, air dried, washed in distilled H2O and stored at 4 °C. Subsequently these cryosections were imaged by a Bioscope Catalyst utilising Bruker's ScanAsyst PeakForce mode (Bruker, Coventry, UK), a Bruker Scanasyst Air triangular silicon nitride cantilever (nominal spring constant of 0.2 N/m and a pyramidal tip of nominal radius of 2 nm). Height and amplitude images were captured at two scan sizes. For smaller scan areas, 10 × 10 μm was assessed at a scan frequency of 0.25 Hz and a sampling frequency of 1024 × 1024 (for a lateral spacing of 9.76 nm), whereas for large areas 150 x 150 μm was assessed at a scan frequency of 0.01 Hz and a sampling frequency 4992 x 4992 (for a lateral spacing of 30.05 nm).
Control collagen samples
Rat tail tendon was extracted from intact tail following sacrifice of 12-month-old Wistar rats. Whole collagen fibre bundles were removed from the tail, fixed overnight in 4 % paraformaldehyde in PBS before processing to wax (as before). Sections (3 μm thick) were adhered to positively charged slides and dewaxed before staining or AFM analysis. Re-constituted collagen gels were made from Bovine Collagen I (Gibco, Warrington, UK) by treating collagen at 5 mg/mL with 1 N NaOH on ice to produce a total volume of 2 ul. This liquid suspension was placed onto a charged slide where it was allowed to dry down overnight and rinsed with distilled water before being assessed for collagen fibril abundance and organisation by both polarised light microscopy of PSR stained sections and AFM..
Tissue micro-mechanics
Micro-indentation of rat tail tendon reconstituted collagen fibrils and peri-ductal breast tissue (from six patients with low MD and six with high MD) was carried out using 5 μm thick cryo-sections and a Bioscope Catalyst AFM (Bruker, Coventry, UK) mounted onto an Eclipse T1 inverted optical microscope (Nikon, Kingston, UK) fitted with a spherically tipped cantilever (nominal radius and spring constant of 1 μm and 3 Nm−1 respectively: Windsor Scientific Ltd., Slough, UK,) running Nanoscope Software v 8.15 (Bruker, Coventry, UK). The local reduced modulus was determined for each of 400 points in a 25 × 25 μm region, indented at a frequency of 1 Hz with lateral spacing of 1.25 μm. The extend curve was used in conjunction with a contact-point-based model to calculate the reduced modulus for each indentation [31]. For each biological sample, three 25-μm2 regions, and hence 1,200 force curves, were collected. Post hoc analyses of force curves were performed using Nanoscope Analysis v 1.40 (Bruker, Coventry, UK), whereby a baseline correction was applied to each curve before a force fit was applied using the Herzian (spherical) model and a maximum force fit of 70 %. Once all 400 force curves had been generated, quality control was applied, whereby any force values falling more than two standard deviations away from the mean value were discarded in order to account for failed indents. In general fewer than 10 % of force curves were excluded. (data not shown). Note that in the same breast samples, there was no significant difference between the reduced modulus of 5-uM-thick sections (440 kPa ± 12) and 20-uM-thick sections (450 kPa ± 17, n = 1,200, p >0.0001).
Proteomics
Frozen tissue (20 mg) from three individuals with low and three with high overall MD was used to assess protein content by mass spectrometry conducted in the Faculty of Life Sciences Biological Mass Spectrometry Facility (Bio-MS). Tissues were disrupted using a Fisher 120 sonic dismembrator (Thermo Fisher, Cramlington, UK) and resuspended in 8 M urea 0.1 M Tris HCl pH8.5 [32]. The solubilised protein level was quantified using a Direct Detect system (Millipore, Billerica, MA, USA) and 25 ug were taken for subsequent digestion. Proteins were then digested using a variant of the filter-aided sample preparation (FASP) method [33] whereby proteins were solubilised in urea instead of SDS. In brief, proteins were reduced with dithiothreitol and alkylated with iodoacetamide in the presence of 8 M urea in a Micron 30 kDa centrifugal unit followed by pre-digestion with LysC in 6 M urea before digestion with trypsin in 1.5 M urea. The resultant peptides were desalted into 0.1 % formic acid in 5 % acetonitrile using Poros R3 reversed phase chromatographic media (Life technologies, Carlsbad, CA, USA) housed in 0.20-um polyvinylidene fluoride (PVDF) filter 96-well plates (Corning, New York, NY, USA). Liquid chromatography–mass spectrometry (LC-MS/MS) was performed using an Orbitrap Elite™ Hybrid Ion Trap-Orbitrap Mass Spectrometer coupled with a nano U3000 chromatography system (both Thermo Fisher, as before). The data produced was quantified using Progenesis LC-MS (Non-Linear Dynamics, Newcastle, UK) and identified using Mascot (Matrix Science, London, UK). Proteins identified by mass spectrometry (MS) were allocated to categories according to their Gene Ontology (GO) cellular compartment annotation, and enrichment of GO terms was assessed using enrichment analysis in Cytoscape (NRNB, Bethesda, Maryland, USA) [34].
Statistical analyses
The non-parametric Mann–Whitney U test was applied to determine significance (Graphpad Instat La Jolla, CA, USA). Values are reported as mean ± SD. Analysis of AFM data was conducted using SPSS 20 (SPSS, Chicago, IL, USA). Normal distribution was confirmed by q-q plot. One-way analysis of variance (ANOVA) was used to compare means. For all analyses, a value p <0.05 was considered statistically significant.
Conclusions
Here we provide initial data showing that, in a recently postmenopausal patient cohort, neither large-scale tissue remodelling between epithelial and stromal tissues, nor collagen deposition as assessed by both Masson's trichrome staining and mass spectrometry, correlates with MD. Instead, the peri-ductal regions of high MD breast tissue are characterized by: 1) the remodelling of collagen fibrils to form large collagen fibres, evident from both polarised light microscopy of PSR-stained sections and AFM, and 2) the upregulation of collagen-organising molecules, which have previously been identified as markers of breast cancer and metastatic colonisation rather than breast cancer risk [60, 62, 63]. Thus, the architectural remodelling of fibrillar collagens, rather than collagen fibrosis, may be a key molecular driver of raised MD, although other ECM remodelling events may also play a role. We suggest that this organisation of collagen fibrils into collagen fibres in turn increases the local mechanical stiffness of breast stroma. Although we do not yet know how collagen reorganisation into fibres in normal breast tissue may promote tumour initiation, organised collagen is a feature of human breast cancer. Indeed, collagen alignment within advanced cancer (e.g., the tumor-associated collagen signature-3 TACS-3 tissue architecture) is associated with disease outcome [104]. Given the limitations of the current study with regards to the relatively small size of the patient cohort, the inclusion of tissue from breasts that contain tumours and the highly localised nature of the mechanical mapping, further studies on the molecular causes of raised MD are clearly warranted.
Finally our data demonstrate that PSR, which is a commonly used collagen stain, is specific not for collagen fibrils, as was previously assumed, but for larger-scale organised collagen bundles. Given the impact of fibrotic diseases on human health, this ability to distinguish between structurally and functionally distinct forms of collagen has important implications for the interpretation of aberrant remodelling both in breast and in diverse fibrotic tissues [64].
Abbreviations
AFM:

atomic force microscopy
BRCA:

breast cancer gene
CC:

craniocaudal
ECM:

extracellular matrix
ER:

oestrogen receptor
HER-2:

human epidermal growth factor receptor 2
MD:

mammographic density
MLO:

mediolateral oblique
PBS:

phosphate-buffered saline
PSR:

Picrosirius red
VAS:

visual analogue score
Declarations
Acknowledgements
The authors wish to gratefully acknowledge funding from Genesis Breast Cancer Prevention (grant R116883 awarded to CHS and MJS), the Medical Research Council UK (grant G1001398 awarded to MJS), and to an ISSF Biomedical Research Consortia Award (awarded to CHS, MJS, AG, JR, SA, and KB) and the Wellcome Trust (097820/Z/11/A). We are also grateful to Dr Nigel Hodson of the University of Manchester BioAFM Facility for his advice on AFM imaging and force spectroscopy. This was a joint study by the Sherratt laboratory and the Streuli laboratory.
Open AccessThis article is distributed under the terms of the Creative Commons Attribution 4.0 International License (http://creativecommons.org/licenses/by/4.0/), which permits unrestricted use, distribution, and reproduction in any medium, provided you give appropriate credit to the original author(s) and the source, provide a link to the Creative Commons license, and indicate if changes were made. The Creative Commons Public Domain Dedication waiver (http://creativecommons.org/publicdomain/zero/1.0/) applies to the data made available in this article, unless otherwise stated.
Authors' Affiliations
(1)
Centre for Tissue Injury & Repair, Faculty of Medical and Human Sciences, University of Manchester, Manchester, UK
(2)
Wellcome Trust Centre for Cell-Matrix Research and Manchester Breast Centre, Faculty of Life Sciences, University of Manchester, Manchester, UK
(3)
University Hospital of South Manchester, Manchester, UK
(4)
Centre for Imaging Sciences, Institute of Population Health, Faculty of Medical and Human Sciences, University of Manchester, Manchester, UK
(5)
Institute of Cancer Sciences, Manchester Academic Health Sciences Centre, University Hospital of South Manchester, University of Manchester, Manchester, UK
(6)
Manchester Cancer Research Centre Tissue Biobank, University of Manchester, Manchester, UK