Role of bone-anabolic agents in the treatment of breast cancer bone metastases
Breast Cancer Research
2014
16:484
Published: 31 December 2014
Abstract
Skeletal metastases are an incurable complication afflicting the majority of patients who die from advanced breast cancer. They are most often osteolytic, characterized by net bone destruction and suppressed new bone formation. Life expectancy from first diagnosis of breast cancer bone metastases is several years, during which time skeletal-related events - including pain, fracture, hypercalcemia, and spinal cord compression - significantly degrade quality of life. The bone marrow niche can also confer hormonal and chemo-resistance. Most treatments for skeletal metastases target bone-destroying osteoclasts and are palliative. Recent results from the Breast cancer trials of Oral Everolimus-2 trial suggest that agents such as the mammalian target of rapamycin inhibitor everolimus may have efficacy against breast cancer bone metastases in part via stimulating osteoblasts as well as by inhibiting tumor growth. Selective estrogen receptor modulators similarly inhibit growth of estrogen receptor-positive breast cancers while having positive effects on the skeleton. This review discusses the future role of bone-anabolic agents for the specific treatment of osteolytic breast cancer metastases. Agents with both anti-tumor and bone-anabolic actions have been tested in the setting of multiple myeloma, a hematological malignancy that causes severe osteolytic bone loss and suppression of osteoblastic new bone formation. Stimulation of osteoblast activity inhibits multiple myeloma growth - a strategy that might decrease breast cancer burden in osteolytic bone metastases. Proteasome inhibitors (bortezomib and carfilzomib) inhibit the growth of myeloma directly and are anabolic for bone. Drugs with limited anti-tumor activity but which are anabolic for bone include intermittent parathyroid hormone and antibodies that neutralize the WNT inhibitors DKK1 and sclerostin, as well as the activin A blocker sotatercept and the osteoporosis drug strontium ranelate. Transforming growth factor-beta inhibitors have little tumor anti-proliferative activity but block breast cancer production of osteolytic factors and are also anabolic for bone. Some of these treatments are already in clinical trials. This review provides an overview of agents with bone-anabolic properties, which may have utility in the treatment of breast cancer metastatic to the skeleton.
Keywords
Breast CancerMultiple MyelomaBone MetastasisBortezomibEverolimus
Introduction
Almost 40,000 women die from advanced breast cancer yearly in the US, the majority with bone metastases; 85% of them will have bone-destructive (osteolytic) skeletal lesions, which cause hypercalcemia, fracture, severe and intractable bone pain, and nerve compression. Average survival from time of diagnosis of bone metastasis is 2 to 3 years, and about 10% of women with breast cancer already have metastases when first diagnosed [1]. Osteolytic metastases are characterized by not only bone destruction but also the inhibition of normal formation of new bone, worsening the skeletal insult caused by metastatic tumor [2]. While breast cancer therapy focuses largely on tumor cells, agents that target bone may not only reduce skeletal-related events but also sensitize the tumor to conventional therapies. The hematological malignancy, multiple myeloma (MM), though very different from breast cancer, also colonizes and attacks the skeleton. Both tumor types, when lodged in the skeleton, stimulate osteolytic bone destruction. Several classes of agents against myeloma have actions on the osteoblast lineage and might be useful against osteolytic metastases in advanced breast cancer. Data are lacking that bone-biosynthetic osteoblasts oppose breast cancer growth in bone, but such a mechanism is documented in MM. The potential application to breast cancer of agents with bone-anabolic activity is the focus of this review.
Osteolytic bone metastases can be modeled as a vicious cycle
Osteolytic bone metastases can be modeled as a vicious cycle (Figure
1
), in which tumor cells stimulate bone destruction via osteoclast activation, releasing active growth factors from bone matrix, which in turn stimulate tumor growth [
2
]. Bone is resorbed by rare cells of the hematopoietic lineage, multinucleated osteoclasts, whose formation is controlled by the factor receptor activator of nuclear factor kappa B ligand (RANKL), made by cells in the osteoblastic lineage, including abundant osteocytes embedded within mineralized bone matrix [
3
]. Tumor cells stimulate bone production of RANKL, which can be neutralized by osteoprotegerin (OPG) also made by bone cells [
4
]. A pathologically increased RANKL/OPG ratio results in net bone loss. Osteoclasts are the major targets of current bone-specific palliative therapies for skeletal metastases, including bisphosphonates and the RANKL-neutralizing monoclonal antibody, denosumab [
5
]. Osteoclast-targeted therapies are a mature frequently reviewed field and not discussed here, since the available agents are highly effective and unlikely to be further improved. Targeting osteoclasts alone, though it blocks bone destruction, is insufficient to restore skeletal integrity, leaving patients at risk for fracture even during disease remission. Bone loss is further increased by anti-estrogen therapy for hormone receptor-positive breast cancer. Hence, we focus on drugs (approved or in clinical development) with stimulatory actions on cells of the osteoblast lineage.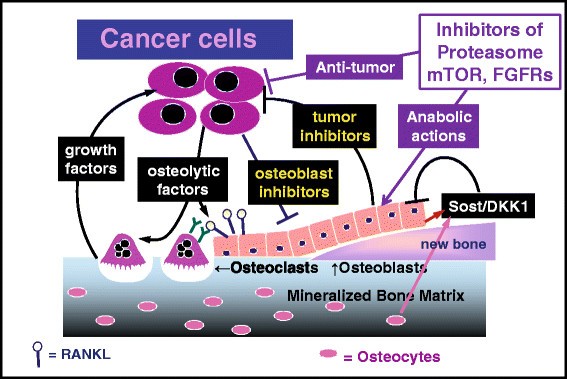 Roles of bone cells in normal bone remodeling
Bone is a dynamic tissue that is slowly remodeled by the action of osteoclasts to remove packets of old bone, followed by the synthesis of new bone by osteoblasts. The osteoblast lineage is complex and incompletely understood. Mesenchymal precursors differentiate into early, proliferative osteoblasts, which mature into late biosynthetic osteoblasts that lay down new bone. Some cells of this lineage continue to differentiate into osteocytes: these are long-lived cells embedded within bone matrix and connected to one another and the bone surface via intracanalicular processes. Osteocytes are the most abundant bone cell type and as yet little studied in cancer/bone diseases. They are the major source of several endocrine factors secreted by bone, including sclerostin and fibroblast growth factor (FGF)23 [6]. In healthy individuals, bone formation and resorption are kept in long-term balance by poorly understood coupling mechanisms. Osteoporosis is the consequence of a modest net excess of resorption over formation. Bone resorption is elevated in all types of cancer/bone disease [7]. Osteolytic lesions occur in 85% of breast cancer bone metastases and in MM. Osteoblastic/osteosclerotic bone metastases occur in prostate cancer and in about 15% of breast cancer patients with skeletal metastases [2]. Loss of the balance between formation and resorption suggests that coupling is disrupted by the presence of tumor through unknown mechanisms. Complicating the issue is that cells of the osteoblast lineage are the source of RANKL, OPG, and the WNT inhibitor sclerostin. It is unlikely, however, that biosynthetic late osteoblasts, which lay down new bone, are the source of these factors.
Markers of bone resorption and formation
Biochemical markers of bone metabolism are either bone cell-secreted products (such as alkaline phosphatase from early osteoblasts and osteocalcin from late osteoblasts) or metabolites of collagen formation and degradation. Both resorption markers and alkaline phosphatase are increased in most patients with cancer in response to treatments, many of which cause drug-induced osteoporosis [7]. Thus, bone markers do not provide information about changes in osteoblast function in bone metastases, which are inferred from laboratory experiments rather than clinical data.
Evidence for suppression of osteoblasts by tumor cells
Osteoblasts are very difficult to identify histologically, even when bone biopsies are available. Thus, the data for osteoblast suppression, even in MM, are derived mostly from observations in vitro rather than from the clinic. Tumor suppression of osteoblasts is seen in vitro and may be due to production by breast cancer cells of IL-1 and IL-11, tumor necrosis factor-alpha, platelet-derived growth factor, or Fas ligand or indirectly due to osteoclastic activation of transforming growth factor-beta (TGFβ) [8],[9].
Restoration of lost bone is a major goal of osteoporosis treatment
Restoration of lost bone is a major goal of osteoporosis treatment, to which end a variety of bone-anabolic agents, including once-a-day parathyroid hormone (PTH) and strontium ranelate, have been developed. For the purposes of this discussion, we define anabolic agents as those that stimulate biosynthetic osteoblasts to synthesize new bone, rather than drugs that stimulate all parts of the long and complex osteoblast lineage. Several anti-tumor agents have positive effects on bone health: proteasome inhibitors (PIs) (bortezomib and carflizomib) are US Food and Drug Administration (FDA)-approved for MM therapy [10]. Mammalian target of rapamycin (mTOR) inhibitors have osteoblast-stimulatory as well as osteoclast- and tumor-inhibitory actions [11]. Proof-of-principal for the value of osteoblast stimulation in the treatment of osteolytic breast cancer metastases was suggested by exploratory studies of bone parameters (reviewed [11] in the BOLERO-2 (Breast cancer trials of Oral Everolimus-2) trial (exemestane + the mTOR inhibitor everolimus) [12].
Selective estrogen receptor modulators
Selective estrogen receptor modulators (SERMs) (such as tamoxifen and raloxifene) have anti-tumor activity against estrogen receptor-positive (ER+) breast cancers while also stimulating bone formation. Promising agents with bone-anabolic actions that do not directly inhibit tumor proliferation include TGFβ inhibitors and neutralizing antibodies against the WNT inhibitors DKK1 and sclerostin (which are negative regulators of bone formation). This review discusses the applicability of these agents for breast cancer bone metastasis.
Review
The role of anti-resorptive agents in the treatment of bone metastases is well established. In addition to tumor-induced osteolysis, conventional cancer treatments stimulate osteolysis, often by suppression of sex steroid activity [13],[14]. Some anti-cancer agents also have direct effects to increase osteoclast activity, such as geldanamycin derivatives, which make osteolytic metastases worse unless combined with an anti-resorptive agent [15]. Bone marrow provides a major tumor stem cell niche, which may be altered in states of high bone turnover [16]. In a number of animal models, experimental stimulation of bone turnover increases skeletal metastases, suggesting that high bone turnover is generally undesirable in cancer and should be opposed with anti-resorptive drugs.
Inhibitors of osteoclastic bone resorption are the standard of care for all cancers growing in bone, whether the overall bone response is osteolytic or osteoblastic [5]. Available agents fall into three classes: cathepsin K inhibitors, bisphosphonates, and RANKL-neutralizing antibody. Cathepsin K is a lysosomal enzyme with activity that is essential during bone resorption by active osteoclasts [17]. Bisphosphonates, such as zoledronic acid, are metabolic poisons that bind avidly to mineral surfaces in bone, whence they are ingested by active osteoclasts, which they then kill. RANKL is expressed by cells in the osteoblast lineage and controls the differentiation of osteoclasts from hematopoietic precursors as well as their activity and survival [4]. Neutralization of RANKL with the monoclonal antibody denosumab effectively blocks the formation of osteoclasts. Denosumab appears to be the most effective of the anti-resorptive agents. Some anti-cancer drugs can inhibit osteoclasts, but they have limited additional benefit in patients already receiving potent anti-resorptive agents.
Conclusions
Breast cancer bone metastasis and MM are very different tumor types but share an affinity for advanced disease to grow in bone. MM growth is accompanied by suppression of osteoblastic new formation and increased osteolytic bone destruction. In myeloma, several agents with bone-anabolic activities successfully inhibit tumor growth. Factors secreted from mature, bone-synthesizing osteoblasts may also have anti-tumor activity against metastatic cancer. Agents already in use against MM (such as bortezomib and other PIs) or for osteoporosis (strontium ranelate) may be effective, low-toxicity treatments for breast cancer bone metastases. Other agents in clinical trials - in particular, neutralizing antibodies against sclerostin and DKK1 and activin A-blocking reagents - could show similar efficacy in bone metastasis-specific clinical settings.
Abbreviations
AI:

aromatase inhibitor
BMD:

bone mineral density
BMP:

bone morphogenetic protein
BOLERO-2:

Breast cancer trials of Oral Everolimus-2
DKK1:

secreted Wnt inhibitor, homolog of Drosophila dickkopf
ER:

estrogen receptor
FDA:

US food and drug Administration
FGF:

fibroblast growth factor
FGFR:

fibroblast growth factor receptor
IL:

interleukin
MET:

receptor for hepatocyte growth factor
MM:

multiple myeloma
mTOR:

mammalian target of rapamycin
OPG:

osteoprotegerin
PI:

proteasome inhibitor
PTH:

parathyroid hormone
RANKL:

receptor activator of nuclear factor kappa B ligand
SERM:

selective estrogen receptor modulator
TGFβ:

transforming growth factor beta
VEGFR:

vascular endothelial growth factor receptor
WNT:

wingless (in Drosophila) signaling pathway
Declarations
Acknowledgements
The authors' work was supported by funds from the Veterans Administration and the Indiana University Simon Cancer Center and Department of Medicine.
Authors' Affiliations
(1)
Department of Medicine, Indiana University School of Medicine, Walther Hall, USA
(2)
Richard L. Roudebush, VA Medical Center, Indianapolis, USA
Copyright
© Suvannasankha and Chirgwin; licensee BioMed Central. 2014
This article is published under license to BioMed Central Ltd. The licensee has exclusive rights to distribute this article, in any medium, for 6 months following its publication. After this time, the article is available under the terms of the Creative Commons Attribution License (http://creativecommons.org/licenses/by/2.0), which permits unrestricted use, distribution, and reproduction in any medium, provided the original work is properly cited.