Erratum to: Dual HER2 blockade: preclinical and clinical data
Breast Cancer Research
2014
16:468
Received: 20 August 2014
Accepted: 17 October 2014
Published: 6 November 2014
Erratum
After publication of our review [
1
], we noted errors to the legend of Figure
1
B, C. The ado-trastuzumab-emtansine concentration should be 1 μg/ml instead of 1 mg/ml. The trastuzumab concentration should be 10 μg/ml instead of 10 mg/ml. The lapatinib concentration should be 10 μM instead of 10 mM (Please see Figure
1
, a corrected version of the original Figure
1
).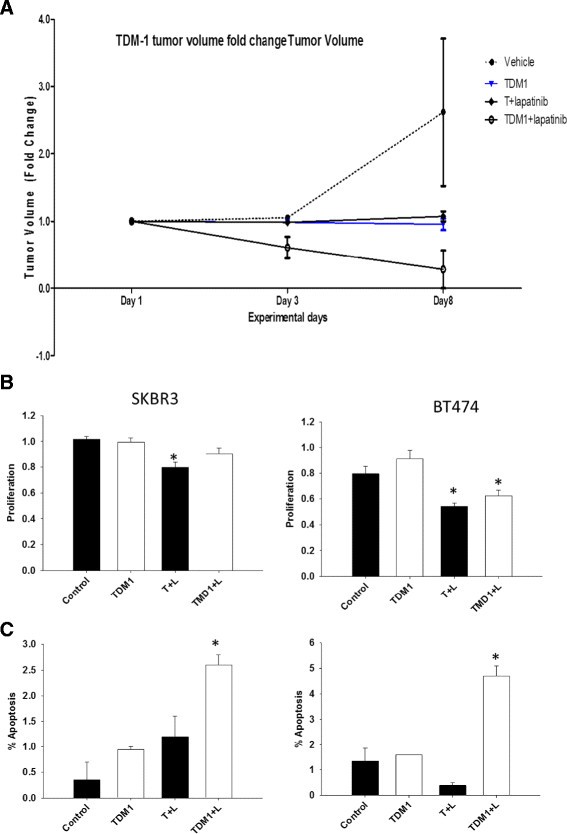 Authors' Affiliations
(1)
Houston Methodist Cancer Center, Houston, USA
(2)
Department of Medicine, Weill Cornell Medical College, New York, USA
(3)
Division of Hemotology and Oncology, College of Medicine, Mayo Clinic, Jacksonville, USA
Copyright
© Patel et al.; licensee BioMed Central Ltd. 2014
This article is published under license to BioMed Central Ltd. This is an Open Access article distributed under the terms of the Creative Commons Attribution License (http://creativecommons.org/licenses/by/4.0), which permits unrestricted use, distribution, and reproduction in any medium, provided the original work is properly credited. The Creative Commons Public Domain Dedication waiver (http://creativecommons.org/publicdomain/zero/1.0/) applies to the data made available in this article, unless otherwise stated.