Tyrosine kinase signalling in breast cancer: Modulation of tyrosine kinase signalling in human breast cancer through altered expression of signalling intermediates
Breast Cancer Research
2000
2:197
Received: 7 December 1999
Accepted: 21 February 2000
Published: 1 June 2000
Abstract
The past decade has seen the definition of key signalling pathways downstream of receptor tyrosine kinases (RTKs) in terms of their components and the protein-protein interactions that facilitate signal transduction. Given the strong evidence that links signalling by certain families of RTKs to the progression of breast cancer, it is not surprising that the expression profile of key downstream signalling intermediates in this disease has also come under scrutiny, particularly because some exhibit transforming potential or amplify mitogenic signalling pathways when they are overexpressed. Reflecting the diverse cellular processes regulated by RTKs, it is now clear that altered expression of such signalling proteins in breast cancer may influence not only cellular proliferation (eg Grb2) but also the invasive properties of the cancer cells (eg EMS1/cortactin).
Keywords
breast cancerSH2 domainSH3 domainsignal transductiontyrosine kinase
Introduction
Ligand binding to RTKs induced receptor dimerization, leading to activation of the intracellular kinase domain and autophosphorylation of specific tyrosine residues. This creates binding sites for phosphotyrosine binding modules on signalling proteins, such as SH2 and phosphotyrosine-binding domains [1]. SH2 domains are modules of approximately 100 amino acids that recognize phosphotyrosines within specific sequence contexts. This is achieved through a bipartite binding site that consists of a phosphotyrosine binding pocket and a pocket or groove for specific residues that are carboxyl-terminal to the phosphotyrosine. Phosphotyrosine-binding domains are conserved sequences of 100-150 amino acids, a subset of which recognize the consensus sequence NPXpY [1].
In addition to SH2 domains, many signalling proteins also contain SH3 and/or pleckstrin homology domains. SH3 domains consist of 50-75 residues and bind proline-rich motifs with the core sequence PXXP. Pleckstrin homology domains bind to specific polyphosphoinositides and inositol polyphosphates, and thus regulate membrane association and/or responses to the generation of specific second messengers [1].
SH2 domain-containing proteins are divided into two classes (Fig.
1a
) [
2
]: class I proteins possess enzymatic activity and include c-Src and phospholipase C (PLC)-γ1; and class II SH2 proteins, such as Grb2, do not have a known catalytic activity and function as adaptor proteins, linking receptors or cytoplasmic tyrosine kinases to downstream effectors.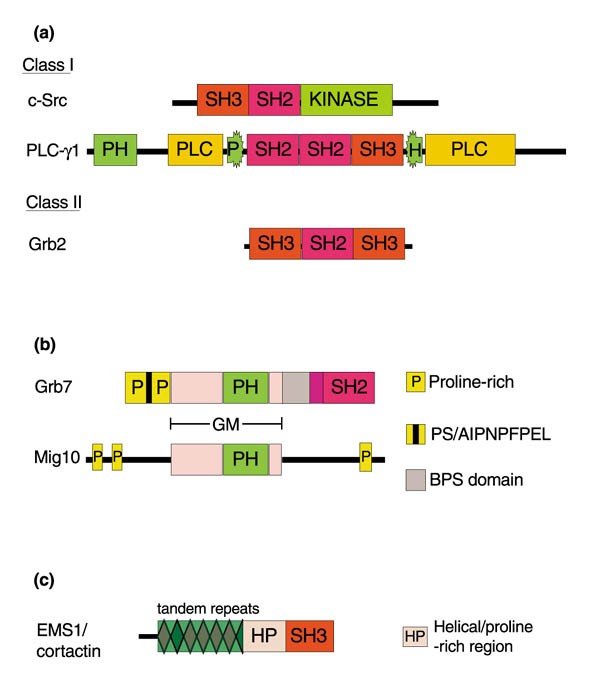 Overexpression of class I SH2 proteins may lead to signal amplification through enhanced recruitment of the enzyme to activated receptors. Class II SH2 proteins, however, must bind to effector proteins with enzymatic activity in order to generate a signalling cascade. In this case, the effect of overexpression will depend on the ratio of catalytic subunits to adaptors. If the adaptor is limiting, then overexpression will result in increased complex formation between adaptor and effector, as well as increased association of this complex with the receptor. Importantly, over-expression of a particular signalling intermediate may amplify signalling downstream of multiple growth factor receptors if they couple to this pathway.
Altered expression of signalling intermediates in human breast cancer
Conclusion
Clearly some of the signaling proteins described in this review are worthy of further investigation as potential prognostic indicators, and the protein-protein interactions that underline their function provide attractive targets for therapeutic intervention. Further elucidation of the roles of these proteins in breast tumourigenesis is likely to involve manipulation via gene knockout and transgenic approaches, as recently performed on Grb2 [22**]. However, we would also like to highlight the synergy that can occur between basic and translational research in this area, because our recent clinical studies on EMS1 in breast cancer have provided interesting hypotheses regarding regulation of EMS1 function, which are currently being addressed in the laboratory.
Authors' Affiliations
(1)
Cancer Research Program, Garvan Institute of Medical Research, St Vincent's Hospital, Sydney, Australia
Copyright
© Current Science Ltd 2000