Oral low dose and topical tamoxifen for breast cancer prevention: modern approaches for an old drug
Breast Cancer Research
2012
14:214
Published: 29 October 2012
Abstract
Tamoxifen is a drug that has been in worldwide use for the treatment of estrogen receptor (ER)-positive breast cancer for over 30 years; it has been used in both the metastatic and adjuvant settings. Tamoxifen's approval for breast cancer risk reduction dates back to 1998, after results from the Breast Cancer Prevention Trial, co-sponsored by the National Cancer Institute and the National Surgical Adjuvant Breast and Bowel Project, showed a 49% reduction in the incidence of invasive, ER-positive breast cancer in high-risk women. Despite these positive findings, however, the public's attitude toward breast cancer chemoprevention remains ambivalent, and the toxicities associated with tamoxifen, particularly endometrial cancer and thromboembolic events, have hampered the drug's uptake by high-risk women who should benefit from its preventive effects. Among the strategies to overcome such obstacles to preventive tamoxifen, two novel and potentially safer modes of delivery of this agent are discussed in this paper. Low-dose tamoxifen, expected to confer fewer adverse events, is being investigated in both clinical biomarker-based trials and observational studies. A series of systemic biomarkers (including lipid and insulin-like growth factor levels) and tissue biomarkers (including Ki-67) are known to be favorably affected by conventional tamoxifen dosing and have been shown to be modulated in a direction consistent with a putative anti-cancer effect. These findings suggest possible beneficial clinical preventive effects by low-dose tamoxifen regimens and they are supported by observational studies. An alternative approach is topical administration of active tamoxifen metabolites directly onto the breast, the site where the cancer is to be prevented. Avoidance of systemic administration is expected to reduce the distribution of drug to tissues susceptible to tamoxifen-induced toxicity. Clinical trials of topical tamoxifen with biological endpoints are still ongoing whereas pharmacokinetic studies have already shown that appropriate formulations of drug successfully penetrate the skin to reach breast tissue, where a preventive effect is sought.
Keywords
TamoxifenMammographic DensityAnastrozoleBreast Cancer PreventionFenretinide
Introduction
At present, tamoxifen is the only proven oral agent for the adjuvant hormonal treatment of hormone receptor-positive breast cancer in premenopausal women [
1
], and it can be used in both pre- and postmenopausal women who are at increased risk of breast cancer [
2
]. However, the toxicities of tamoxifen, such as thromboembolic events and endometrial cancer, still pose a clinically significant problem overall, especially in the prevention setting. Novel strategies to reduce the adverse side effects of tamoxifen, while still retaining its beneficial anticancer properties, are currently being explored. One such strategy for improving the risk/benefit profile of this agent has been to examine the efficacy of lower doses, which are anticipated to be associated with lower toxicity. Another novel preventive strategy that is currently under investigation is the topical application of either tamoxifen or its active metabolites. These two promising alternatives, oral low dose and topical administration of tamoxifen or its active metabolites, are discussed in the present review (Figure
1
). Here we present the results of several phase II trials (listed in Table
1
), a description of ongoing phase III trials, and future prospects using this approach.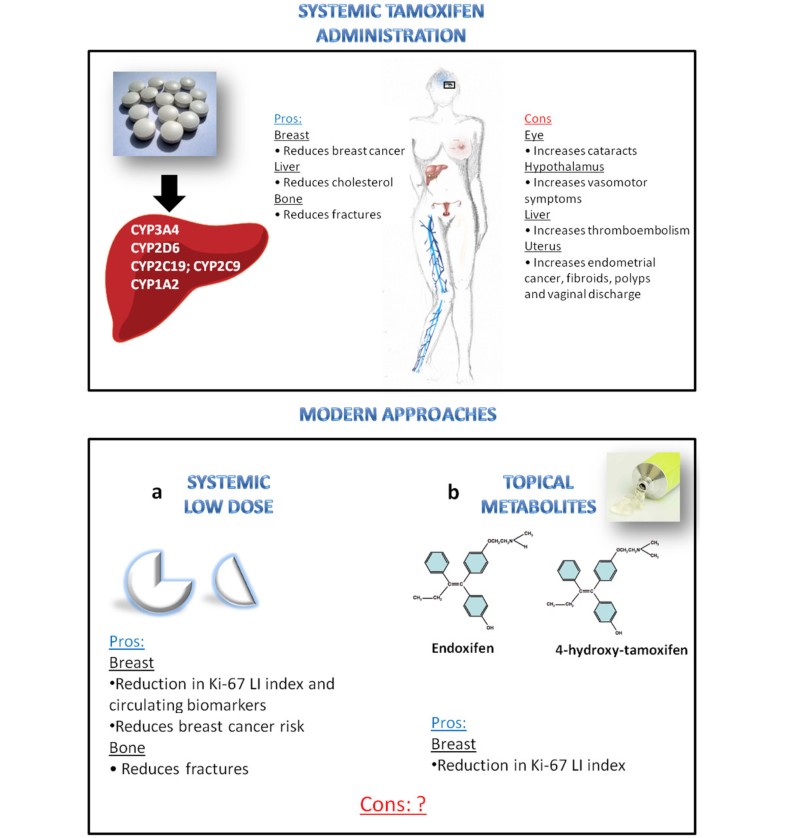 Table 1
Summary of the main published trials on low dose tamoxifen
Study

Treatment

Number of patients

Population

Primary endpoint

Comment

Breuer et al. 1998 [80]

TAM 20 mg/day (91%)

TAM 10 mg/day (9%)

1,385 matched with 5,196 controls

Women 65 years and older

Bone fracture

Although standard treatment of 20 mg TAM daily offers no apparent protection against bone fracture in older nursing home residents, a daily 10 mg dose seems to be protective

Decensi et al. 1998 [11]

Placebo

TAM 20 mg/day

TAM 10 mg/day

TAM 10 mg alternate days

127

Healthy women Hysterectomized 35 to 70 years

Total cholesterol (primary) Surrogate markers of cardiovascular disease, IGF-I

Up to a 75% reduction in the conventional dose of TAM (that is, 20 mg/day) does not affect the activity of the drug on a large number of biomarkers, most of which are surrogate markers of cardiovascular disease

de Lima et al. 2003 [25]

Placebo

TAM 5 mg/day

TAM 10 mg/day

TAM 20 mg/day

56

Premenopausal women with a diagnosis of fibroadenoma of the breast

ER alpha PgR Ki-67 apoptotic bodies and mitotic index

Excisional biopsy was performed on the 50th day of therapy. Normal breast tissue samples were collected during surgery. Differences in the expression of ERa, PgR, Ki-67, apoptotic bodies and mitotic index between the different groups after treatment can be seen on the normal breast tissue

Decensi et al. 2003 [26]

Decensi et al. 2010 (f-up) [30]

TAM 1 mg/day

TAM 5 mg/day

TAM 20 mg/day

120

ER+, BC patients 4 weeks before surgery

Ki-67 modulation

Ki-67 expression decreased to a similar degree among the three TAM dose groups. Ki-67 expression after short-term TAM is a good predictor of recurrence-free survival and overall survival

Decensi et al. 2007 [44]

TAM 1 mg/day

TAM 5 mg/day

TAM 10 mg/week

Placebo

210

Current or de novo HRT users

IGF-I

IGF-I declined in all TAM arms (P = 0.005), with a greater change on 5 mg/day. Tamoxifen did not increase endometrial Ki-67 expression

Decensi et al. 2009 [35]

TAM 5 mg/day

FEN 200 mg/day

TAM + FEN

Placebo

235

Premenopausal women

pT1mic/pT1a BC;

OR Intraepithelial neoplasia;

OR Gail risk at five years ≥1.3%

Plasma IGF-I Mammographic density; uterine effects; breast neoplastic events after 5.5 years

Despite favorable effects on plasma IGF-I levels and mammographic density, the combination of low-dose TAM plus FEN did not reduce breast neoplastic events

Bonanni et al. 2009 [41]

ANA 1 mg/day

TAM 10 mg/week

ANA + TAM

75

Postmenopausal women with previous breast intraepithelial neoplasia

Plasma drug concentrations Biomarker modulation

The addition of weekly TAM administration did not impair anastrozole bioavailability and modulated favorably its safety profile

Guerrieri Gonzaga et al. 2010 [49]

TAM 20 mg/week

TAM 5 mg/day

680

Women with previous DIN

Second primary breast cancer (in situ or invasive)

High ER and especially high PgR expression is a significant adverse prognostic indicator of DIN, and low-dose TAM appears to be an active treatment. Women with low-expression ER or PgR DIN do not seem to benefit from TAM
Oral low-dose tamoxifen for breast cancer prevention
An overview of the adjuvant tamoxifen clinical trials revealed that the efficacy of 20 mg/day of tamoxifen was equivalent to that of higher doses of the drug (that is, 30 to 40 mg/day) [3]. Clinical studies addressing the minimal active dose of tamoxifen have not been conducted so far. On the other hand, data from animal studies indicate that reducing the tamoxifen dose to the human-equivalent dose of 1 mg/day does not diminish the drug's inhibitory activity on mammary tumor formation [4]. Additional preclinical evidence has shown that the antitumor effect of the drug reaches a plateau above the concentration that saturates estrogen receptors [5, 6].
Given the consistent data from adjuvant therapy trials of a dose- and duration-dependent risk of endometrial cancer during tamoxifen treatment [7–9] and taking into account the long plasma half life (4 to 11 days after the steady state is reached [10]), dose reduction and intermittent administration offer plausible ways to improve the safety profile of tamoxifen. Together, all these observations suggest that the use of lower doses of the drug offers a reasonable approach to minimizing toxicity while retaining activity.
Clinical trials of low-dose tamoxifen
To ascertain whether a reduction in the conventional dose of 20 mg/day is associated with diminished biologic activity, Decensi and colleagues [11] assessed the effects of different doses of tamoxifen on a variety of biomarkers known to reflect the pharmacodynamic activity of tamoxifen on different target tissues. These biomarkers include the blood lipid profile [12], blood cell count [13, 14], osteocalcin [15], fibrinogen and antithrombin III [13, 14], and circulating insulin-like growth factor (IGF)-I [16, 17]. Importantly, some of these biomarkers have been implicated as putative surrogate biomarkers of breast cancer risk. For instance, experimental evidence indicates that when activated, the growth hormone/IGF-I axis not only promotes proliferation of breast cancer cells [17, 18], but also stimulates proliferation of normal breast epithelial cells [19]. Furthermore, a positive association between circulating IGF-I concentration and risk of breast cancer was found in a nested case-control study within the prospective Nurses' Health Study cohort [20], which was recently confirmed by an analysis of pooled individual data of 17 prospective studies [21].
Decensi and colleagues performed two experiments to assess the effect of low-dose tamoxifen in 127 healthy hysterectomized women aged 35 to 70 years, randomly assigned to placebo (n = 31) or tamoxifen 20 mg/day (n = 30) (first experiment), and tamoxifen 10 mg/day (n = 34) or tamoxifen 10 mg alternate days (n = 32) (second experiment) [11]. Baseline and 2-month measurements were compared for total cholesterol (primary endpoint) and other surrogate markers of cardiovascular disease and, in a subgroup of 103 women, IGF-I.
Reduction in the conventional dose of tamoxifen (20 mg/day) by up to 75% did not affect the activity of the drug on a large number of biomarkers, most of which are surrogate markers of cardiovascular disease. In particular, after adjustment for the baseline values, there were reductions in circulating levels of total cholesterol and IGF-I of the same magnitude in all three tamoxifen treatment arms.
Further analysis focused on the effect of low-dose tamoxifen on the IGF system [22]. No significant concentration-response relationship was observed between serum tamoxifen concentration and the biomarker changes except for the ratio of IGF-I/IGF binding protein (IGFBP)-3, which decreased by 1.53% (± 0.68%; P = 0.02) for each increase of 10 ng/ml in serum tamoxifen concentration [22].
A further investigation of the pharmacodynamic properties of tamoxifen at lower doses in a prevention setting involved a study of the effect on levels of ultrasensitive C-reactive protein (CRP), an index of low-grade vascular inflammation and an important risk marker for cardiovascular disease [23]. Tamoxifen at low doses is able to lower ultrasensitive CRP and this might be associated with a beneficial effect on cardiovascular disease [24].
In a 2003 study, de Lima and colleagues [25] compared the effects of low tamoxifen doses for 50 days on breast biomarkers measured in normal breast tissue from 56 premenopausal women with diagnoses of fibroadenoma of the breast. Excisional biopsy was performed on the 50th day of therapy, and normal breast tissue samples were collected during surgery. Patients had been randomized in double-blind fashion to the following groups: group A, placebo (n = 11); group B, tamoxifen 5 mg (n = 16); group C, tamoxifen 10 mg (n = 14); and group D, tamoxifen 20 mg (n = 15). In this study, differences in the observed changes in expression of estrogen receptor (ER) alpha, progesterone receptor (PgR), Ki-67 labeling index (LI), apoptotic bodies and mitotic indices among the four different groups following treatment were seen in the normal breast tissue. No difference was noted among groups B, C, and D in post-treatment values for Ki-67 LI. These observations led the authors to conclude that a lower dose of tamoxifen, which is expected to be associated with fewer side effects, would not have a negative impact on the drug's chemopreventive activity in the breast [25].
In the same year, Decensi and colleagues [26] analyzed the effects of tamoxifen at 1 mg/day and 5 mg/day relative to those of the standard dose of 20 mg/day on Ki-67 LI in breast tumor specimens using a presurgical model. The term 'presurgical' is used to describe a preoperative treatment of short duration (typically 2 to 4 weeks) before surgery, otherwise referred to as a 'window of opportunity' study. This approach can be used for any size of cancer provided it can be core biopsied, and the endpoints are molecular markers. The goals of testing a preventive agent using the presurgical model include: evaluation of target modulation after short drug exposure (2 to 4 weeks); pharmacokinetic assessment of a potential anticancer agent; and evaluation of markers that identify subsets of patients who are likely to benefit from the intervention, thereby laying the groundwork for subsequent targeting of appropriate patients in clinical trials that are powered to detect changes in clinical outcome.
The term 'neoadjuvant' is used to describe preoperative treatment for at least 2 months or longer for large cancers (typically ≥3 cm). Clinical response and pathological complete response are the main endpoints. Traditional goals of neoadjuvant therapy include downstaging to allow conservative surgery, identification of response biomarkers, and ultimately survival benefit. At variance, the presurgical window of opportunity studies will not lead to downstaging and clinical and pathological response rates are unrealistic objectives.
One hundred and twenty women with ER-positive breast cancer were randomly assigned to tamoxifen at 1, 5, or 20 mg/day for 4 weeks before surgery. Additionally, Ki-67 was evaluated in two nonrandomized control groups who did not receive tamoxifen (34 women with ER-negative breast cancer and 29 additional women with ER-positive breast cancer). Expression of Ki-67 decreased in all three tamoxifen dose-level groups, with no difference in the magnitude of reduction among the groups (P = 0.81). A dose-concentration relationship was observed for levels of tamoxifen and its metabolites in serum and cancer tissue. Preferential accumulation of tamoxifen in the breast was suggested by the observation that the concentrations in this tissue were 2 to 15 times the levels of drug and metabolites seen in the corresponding serum samples. Of note, a tamoxifen dose of 1 mg/day resulted in levels of 4-hydroxytamoxifen (4-OHT) in tissue that were approximately 10 to 20 times greater than the 50% inhibitory concentration range observed in a number of MCF-7 breast cancer cell clones after 48 to 72 hours, namely, 0.5 to 5 nM, or 0.2 to 2 ng/ml [27].
Recently, short-term intervention with tamoxifen prior to surgery has shown that, following drug treatment, Ki67 levels have prognostic significance for progression-free survival at the standard dose as well as at lower doses [28–30]. This low-dose ranging study, after 7.2 years of follow-up [30], showed that women whose post-treatment Ki-67 LIs were in the second (14 to 19%), third (20 to 29%) and top (≥30%) quartiles had a hazard ratio (HR) for recurrence of 2.92 (95% confidence interval (CI), 0.95 to 8.96), 4.37 (95% CI 1.56 to 12.25) and 6.05 (95% CI 2.07 to 17.65), respectively, when compared with those in the bottom quartile (Ki-67 LI < 14%) (p-trend = 0.001). Ki-67 response after short-term presurgical tamoxifen was a good predictor of recurrence-free survival and overall survival, further supporting its use as a surrogate endpoint biomarker to tailor adjuvant treatment to the individual patient and to screen novel drugs in a costeffective manner.
Clinical trials of low dose tamoxifen in combination with other agents
Localized therapy: topical and intraductal tamoxifen for breast cancer prevention
Clinical concerns about oral tamoxifen for breast cancer prevention
Tamoxifen is a pro-drug, requiring conversion by the phase I drug metabolizing cytochrome P450 enzymes, predominantly CYP2D6 but also CYP3A4/5 among others, to its major anti-estrogenic metabolites [52]. Toxicity can result from systemic administration, due to the activity of tamoxifen in non-breast tissues. This off-target action, often seen with long-term systemic exposure to tamoxifen, is associated with hot flashes, night sweats, and menstrual irregularity, as well as the more serious risks of thromboembolism and endometrial cancer [53]. In women with DIN and those at high risk of breast cancer, effective concentrations are required only in breast tissue; systemic exposure is redundant, and minimization of side effects is essential, since agents offered to healthy high-risk women need to be both safe and well tolerated.
Local percutaneous administration of drugs to the breast: setting the stage for topical tamoxifen for breast cancer prevention
Conclusions
Tamoxifen for use in the breast cancer prevention setting is supported by strong evidence, including phase III clinical trials. Based on clinical trial data, tamoxifen was approved for risk reduction by the US Food and Drug Administration (FDA) in 1998, and it has been endorsed for this purpose in specific categories of women by the American Society of Clinical Oncology Clinical Practice Guidelines committee [2, 71, 72]. In spite of these supporting factors, tamoxifen continues to have low acceptability in the community of high-risk women and their physicians, who are primarily non-oncologists [4, 73–75]. This limited uptake of tamoxifen for prevention has been attributed primarily to concerns about drug toxicities and a perceived unfavorable balance between risks and benefits. These concerns about drug toxicity are exacerbated by the lack of experience with oncology drugs among the internists, gynecologists and family practitioners who generally see and counsel high-risk women. These primary care physicians are often reluctant to prescribe tamoxifen, which they perceive as a 'cancer drug' that has challenging side effects.
In order to reduce the risk of these adverse events, effective and safer drugs are being developed that could potentially replace tamoxifen as preventive agents in high-risk women. Novel endocrine agents, including both newer selective ER modulators (raloxifene) [76] and, more recently, third generation aromatase inhibitors (exemestane and anastrozole) [38, 77], have been or are being evaluated in phase III clinical trials as breast cancer risk-reducing agents. All of these drugs, however, are limited to postmenopausal women, leaving tamoxifen as the only chemopreventive drug for premenopausal women who are at increased risk of breast cancer.
Both low dose tamoxifen and topical transdermal application of tamoxifen metabolites offer two promising strategies for reducing side effects relative to standard dose oral tamoxifen in the breast cancer prevention setting. Several phase II trials have demonstrated that low-dose tamoxifen retains biological activity while potentially having lower toxicity. These clinical trial findings, together with data from observational studies, suggest clinical value of low-dose tamoxifen for prevention [26, 35, 41, 44, 49]. The ongoing phase III trials will help to define more clearly the risk:benefit ratio of low-dose tamoxifen.
Topical applications are of great interest but drug formulation and dosage require close examination. Following transdermal application of 4-OHT in the studies conducted so far, very low plasma concentrations of the drug have been observed. These low plasma levels in the setting of a topical approach that bypasses first-pass metabolism in the liver suggest that there should be a reduction in systemic toxicity [58, 59, 65, 78, 79]. Together, these features strongly support the development of localized interventions for breast cancer prevention.
Abbreviations
4-OHT:

4-hydroxytamoxifen
CI:

confidence interval
CRP:

C-reactive protein
DIN:

ductal intraepithelial neoplasia
EIO:

European Institute of Oncology
ER:

estrogen receptor
HR:

hazard ratio
HRT:

hormone replacement therapy
IGF:

insulin-like growth factor
IGFBP:

insulin-like growth factor binding protein
LI:

labeling index
PgR:

progesterone receptor.
Authors' Affiliations
(1)
Divisions of Cancer Prevention and Genetics, European Institute of Oncology, Milan, Italy
(2)
Division of Cancer Prevention, National Cancer Institute, Bethesda, USA
(3)
Department of Surgery, Robert H Lurie Comprehensive Cancer Center, Northwestern University, Chicago, USA
(4)
Division of Medical Oncology, EO Ospedali Galliera, Genoa, Italy
Copyright
© BioMed Central Ltd 2012