Epithelial to mesenchymal transition and breast cancer
Breast Cancer Research
2009
11:213
Published: 9 November 2009
Abstract
Epithelial-mesenchymal plasticity in breast carcinoma encompasses the phenotypic spectrum whereby epithelial carcinoma cells within a primary tumor acquire mesenchymal features and re-epithelialize to form a cohesive secondary mass at a metastatic site. Such plasticity has implications in progression of breast carcinoma to metastasis, and will likely influence response to therapy. The transcriptional and epigenetic regulation of molecular and cellular processes that underlie breast cancer and result in characteristic changes in cell behavior can be monitored using an increasing array of marker proteins. Amongst these markers exists the potential for emergent prognostic, predictive and therapeutic targeting.
Keywords
Breast CancerBreast CarcinomaCancer Stem CellDisseminate Tumor CellSalinomycin
Introduction
For almost two decades the prospect that recapitulation of the developmental process called epithelial to mesenchymal transition (EMT) may play an important role in carcinoma progression has been vigorously debated. Evidence of EMT from model systems supports further investigation of a potential new process to target the most insidious aspect of carcinoma - metastatic progression. However, evidence to demonstrate EMT
in vivo
has been controversial. We describe here recent developments in clinical studies alongside the latest findings from model systems pertinent to breast cancer progression, which strongly support the existence of EMT-like changes in breast carcinoma. Figure
1
illustrates examples of EMT processes in development and cancer. EMT marker expression is associated with poor prognosis in breast cancer, both at the individual gene product level and in basal subgroup demographics. Most importantly, cells isolated from breast carcinoma using protocols known to enrich for 'breast cancer stem cells' (BCSCs), which are dramatically more malignant than their non-BCSC counterparts, show clear evidence of EMT. The existence of EMT changes in clinical breast cancer places EMT at the center of malignancy. While presently there are no reports of mutations in important EMT regulators driving malignancy or disease progression, ensuing studies may clarify their involvement. Similarly, the EMT process is only starting to be specifically targeted for therapeutic benefit, although several current therapeutic targets are implicated in driving EMT. We anticipate that the growing acceptance of EMT will bring such translational advances in the coming years.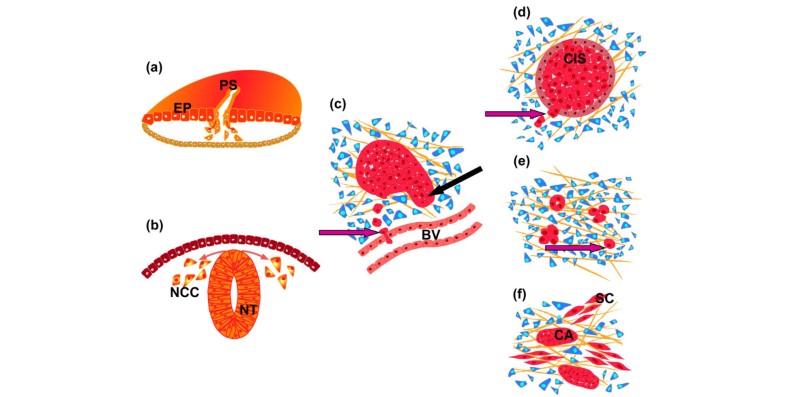 Regulation of epithelial cell plasticity during EMT is increasingly implicated in the progression of carcinoma. Epithelial cells that undergo EMT lose their epithelial cell characteristics to acquire a mesenchymal phenotype and become migratory and invasive. Thus, EMT is characterized by cellular and molecular changes that include: the loss of cell-cell adhesion and apical-basal polarity involving E-cadherin (CDH1) in adherens junctions, occludins (OCLN) and claudins (CLDN) in tight junctions, and desmoplakin (DSP) in desmosomes; downregulation of epithelial cytokeratins (KRT8, KRT18, and KRT19); upregulation of mesenchymal proteins vimentin (VIM) and, in some cases, alpha-smooth muscle actin (ACTA2); reorganization of cytoskeleton to acquire more spindle-like morphology; increased motility and invasiveness involving dynamic actin microfilament networks; and increased resistance to apoptosis. During carcinoma progression, epithelial cells detach from the primary tumor, adhere to and invade the surrounding stroma, intravasate into blood vessels, and disseminate to distant tissues and organs where they extravasate and can lead to secondary tumors. The processes required for metastasis of epithelial cells from primary tumors closely resembles that of cells undergoing EMT followed by mesenchymal to epithelial transition at the site of arrest [1–3].
Histopathological characterization of breast cancer
Greater than 95% of breast cancers are of epithelial origin. Although there are several histological types, primary histopathological analysis of breast carcinoma establishes whether the lesion is in situ carcinoma (confined to the glandular component of the breast and distinguished from benign breast diseases in part by a discontinuous outer myoepithelial cell layer, and cytoarchitecture) or invasive carcinoma, which can be either ductal (located at the junction between the terminal duct and the lobule) or lobular (within the breast lobules).
Histopathological grading of the invasive portion of the breast carcinoma (also known as the histoprognostic index) is a powerful indicator of prognosis in breast cancer. The index is based on the analysis of the following three criteria, with each element given a rank of 1 to 3: evaluation of architecture/tubule formation, measuring the degree of differentiation, with 1 corresponding to more than 75% glandular structures, 2 between 10 and 75%, and 3 below 10%; anisokaryosis, measuring the state and size of the nucleus, with 3 corresponding to the largest and most irregular nuclei; and proliferation assessed by the mitotic index, given the value of 1 for less than 10 mitoses per 10 microscopic fields (400× magnification), 2 for 11 to 20 mitoses, and 3 for greater than 20 mitoses. In the Nottingham grading system [4], a grade of I is given for a combined score of 3 to 5, II for 6 to 7, and III for 8 to 9. That this index is now preferred over the classical Scarff Bloom Richardson grading system is a strong indicator of tumor progression reflecting in part the extent of EMT in the carcinoma component of the tumor, since EMT will strongly influence the architecture/tubule component.
Breast carcinoma displays histological heterogeneity; epithelial cell plasticity can generate distinct cellular subpopulations that contribute to intratumoral heterogeneity. However, most tumors display a dominant phenotype that enables classification of the tumor. Several subtypes of breast carcinoma have been identified with different clinical outcomes and response to therapy. Methods to classify breast tumors have included histopathology, molecular and clinical pathology, genetic analysis and gene expression profiling. Histological and molecular classification of breast cancer describes at least four different phenotypes: the normal-like phenotype has an expression profile that is similar to non-cancerous breast tissue; the luminal phenotype generally includes tumors that are estrogen receptor-positive, and express the epithelial makers E-cadherin and KRT8, KRT18, and KRT19; the estrogen receptor-negative tumor phenotype overexpresses either the human epidermal growth factor receptor 2 (ERBB2), or markers characteristic of myoepithelium of the normal mammary gland, including epidermal growth factor receptor, p63, and basal cytokeratins KRT14, KRT5/6 and KRT17; these tumors are designated basal-like [5–7]. The classification of breast tumors is an important determinant for prognosis and responsiveness to therapy. The ERBB2 and basal-like phenotypes exhibit unfavorable prognosis and resistance to therapy, although the ERBB2 subgroup is well treated with targeted therapy such as Herceptin, and, paradoxically, the basal-like tumors show higher initial responses to neoadjuvant chemotherapies [8, 9]. In addition, the basal-like tumors show preferential relapse to brain and lung [10–12].
Molecular mechanisms of epithelial to mesenchymal transition
The process of EMT requires coordination of a complex network of extracellular and intracellular signals involving factors for initiation and feedback mechanisms for a continuum of changes that occur within cells during transition from a less epithelial to more mesenchymal phenotype. EMT can be induced during in vitro cell culture under the influence of extracellular matrix components and growth factors, such as transforming growth factor beta (TGFbeta), scatter factor/hepatocyte growth factor, fibroblast growth factors, epithelial growth factor family members and insulin-like growth factors 1 and 2 [2]. Signal transduction pathways such as Wnt, Hedgehog, Notch and integrin signaling can also coordinate EMT programs. A number of transcription factors induce EMT through transcriptional control of E-cadherin, including SNAI1 (zinc finger protein snail 1), SNAI2, ZEB1 (zinc finger E-box-binding homeobox 1), ZEB2, TWIST, FOXC1 (forkhead box protein 1), FOXC2, TCF3 (transcription factor 3 - also known as E47), and GSC (homeobox protein goosecoid) [13].
Evidence of epithelial to mesenchymal transition in breast cancer
Conclusion
This review summarizes evidence for the growing implication of EMT in the progression of breast carcinoma, both in murine models and in humans. However, there is an urgent need for new surrogate markers to define different stages during the transition from the epithelial to mesenchymal phenotype, and the reverse transition. These markers may differ from those expressed by normal-like epithelial cells undergoing EMT. A relevant example is the well described presence of micrometastatic carcinoma cells in the blood and bone marrow that retain cytokeratin expression, and the implication of 'hybrid' cells in several systems. However, capturing the mesenchymal phenotype in primary tumors and metastases may prove to be a difficult task, due to the slow growth kinetics of tumors, resulting in an extended period before a mesenchymal to epithelial transition mechanism occurs. The unique topology of tumor growth in the colon has permitted the observation of rare pioneer isolated carcinomas and their likelihood to reconstitute epithelial-like glandular structures. Preliminary evidence indicates that such cells may exist in primary breast cancer, although their detection would require simultaneous labeling using three antibodies to visualize carcinoma cells in contact with endothelial cells and macrophages.
Abbreviations
ACTA2:

alpha-smooth muscle actin
BCSC:

breast cancer stem cell
CTC:

circulating tumor cell
EMT:

epithelial to mesenchymal transition
ERBB2:

human epidermal growth factor receptor 2
FOX:

forkhead box protein
FSP:

fibroblast-specific protein
KRT:

keratin
miRNA:

microRNA
MMTV:

mouse mammary tumor virus
PIK3CA:

phosphoinositide-3-kinase, catalytic, alpha polypeptide
PyMT:

polyoma middle T antigen
RB1:

retinoblastoma 1
SNAI:

zinc finger protein snail
SPARC:

secreted acidic cysteine rich glycoprotein
TGFbeta:

transforming growth factor beta
WAP:

whey acidic protein
ZEB:

zinc finger E-box-binding homeobox.
Authors' Affiliations
(1)
Institute of Molecular and Cell Biology, Proteos, Singapore
(2)
St Vincent's Institute and University of Melbourne Department of Surgery, St Vincent's Hospital, Fitzroy, Melbourne, Australia
Copyright
© BioMed Central Ltd 2009