Research article
Open Access
Association of estrogen receptor-α and progesterone receptor A expression with hormonal mammary carcinogenesis: role of the host microenvironment
Breast Cancer Research
2007
9:R22
Received: 12 August 2006
Accepted: 6 March 2007
Published: 06 March 2007
Abstract
Introduction
Medroxyprogesterone acetate (MPA) induces estrogen receptor (ER)-positive and progesterone receptor (PR)-positive ductal invasive mammary carcinomas in BALB/c mice. We sought to reproduce this MPA cancer model in C57BL/6 mice because of their widespread use in genetic engineering. Within this experimental setting, we studied the carcinogenic effects of MPA, the morphologic changes in mammary glands that are induced by MPA and progesterone, and the levels of ER and PR expression in MPA-treated and progesterone-treated mammary glands. Finally, we evaluated whether the differences found between BALB/c and C57BL/6 mouse strains were due to intrinsic differences in epithelial cells.
Methods
The carcinogenic effect of MPA was evaluated in C57BL/6 mice using protocols proven to be carcinogenic in BALB/c mice. In addition, BALB/c and C57BL/6 females were treated with progesterone or MPA for 1 or 2 months, and mammary glands were excised for histologic studies and for immunohistochemical and Western blot evaluation of ER and PR. Hormone levels were determined by radioimmunoassay. Isolated mammary epithelial cells were transplanted into cleared fat pads of 21-day-old female Swiss nu/nu mice or control congenic animals.
Results
MPA failed to induce mammary carcinomas or significant morphologic changes in the mammary glands of C57BL/6 mice. The expression of ER-α and PR isoform A in virgin mice was surprisingly much higher in BALB/c than in C57BL/6 mammary glands, and both receptors were downregulated in progestin-treated BALB/c mice (P < 0.05). PR isoform B levels were low in virgin control mice and increased after progestin treatment in both strains. ER-β expression followed a similar trend. No differences in hormone levels were found between strains. Surprisingly, the transplantation of the epithelial mammary gland cells of both strains into the cleared fat pads of Swiss (nu/nu) mice abolished the mammary gland morphologic differences and the ER and PR differences between strains.
Conclusion
C57BL/6 mammary glands are resistant to MPA-induced carcinogenesis and to hormone action. MPA and progesterone have different effects on mammary glands. Low ER-α and PR-A levels in untreated mammary glands may be associated with a low-risk breast cancer profile. Although we cannot at this time rule out the participation of other, untested factors, our findings implicate the stroma as playing a crucial role in the strain-specific differential hormone receptor expression and hormone responsiveness.
Keywords
Estrogen ReceptorMammary GlandProgesterone ReceptorLaser Capture MicrodissectionMouse Mammary Tumor Virus
Introduction
Breast cancer is the most common malignancy diagnosed among women worldwide, and it is the second leading cause of cancer mortality [1]. One of the hallmarks of the disease is the expression of estrogen receptor (ER) and progesterone receptor (PR), and it is this expression that ultimately drives prognosis and treatment approaches.
During the past 50 years, the experimental study of breast cancer has been approached utilizing many different in vivo as well as in vitro models, some of which have been used widely [2, 3]: the 9,10-dimethyl-1,2-benzanthracene [4, 5] and N-methyl-N-nitrosourea induced mammary tumors in rats [6]; mouse mammary tumor virus (MMTV)-induced carcinomas [7]; human breast cancer cell lines growing in cell culture [8–11] or as xenografts [12]; transgenic and knockout animals [13, 14]; and, more recently, conditional knockout and inducible transgenic mice [15]. Genetically engineered mice have been used extensively to model human breast cancer as well as to dissect the molecular pathways of tumorigenesis [16], and they have contributed much to our understanding of how cancer evolves. Interestingly, most of the genetically modified mice available for the study of breast cancer do not express ER and PR [2], leaving few models available in which to address hormone-dependent tumor progression specifically.
Medroxyprogesterone acetate (MPA) induces ductal mammary carcinomas in BALB/c mice that express ER and PR [17, 18]. During preliminary studies, conducted to investigate strains that may be susceptible to MPA other than BALB/c, we found C57BL/6 to be resistant to the standard MPA dosage that is used to develop mammary carcinomas. This strain had already been reported to be resistant to mammary tumorigenesis induced by MMTV [7], urethane [19] and γ radiation [20, 21]. Interestingly, however, most of the genetically modified mammary tumor models have been developed in a C57BL/6 or FVB background [16], without any previous experimental evidence to indicate that these strains were suitable for the study of mammary tumorigenesis, in terms of susceptibility to the more standard hormonal/chemical approaches.
With this in mind, we decided to study further the resistance of the C57BL/6 strain to hormonal carcinogenesis, and to advance the characterization of possible underlying differences in hormone responsiveness. In this study we demonstrated that C57BL/6 mammary glands are resistant not only to MPA carcinogenesis but also to hormone-induced mammary gland development. The higher responsiveness of BALB/c mice was associated with higher levels of expression of ER-α and PR isoform A, suggesting that a high ER-α and PR-A profile may be related to breast cancer susceptibility. Finally, we were able to demonstrate that this specific strain difference disappeared when epithelial cells of either strain were transplanted into a different strain background, indicating that host factors, possibly stroma, may be responsible for the differential hormone responsiveness.
Results
Long term in vivoexperiments
Tumor incidence
From a total of 47 BALB/c mice initially treated with MPA, 34 developed ductal infiltrating carcinomas, from which 13 arose during the first 12 months (27.6%). The mean latency was 52 weeks, and no mammary tumors were observed in untreated control animals [24]. MPA-treated C57BL/6 female mice did not develop mammary tumors, and neither did the control untreated animals (treated BALB/c versus treated C57BL/6 for 1 year; P < 0.001; data not shown). C57BL/6 mice treated with MPA developed severe skin ulcerations, and this arm of the experiment had to be stopped after a year.
In a second experiment, only C57BL/6 mice were treated using a protocol that had also proven to be carcinogenic in BALB/c animals, consisting of implanting 40 mg MPA pellets at the beginning of the experiment and replacing them after 6 months [
23
]. None of the animals in this group developed any mammary lesions, and after 14 months the experiment was terminated (Figure
1a
).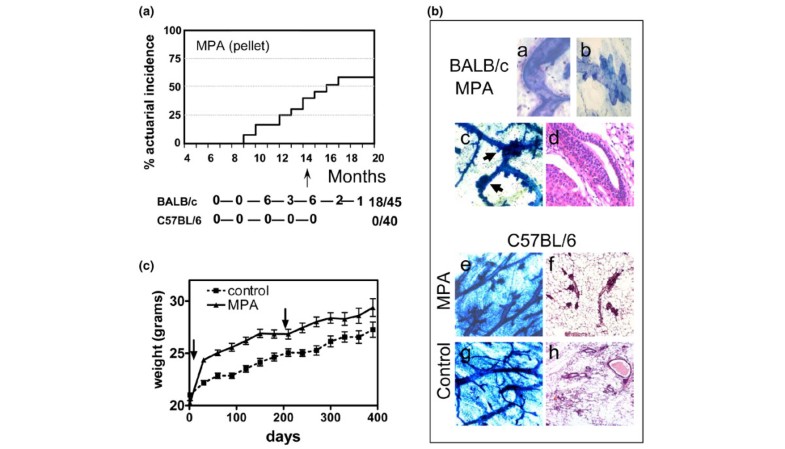 Mammary gland morphology
MPA induces proliferative ductal lesions in BALB/c mice that are characterized by preneoplastic intraductal solid, papillary, or cribiform growth associated with an intense stromal reaction, with periductal fibrosis, an increase in mammary connective tissue, and moderate to intense mononuclear infiltration [32]. In whole mount studies, mammary glands from MPA-treated animals exhibited a gross distortion of the mammary gland architecture and developed hyperplasia in the form of paraductal branching (Figure 1b, top). Ductal hyperplasia was also a common finding. None of these lesions were observed in C57BL/6 MPA-treated mice (Figure 1b, bottom).
Transplantation experiments
To further explore whether the responsiveness of this strain was related to differences in the epithelial mammary cells or in the stromal environment, we transplanted the epithelial mammary cells into
nu/nu
mice of a different strain background. Because nude mice lack functional ovaries and consequently have very low E
2
levels, this hormone had to be supplemented (20 μg) to the MPA or progesterone standard pellets. Therefore, we first evaluated whether the differences between strains were also observed when E
2
or combined E
2
and progesterone pellets were used. The differences were significant, even with E
2
alone (Figure
7
). E
2
induced duct dilation whereas the combined treatment induced a high proliferative response, with increased branching and lobule-alveolar differentiation. Surprisingly, however, C57BL/6 cells were able to repopulate the cleared fat pads of MPA/E
2
-treated or progesterone/E
2
-treated Swiss
nu
/
nu
mice as efficiently as BALB/c cells (Figure
8
). In contrast, BALB/c cells fared better in repopulating BALB/c cleared fat pads than did C57BL/6 cells in C57BL/6 cleared fat pads.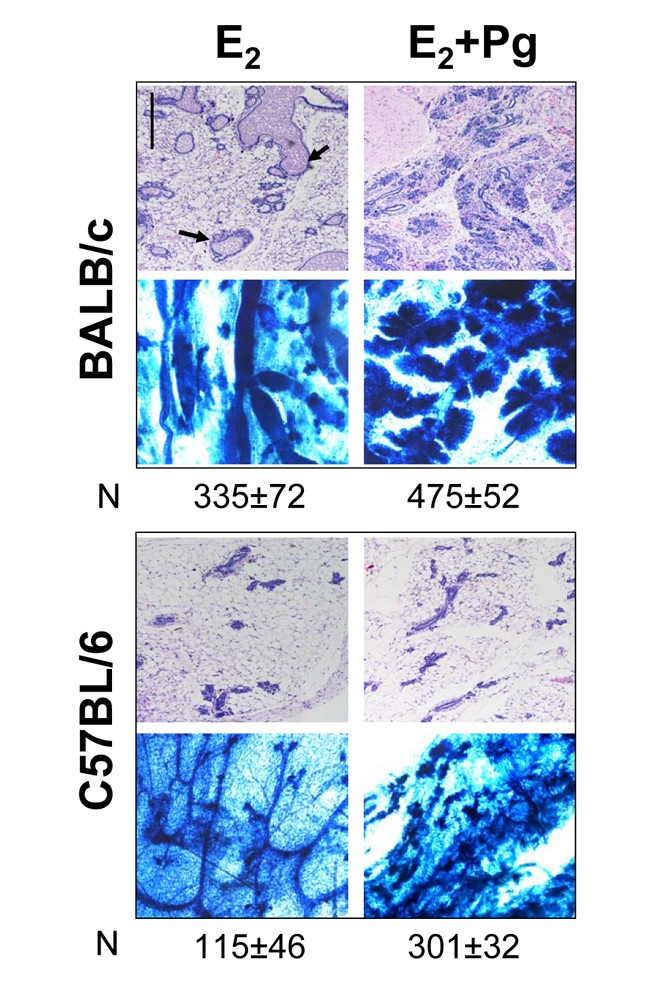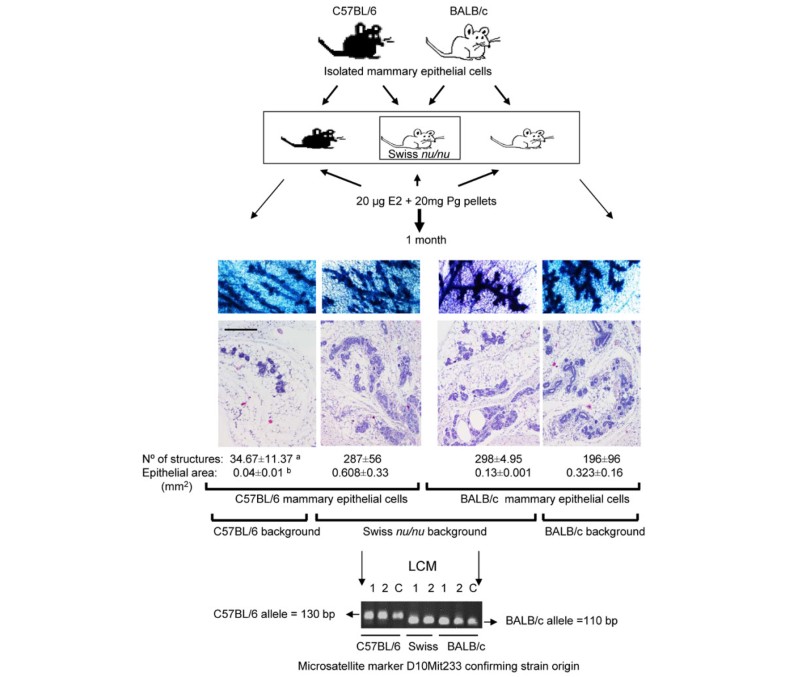 To confirm that the transplanted cells were those giving rise to the mammary glands and not some pre-existing epithelial cells from the recipient Swiss nu/nu female, ducts and lobules were excised by laser capture microdissection and genotyped by PCR using four informative microsatellite markers (D7Mit69, D7Mit82, D10Mit233, and D13Mit7). These markers were selected to be polymorphic between C57BL/6 and the recipient nude females. The PCR analysis clearly showed that the transplanted epithelial cells excised by laser capture microdissection were C57BL/6 in origin (Figure 8). These results indicate that strain-specific host factors probably modulate mammary epithelial hormone responsiveness.
ER and PR expression in recombined mammary glands in nu/numice
We were now interested in determining whether the differences in ER-α and PR-A expression observed between both strains would even out when epithelial mammary cells from both strains were inoculated in the same host. Because the differences were evident only in untreated animals, we performed the same recombination experiments in untreated mice. Figure
9
shows ducts that originated from C57BL/6 or BALB/c cells transplanted in the same
nu
/
nu
mouse; no significant differences in ER-α or PR-A expression were observed. These results indicate that host factors are responsible for the strain differences observed in mammary gland hormone receptor expression and that the level of these receptors is related to the degree of hormone responsiveness.

Discussion
The C57BL/6 strain is reputed to be relatively resistant to some chemical carcinogenesis protocols [41–43] and relatively susceptible to spontaneous and chemically induced melanomas [44], radiation-induced leukemia [45], and chemically induced urinary bladder carcinomas [46]. Regarding mammary tumorigenesis, the C57BL/6 strain is considered to be resistant to MMTV [7], urethane [47], and γ radiation [20, 21].
In this study we demonstrated that C57BL/6 female mice were resistant to MPA-induced carcinogenesis, and that this resistance was associated with poor mammary gland responsiveness to the exogenous administration of progestins and/or estrogens. We also observed significantly different levels of ER-α and PR-A in the sensitive and resistant strains, that may be associated with the poor responsiveness described. Surprisingly, C57BL/6 mammary epithelial cells may be as responsive as BALB/c cells and exhibit similar levels of hormone receptors when transplanted into cleared fat pads of a different strain, indicating that host factors rather than the epithelial cells by themselves are responsible for their hormone resistance.
A hypoplastic phenotype of C57BL/6 mammary glands was reported by Nandi and Bern in 1960 [48]. In most of their experiments, hormonal treatment was provided by the kidney subcapsular implantation of the pituitary gland, or by the administration of estrogens or combinations of estrogens plus progesterone; the effects of progestins alone, however, have been evaluated in very few studies [23, 49]. Our findings demonstrate a differential effect of progestins in BALB/c and C57BL/6 female mice and confirm the observations by Nandi and Bern regarding differences in mammary glands of virgin mice. MPA induced ductal branching whereas progesterone induced lobular differentiation in BALB/c and not in C57BL/6 mice. These observations correlate with the fact that MPA induced mainly ductal carcinomas whereas progesterone generated mainly lobular carcinomas in BALB/c mice [23]. These tumors are different not only in histology but also in ER, PR, and epidermal growth factor (EGF) receptor expression [24].
Recent studies indicate that progesterone and MPA trigger different transduction signals in the human breast cancer cell line T47D [50] and in human umbilical vein endothelial cells [51]. Different in vivo effects were also reported in previous studies, in which it was observed that MPA induced the synthesis of EGF in salivary glands as an androgen receptor ligand [39, 52]. This effect was not achieved by progesterone. As we have demonstrated in previous studies, salivary gland EGF does participate in MPA-induced mammary gland carcinogenesis [24, 53]. Because C57BL/6 mammary glands responded poorly to both MPA and progesterone, it seemed unlikely that the differences in the two strains were related to differences in salivary gland responsiveness. This was supported by the fact that no histologic differences with respect to MPA-induced development of convoluted granular ducts of the salivary glands, the source of EGF, were found across strains. MPA has been used as an anabolic agent in oncology [54] and, as we have shown in previous studies, it exerts an anabolic effect in BALB/c female mice [33]. In the present study we demonstrated a similar effect in C57BL/6 mice, showing that this is a strain-independent mechanism.
We have also explored the possibility of impaired pituitary function, which plays a very important role in determining the hypoplastic mammary gland phenotype in ER knockout mice [40], and is associated with low prolactin levels. However, in our study, prolactin levels were similar in C57BL/6 and BALB/c mice and in progestin-treated animals of both strains. The same was true for progesterone, growth hormone, and IGF-I serum levels.
Taken together, all of the described results appeared to point to strain differences intrinsic to the mammary gland. To explore this possibility, we sought to determine the presence and functionality of mammary steroid receptors in both strains. To evaluate PR A, we used C-19 and C-20 antibodies (Santa Cruz) that recognize this isoform in human tissues [55] and mouse tissues [35, 38]. We observed significantly lower levels of ER-α and PR-A in virgin C57BL/6 adult female mice, as compared with BALB/c. The only PR isoform that we found to be highly expressed in BALB/c virgin mice was PR-A, as was previously described by Auperlee and coworkers [35]. PR-A and ER-α were significantly downregulated in both BALB/c MPA-treated and progesterone-treated mice, and it is interesting to note that ER-α expression usually paralleled that of PR-A. ER-β and PR-B exhibited similar kinetics; their expression was low in control mice and it increased in progestin-treated BALB/c mice. Aupperlee and coworkers [35] reported similar results in their studies of PR-B expression in pregnant BALB/c mice.
These results, when extrapolated to humans, suggest that individual levels of ER-α and PR-A in the mammary glands could predict hormone responsiveness and cancer risk. It has been reported that low levels of ER-α expression are observed in women of low risk groups [56, 57]. As proof of principle, Frech and coworkers [58] developed transgenic mice that overexpress ER-α in a C57BL/6 background, in which the number of ER-α positive cells in transfected glands was similar to that in the virgin BALB/c mice we report on here. Curiously, ductal hyperplasias were reported in the transgenic mice even in the absence of estrogens. As a consequence of ER-α overexpression, increased PR levels were also observed.
The expression of ER and PR is regulated by endocrine factors and by extracellular matrix components such as collagen IV or laminin [59]. To explore a role for the stroma in the strain difference in hormone responsiveness, we used transplanted epithelial cells into the cleared fat pad of Swiss nude mice. The fact that both C57BL/6 and BALB/c epithelial cells responded very similarly in a different strain background suggests that the mammary gland fat pad from the host may be regulating the epithelial hormone responsiveness. At this moment we cannot, however, rule out the participation in the process of other host factors related to the microenvironment, which may be also be playing an active role. Experiments are currently underway in our laboratory to test this alternative hypothesis. Similar data were reported by Naylor and Ormandy [60]. Those investigators recombined epithelial cells from 129 strain, which is similar to BALB/c, with C57BL/6 stroma, and observed a poorly side-branched C57BL/6 pattern. A major challenge will be to identify the stromal factors responsible for maintaining high ER and PR-A levels in BALB/c mice.
Different studies have been designed to explain BALB/c susceptibility to mammary carcinogenesis. The frequency of mammary tumors differs among strains of Trp53 +/- mice, with mammary tumors occurring only on a BALB/c genetic background and showing a high frequency of loss of heterozygosity [61]. Interestingly, progesterone is necessary and favors aneuploidy in this model [62]. In the irradiation model, the increased genomic instability of BALB/c mice has been ascribed to two polymorphisms in the coding region of Prkdc [63]; this is the gene that encodes the DNA-dependent protein kinase catalytic subunit, which is known to be involved in DNA double-stranded break repair. Because it has been shown that the stroma may be a target in radiation-induced [64] and in chemical-induced carcinogenesis [65], other players important in parenchymal-stromal interactions related with hormone receptor expression may be involved in all models.
Conclusion
In this study we demonstrated impaired hormone responsiveness in C57BL/6 mammary epithelial cells that is reflected in responses to both physiologic and neoplastic stimuli, making the strain resistant to hormonal carcinogenesis. This was associated with low levels of ER-α and PR-A. Further exploring the phenomenon, we demonstrated that this is not due to intrinsic impairments in the epithelial cells and that host factors, probably related to the mammary microenvironment, may account for the defective hormonal behavior. The comparative study of C57BL/6 and BALB/c mice may help us to understand the genetic basis of resistance and susceptibility to hormone-induced mammary carcinogenesis.
Abbreviations
ANOVA:

analysis of variance
E2 :

17β-estradiol
EGF:

epidermal grwoth factor
ER:

estrogen receptor
IGF:

insulin-like growth factor
MPA:

medroxyprogesterone acetate
MMTV:

murine mammary tumor virus
NIDDK:

National Institute of Diabetes and Digestive and Kidney Diseases
PBST:

phosphate-buffered saline-Tween
PCR:

polymerase chain reaction
PR:

progesterone receptor
Declarations
Acknowledgements
We are grateful to Dr Jan-Ake Gustafsson, Department of Biosciences, Karolinska Institutet, Novum, for kindly providing the chicken ER-β antibody; to Laboratorios Gador, Buenos Aires, for providing the MPA; to Dr Luisa A Helguero for helpful suggestions; to Pablo Do Campo for excellent technical assistance; and to Dr Christiane Dosne Pasqualini for revising the manuscript. This work was supported by Fundación Sales (Specific Grant 2002-2005) and Secretaría de Ciencia y Tecnología (SECYT; BID 1201/OC-AR, PICT 02, 05-12276 and PICT 03, 05-14406).
Authors' Affiliations
(1)
Instituto de Investigaciones Oncológicas, Academia Nacional de Medicina, Buenos Aires, Argentina
(2)
Instituto de Biología y Medicina Experimental, Consejo Nacional de Investigaciones Científicas y Técnicas, Buenos Aires, Argentina
(3)
Department of Carcinogenesis, Science Park Research Division, The University of Texas MD Anderson Cancer Center, Smithville, USA
(4)
Oral and Pharyngeal Cancer Branch, National Institute of Dental and Craniofacial Research, National Institutes of Health, Bethesda, USA
Copyright
© Montero Girard et al.; licensee BioMed Central Ltd. 2007
This article is published under license to BioMed Central Ltd. This is an open access article distributed under the terms of the Creative Commons Attribution License (http://creativecommons.org/licenses/by/2.0), which permits unrestricted use, distribution, and reproduction in any medium, provided the original work is properly cited.